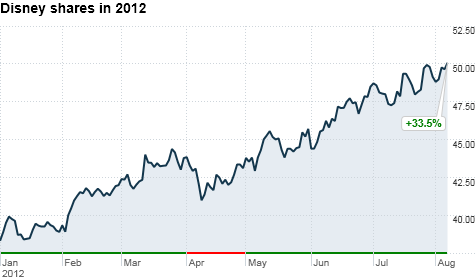 Click the chart for more info.
NEW YORK (CNNMoney) -- The Walt Disney Company delivered record-setting quarterly earnings on Tuesday, handily beating Wall Street estimates.
Disney reported $1.8 billion in net income and earnings of $1.01 a share for the quarter ended in June, up 31% versus a year prior and ahead of the 93-cent consensus estimate from analysts surveyed by Thomson Reuters.
The company missed slightly on sales, however, reporting $11.1 billion in revenue against a consensus estimate of $11.3 billion. Disney (DIS, Fortune 500) shares slipped 1.6% in after-hours trading.
Disney has been one of the Dow's best-performing stocks in 2012, climbing more than 30% and trailing only Bank of America (BAC, Fortune 500) among Dow components. Shares reached an all-time high last month, closing just shy of the $50 mark.
CEO Bob Iger said the company's numbers "clearly demonstrate Disney's unique value proposition and great potential to deliver long-term growth."
"We had a phenomenal third quarter, delivering the largest quarterly earnings in the history of our company," Iger said in a statement.
David Bank, an analyst with RBC Capital Markets, said Disney had "a pretty solid quarter across the board." The company recorded income growth in each of its divisions.
"Normally one division is over-compensating for another, but this was pretty clean across the company," Bank said.
Disney's ESPN networks continue to book strong advertising revenue and healthy fees from cable and satellite companies. The company also scored a huge win with May's release of "The Avengers."
"The Avengers" has grossed more than $616 million in the U.S., according to Hollywood tracker Box Office Mojo, the third highest of all time after "Avatar" and "Titanic." The film has added another $844 million internationally, making it Disney's best-performing movie ever by worldwide box office totals.
Disney gained the rights to the legendary characters with its $4 billion purchase of comic-book publisher Marvel three years ago.
Iger said in a call with analysts Tuesday an "Avengers" sequel is "in the works," and that Marvel has inked the film's director, Joss Whedon, to "an exclusive deal" under which he will write and direct "Avengers 2." Whedon will also "help develop a Marvel-based series for ABC," Iger said.
Disney's studio entertainment division shrugged off the massive first-quarter flop that was "John Carter" to report increased profits led by "The Avengers." Income from the segment rose to $313 million for the quarter versus $49 million a year prior.
The company's parks and resorts division also booked solid gains, with profits rising 21% to $630 million.
Disney isn't the only big media company that's enjoyed a surging share price this year.
News Corp (NWSA, Fortune 500) shares are up more than 33% so far in 2012, while CBS (CBS, Fortune 500) has climbed 31%. CNNMoney parent Time Warner (TWX, Fortune 500) is up 15%, while Viacom (VIAB, Fortune 500) has gained 8%.