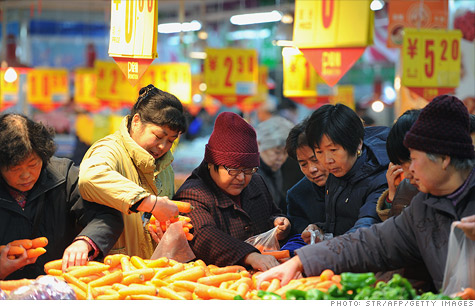 Food prices account for one-third of China's CPI measurement.
NEW YORK (CNNMoney) -- Prices continued to decline in China last month, clearing the way for the country to ramp up its stimulus efforts.
China's annual inflation rate fell to 1.8% in July, the government's National Bureau of Statistics reported Thursday, down from 2.2% in June. That's the lowest inflation rate in two-and-a-half years.
Food prices, which account for more than a third of the inflation calculation, rose 2.4% during the month.
The Chinese government has a stated inflation rate target of 4%.
China's economic growth has started to slow amid weaker global demand. Last month, the government said the world's second-largest economy grew at an annual rate of 7.6% in the second quarter -- down from 8.1% the previous quarter.
Meanwhile, inflation has slowed dramatically, freeing China's central bank to do more to stimulate the economy.
The People's Bank of China has lowered interest rates in recent months, and the central bank has also tried to spur growth by cutting the amount of money banks are required to hold in reserves.
"The need for more easing was reinforced by recent still weak economic data," Sun Junwei, HSBC's China economist, said in a note.
Related: China's most powerful businesspeople
The government's index of purchasing managers' sentiment slipped to 50.1 from 50.2 in June, a reading that indicates the manufacturing sector is expanding, but just barely.
Even if China chooses to engage in further monetary easing -- something most observers think likely -- significant headwinds remain.
Exporters, for example, continue to be hit by weak demand in Europe. And previous stimulus measures appear to have had only a limited impact on economic growth rates.