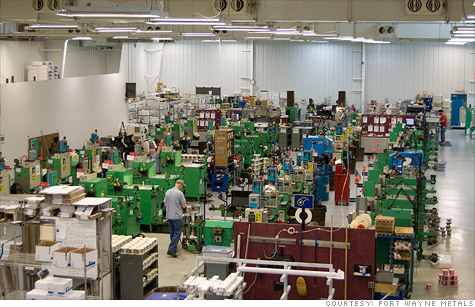 Fort Wayne Metals Research and other companies in northeast Indiana are having a hard time filling manufacturing jobs.
NEW YORK (CNNMoney) -- Northeast Indiana has a peculiar problem.
There are hundreds of factory jobs ready for the taking as the area's manufacturing sector has come back to life after the recession.
But even with an unemployment rate as high as the national average, companies are struggling to hire workers.
This situation is top of mind for Larry Davis, CEO of Daman Manifolds in Mishawaka. The company, which makes hydraulic valve manifolds, has 115 employees.
Industry demand has boosted Daman Manifolds' business significantly. "We need to hire 10 more workers in the next six months," Davis said.
His challenge: "I'll have to go through 500 applicants just to get the 10 that I need. And there's no guarantee that those 10 hires will work out. (More: Trade school enrollment soars)
The longer it takes him to hire new workers, the greater the risk Davis could start losing business.
Daman Manifolds is not alone.
Northeast Indiana is a hotbed of manufacturing and a microcosm of a problem afflicting many employers in areas where American factories have been revived: There's a widening gulf between open jobs and qualified applicants to fill them.
Factories in northeast Indiana primarily support the medical device, aerospace, rail and defense industries, said Kris Deckard, executive director of "Ready Indiana," the workforce development initiative of the Indiana Chamber of Commerce.
The area, comprising about a dozen counties, has the country's highest concentration of manufacturing jobs, with 26% of the workforce employed in the industry.
But manufacturers are having a tough time boosting their workforces, Deckard said.
A labor shortage isn't the problem. Companies are getting hundreds of applicants, she said. But they are either not the right fit or unqualified.
"Applicants are failing drug tests," she said. "Some apply and then decide they want to wait until their unemployment benefit runs out before taking a factory job."
Then there are the candidates with four-year college degrees who can't find other work. Manufacturers shy away from hiring them, believing they'll leave as soon as they find a job that's a better fit.
At Daman Manifolds, among hundreds of applications the company will review in coming weeks, half will likely get dumped because folks won't fill out the entire eight-page form, Davis said. Another big chunk won't make it past the phone interview.
Several more will fail the hands-on assessment because they lack the right skills.
Throughout the state, 5% to 10% of jobs are going unfilled because applicants lack the right skills, said Matt Bell, president of Corporate College, a unit of Ivy Tech Community College of Indiana, the nation's largest statewide community college system.
All 26 Ivy Tech campuses across the state teach certificate courses in manufacturing skills, such as computer-aided manufacturing, welding and tooling.
Bell estimates that the state needs about 40,000 to 50,000 manufacturing workers right now to meet the uptick in production.
Corporate College graduated about 25,000 students last year from its manufacturing and business courses.
Given Indiana's running shortage of skilled factory workers, Bell said manufacturers are importing workers from other states such as Ohio and Michigan.
At Fort Wayne Metals Research, business has also picked up. The company has added 200 workers over the past two years.
"Our forecast is to add another 100 workers this year, too," said Mark Michael, the company's president and chief operating officer.
But the hiring process is long and arduous.
"In May we accepted 129 applications and we screened those down to 40," said Michael. "We administered three industry tests to the 40 and four people passed."
All four were offered a job, and only one accepted, he said. "These statistics are not unusual at all among manufacturers here," he said.