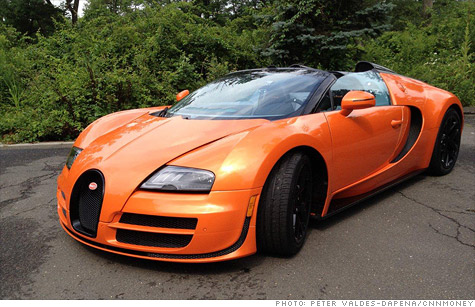 The latest version of the Veyron ups the ante on power a bit and on price, by a lot.
NEW YORK (CNNMoney) -- There are those for whom a 1,001-horsepower, $1.5 million Bugatti Veyron 16.4 Grand Sport may just not be quite enough. For them, Bugatti offers the Grand Sport Vitesse, with 1,200 horsepower and a price tag about a million dollars higher.
Some may question whether any car could conceivably be worth more than $1 million. I had the opportunity to drive a "regular" Veyron a few years ago, so I already know the answer to that question. Yes, it's worth a million dollars.
If I had that much to spare and I had to choose between a seventh vacation home, another Jeff Koons sculpture for my backyard or a Veyron, I'd take the Veyron.
The Veyron, you see, is an incredible multipurpose tool. It is:

A work of art - With its elegant yet muscular shape, the Veyron is pleasing to the eye and elicits a subtle mix of emotions, not least among them envy.
A thrill ride - With four digits worth of horsepower to play with, the Veyron makes a reasonable substitute for a roller coaster. It's not often you feel g-forces like this without joining the Air Force.
A car - Yes, you can drive it. It has a steering wheel, gear selector, brake and gas pedal. And, unlike some of those discount-priced Italian exotics -- such as Ferrari or Lamborghini -- everything's in the normal place. No special lessons needed to find first gear or park.
The Veyron Grand Sport Vitesse has all of that plus 200 more horsepower and lightweight body made entirely from ultra-expensive carbon fiber.
One statistic pretty much tells the story. The Bugatti Veyron Grand Sport Vitesse can go from zero to 100 miles per hour and back to zero in 9.5 seconds. Some cars can't even merge onto the highway that fast.
If you want to know what it feels like to get to over 100 miles per hour really fast, I can tell you. During a recent test drive -- where the only danger posed was to myself, a Bugatti representative in the passenger seat and $2.5 million worth of car -- I slammed down on the gas pedal while traveling about 20 miles an hour.
The sensation was, surprisingly, not at all terrifying. Do that in most cars with over 500 horsepower, let alone more than double that, and there would be lots of noise, maybe some smoke and the steering wheel would suddenly become an ungovernable beast intent on guiding you to your doom.
In the Vitesse there is just speed, lots and lots of speed. Steer as you would normally while the trees rush by faster and faster and you experience the sensation of a quickly growing stack of cinder blocks piling up on your chest.
In less time than it took you read that last paragraph, you're over 100 miles per hour. But you're probably not looking at the speedometer because your eyes are on the quickly vanishing strip of open road ahead of you.
You won't even notice how exorbitantly you've just exceeded the speed limit until you move your foot over to the brake pedal and take a moment to glance down. That's when you see the speedometer needle sweeping back downward past 110 or 120.
The steering is has a really nice sort of weight to it with good road feel. The ride is a little firm, sure, but not horrible. Despite all the carbon fiber the Vitesse still feels like a pretty heavy car but with all that power, the pounds melt away as soon as you step on the gas.
There is still the question of price, though. While a "regular" -- if such a word can be applied here -- Veyron is worth every penny, this car is double the price. And, really, when you've already got 1,000 horsepower, do you need 200 more? Will you even notice it?
Of course, that's one of those silly "rational" questions that hardly apply when you're already talking about spending over a million dollars on an automobile.
Here we're really in the realm of art collecting more than car shopping. If a Picasso painting, which can't even be used to go get groceries, is worth $40 million, surely something as practical as a Bugatti Veyron Grand Sport Vitesse is worth $2.5 million.