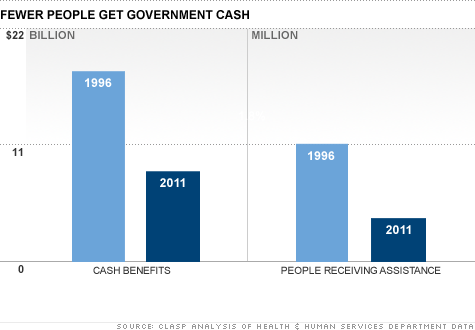 NEW YORK (CNNMoney) -- Today's welfare program is nothing like what it used to be.
In the 16 years since President Clinton and Congress overhauled the nation's welfare system, the number of people receiving cash assistance has fallen by two-thirds. And public spending on the program has dropped by more than half.
Conservative lawmakers and policy analysts have celebrated the reform, saying it has helped put people on the road to self-sufficiency rather than government dependence.
But advocates for low-income people contend that Temporary Assistance for Needy Families (TANF), which is what welfare turned into in 1996, does not adequately support the poor, particularly in tough economic times.
The cash assistance portion of TANF has fallen to $9.6 billion in 2011, down from $20.4 billion in what were mostly cash benefits in 1996, according to an analysis by CLASP, a low-income advocacy group. The average number of people receiving payments per month is 4.6 million, down from 12.6 million.
"Very few poor families are served," said Liz Schott, a senior fellow at the Center on Budget and Policy Priorities. "It's really not a very broad program right now."
The hot button topic of welfare reform returned to the spotlight this week as Mitt Romney unveiled a presidential campaign ad accusing President Obama of dismantling the work requirement that was central to the overhaul.
But the program at the heart of the current storm is only a shadow of the former welfare system. Previously, most of the government dollars in the welfare program, which was then known as Aid to Families with Dependent Children, was distributed as cash. Now, only about one-third is.
The rest of the TANF funds are used for a variety of purposes, including child care, work subsidies, transportation, mental health services and family initiatives.
The federal funding portion, which is distributed to states as a block grant so it does not increase even if more people become eligible, has been set at about $16 billion since TANF was created. States also kick in money, bringing the total to about $33.3 billion in 2011.
Also, each state sets its own eligibility rules, with some southern states restricting it to people earning around 20% to 30% of the poverty level. The maximum time recipients can receive benefits is five years under federal rules.
Some states also establish additional criteria, such as requiring TANF applicants to search for jobs for a month before applying.
As a result, TANF assisted 28 families for every 100 in poverty in 2009, according to the Center on Budget and Policy Priorities. That ratio was 75 families for every 100 under welfare in 1995.
"It's really hard to get on," said Elizabeth Lower-Basch, senior policy analyst at CLASP. "You have to jump through lots of hoops."
TANF is also dwarfed by the granddaddies of the federal safety net programs, Medicaid and food stamps, which have 52.6 million and 46.5 million participants, respectively.
To be sure, TANF isn't the only government aid that low-income Americans receive. There are 69 federal programs that provide help in areas ranging from housing to social services to education to poor Americans, according to the Heritage Foundation. The federal government will spend about $695 billion on this assistance in fiscal 2011.
But TANF is one of the few income-based safety net programs that requires participants hold down jobs or train to join the workforce.
"Welfare reform turned "welfare" into "workfare," said Robert Rector, a senior research fellow at Heritage.