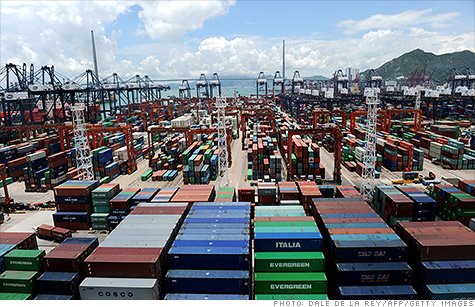 Growth in Chinese exports virtually vanished in July, according to the country's trade report Friday.
NEW YORK (CNNMoney) -- China's foreign trade growth slowed sharply in July, raising fears that economic weakness elsewhere in the world could put the brakes on the No. 2 economy.
Friday's report from China's General Administration of Customs showed exports up only 1% in the month compared to a year earlier, down significantly from the 11.3% growth rate in June and well below economists' forecasts.
"Weaker trade data added to concerns over a slowing world economy," said Elisabeth Afseth, fixed income analyst with Investec in London in a note to clients Friday.
Mark Williams, chief Asia economist for Capital Economics, said the shipments to the United States and Europe both fell more than 8% compared with June, which he said marked the largest monthly decline in shipments to the United States since the financial crisis of late 2008.
"Exports had been gaining strength for the last few months, but that trend has come to an end," he wrote in a note. "To be fair, it has been clear for a while that risks to exports lay on the downside."
The slowdown in export growth was mirrored by a slump in imports as well, as those were up only 4.7% compared to a year earlier, well below the June growth of 6.3%. The nation's trade surplus fell 16.8% to $25.2 billion in the month.
There have been other signs of a slowdown in Chinese manufacturing in recent months, raising concerns that China's economy, which has been a key engine of global economic growth, is at risk of a so-called "hard landing."
China's gross domestic product, the broadest measure of the nation's economic health, slowed to an annual 7.6% growth rate in the second quarter, the slowest growth the economy has enjoyed since early 2009.
Markets in Asia closed lower following the reports, and markets in Europe were off in afternoon trading there, while U.S. stocks were lower in early trading following the report.