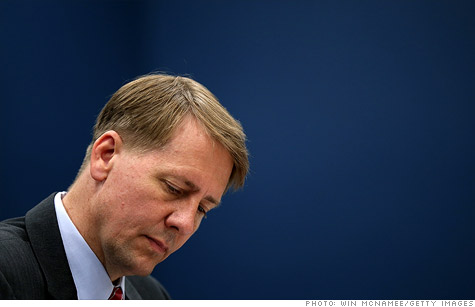 The Consumer Financial Protection Bureau, headed by Richard Cordray, is proposing new rules that get tough on mortgage servicers.
WASHINGTON (CNNMoney) -- Giving homeowners more information on outstanding balances and pending interest rate changes is the aim of new rules for mortgage servicers proposed Friday by the Consumer Financial Protection Bureau.
The rules, a first for the entire mortgage servicing industry, would also require servicers to respond to homeowners' calls for information or complaints within 5 days. No such rules exist now.
Richard Cordray, director of the bureau, said the rules could be summed up as: "No surprises and no run-arounds."
"We want to make sure that at all times consumers can get information about how much they owe, what they are paying, and how their payments are being applied," Cordray said. "And if consumers fall behind on their mortgage, we want them to know how to assess their options and take action."
That may come as a relief to thousands of homeowners who have tried and failed to get information from their servicers to prevent a foreclosure by refinancing.
Investigations into disastrous practices, including reportedly falsified documents, led state attorneys general to sue the largest mortgage servicers and eventually win a $25 billion settlement designed to help underwater homeowners earlier this year.
The bureau's proposed rules would overlap with some of the terms of the settlement in that both generally aim to get homeowners better information. But the rules would impact the entire mortgage servicing industry and are required by Wall Street reforms ushered in with the 2010 Dodd-Frank Act.
The proposed rules will dig into the bottom lines of big banks involved in mortgage servicing, said Jaret Seiberg, a senior policy analyst with Guggenheim Partners Washington Research Group, because the rules force banks to "engage in more one-on-one discussions with borrowers."
"Such personalized service is more expensive than automated systems," he added in a memo to investors.
Among the proposed new rules:
-- Servicers would have to send regular bills to homeowners each billing cycle that spell out payments by principal, interest, fees and escrow; the amount of and due date of the next payment; and warnings about fees.
-- Servicers would have to alert homeowners with adjustable rate mortgages that their interest rates are about to change as early as 7 months before the changes kick in.
-- Servicers would have to credit homeowners' mortgage accounts the day payment is received.
-- Servicers can't charge borrowers for emergency or so-called "force-placed" property insurance -- unless servicers have first alerted homeowners and have a "reasonable basis" that insurance policies were dropped.
-- If a homeowner gives the servicer proof of insurance, the servicer has to end the force-placed insurance policy within 15 days and refund any premiums.
-- Servicers would have to respond within 5 days of a homeowner's request for information or complaint of errors.
The public can comment on the proposed rules until Oct. 9. The bureau wants to finalize and put the new rules into effect by next January.