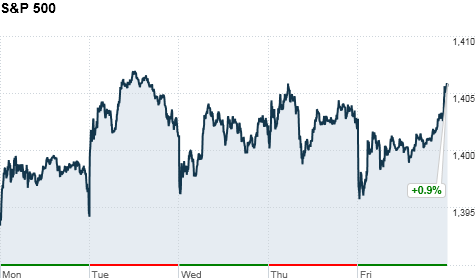 Click chart for more markets data.
NEW YORK (CNNMoney) -- Investors will likely be wishing for a quiet week in stocks, because the alternative is scary.
The rising yields of Spanish and Italian bonds could send waves throughout global financial markets.
"Next week is going to be a Europe-oriented week," said Komal Sri-Kumar, chief global strategist at TCW. "There are more indications that Spain is drifting toward a full bailout."
Yields on 10-year Spanish bonds crossed the dangerous 7% level last week, but retreated somewhat by Friday. These yields give investors more indications that the European leaders might be forced to bail out Spain from its debt overload.
In the absence of specific deadlines or meetings among EU policy leaders, investors around the world will be closely watching where both Spanish and Italian bond yields move this week to determine just how precarious the European debt situation has become.
It's been easy for investors, especially U.S. ones, to ignore any clouds on the horizon. All three major indexes are up more than 8% for the year.
Even after a Facebook (FB) fumble, the Nasdaq is up an astonishing 16% in 2012.
Last week, stocks added to their gains for the year. The Dow (INDU) rose 0.8% while the S&P 500 (SPX) and Nasdaq (COMP) finished the week up 1%.
Trading volumes, which have been subdued for most of this year, have been down further in the past few weeks. That slowdown is only expected to intensify next week, which could lead to more volatility.
"We're getting into the slowest part of the year," said Dan Greenhaus, head equity strategist at BTIG.
With bankers guessing that few investors will be trading, there's only one initial public offering on the calendar for next week: Hi-Crush Partners. After a post-Facebook lull, there had been several IPOs schedule each week starting in July.
Still even if fewer shares change hands than normal, there are a few data points in the U.S. that traders and investors will be watching.
July's retail sales figures are due on Monday, and "CPI," the key measure of inflation will be released Tuesday. Both metrics will offer a look into health of the consumer.
Inflation data will be further mulled by members of the Federal Reserve board of governors, as they gauge whether there's a need for another round of quantitative easing.
While the vast majority of U.S. companies have released second quarter earnings, there are still a few big companies left to report. Home Depot (HD, Fortune 500), Deere (DE, Fortune 500), Target (TGT, Fortune 500) and Wal-Mart (WMT, Fortune 500) will be releasing earnings next week.
The troubled social media company Groupon (GRPN) is also slated to report second quarter results after the bell Monday.