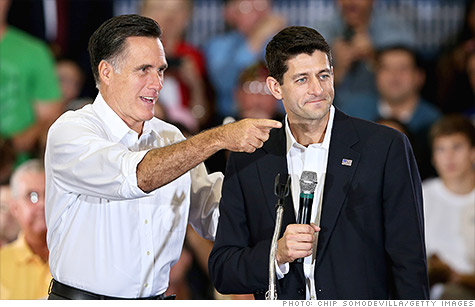 Paul Ryan, Mitt Romney's running mate, wants to overhaul Medicaid.
NEW YORK (CNNMoney) -- Medicaid and other safety net programs could undergo major changes if Mitt Romney and Paul Ryan win November's election.
Ryan, currently a House Republican and picked this weekend to be Romney's running mate, wants to turn Medicaid and food stamps into block grants and make recipients work for certain benefits, according to his budget proposal unveiled in March.
"We don't want to turn the safety net into a hammock that lulls able-bodied people into lives of dependency and complacency, that drains them of their will and their incentive to make the most of their lives," Ryan said at the time.
Here's how Medicaid and food stamps would work under the proposal:
The federal government would give states a set amount of funds to cover their Medicaid recipients in the form of a block grant. States would also be given more flexibility to tailor the program's requirements and enrollment criteria.
Ryan says his plan would curtail Medicaid spending by $810 billion over 10 years. In 2022, federal Medicaid funding would be about 34% less than states would receive under current law, according to an analysis by the Center on Budget and Policy Priorities.
Currently, federal spending on Medicaid is open-ended, meaning the more people that states sign up, the more the federal government pays. The federal government pays an average of 57 cents of every dollar spent on health care for the poor.
Food stamps, known officially as the Supplemental Nutritional Assistance Program, would also become a block grant program under Ryan's plan. In addition, starting in 2016, recipients would be required to work or enroll in a job training program. A time limit would also be phased in.
Romney has also said that he supports block grants.
Several conservative think tanks say that the Ryan plan will ultimately help both the nation and the poor.
"Romney-Ryan are firmly offering to complete the Reagan Revolution by...modernizing the social safety net so that it is fiscally sustainable and increases economic mobility and true economic security," wrote James Pethokoukis, a blogger for the American Enterprise Institute.
Left-leaning advocates, meanwhile, fear that millions will lose crucial government assistance, especially in weak economic times.
"It ties the government's hands to be able to provide health care to folks in need," said Melissa Boteach, director of the Poverty to Prosperity program at the Center for American Progress.
An Urban Institute analysis of Ryan's budget proposal from last year found block grants would lead states to drop between 14 million and 27 million people from Medicaid by 2021 and cut reimbursements to health care providers by 31%.
Up to 10 million people could lose nutrition assistance since $134 billion would be cut from the program over 10 years, according to the Center for American Progress Action Fund.
And at least 62% of Ryan's $5.3 trillion in nondefense budget cuts over 10 years come from programs that serve the poor, according to the Center on Budget and Policy Priorities.
"This budget is Robin Hood in reverse -- on steroids," said Robert Greenstein, the center's president, when the Ryan plan was announced. "It would likely produce the largest redistribution of income from the bottom to the top in modern U.S. history and likely increase poverty and inequality more than any other budget in recent times."