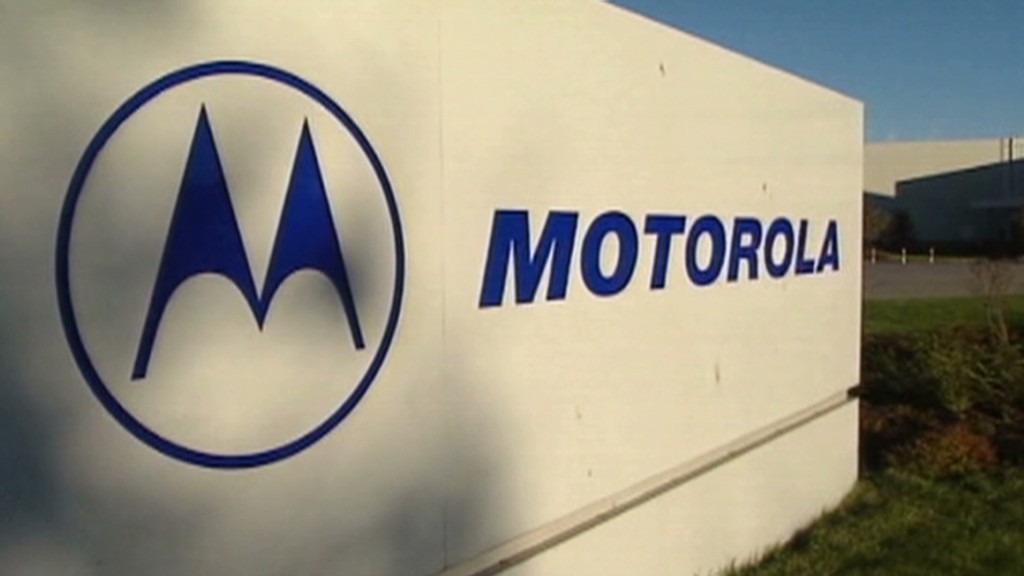 In an interview with The New York Times, Motorola CEO Dennis Woodside discussed his company's plans to trim its fat while also adding employees in key areas to take on its more successful competitors, including Apple (AAPL) and Samsung.
Some of Motorola's early moves come right from the business 101 handbook: It plans to cut a fifth of its staff, exit unprofitable markets, scale back its manufacturing to just a few core products, and rethink its advertising campaign. Google (GOOG) confirmed those plans to CNNMoney on Monday.
But Motorola is also setting up a new division that it hopes will attract some of the world's most elite researchers. Dubbed "Advanced Technology and Projects," the unit will bring together a small group of scientists, mechanics and experts tasked with developing ground-breaking technologies that can be included in Motorola's devices.
Skunkworks ventures are increasingly common in Silicon Valley, but Motorola's comes with a twist: To ensure that projects are not only completed but developed quickly, that group's engineers will be given just two years to work there. Then they'll be shown the door.
The group is hiring experts in metals, acoustics and artificial intelligence. Current projects include voice-recognition sensors, better smartphone cameras and batteries that hold a charge for days, according to the New York Times. Google declined to confirm those specifics.
If the new division sounds like something out of Q's lab in the James Bond movies, you're not far off. The leader of the group is Regina Dugan, former director of the U.S. Defense Advanced Research Projects Agency (Darpa). She borrowed the idea from her experience at Darpa, where small groups of engineers work on short-term projects with a definite end-date, then disband.
Related story: The building blocks for Google's mobile empire
It's all part of a big -- and necessary -- shift in the way Motorola does business. After losing money in 14 of the past 16 quarters and ceding market share to bigger rivals, the company needed to start anew.
That's why Google fired 40% of Motorola's vice presidents and hired its own executives to replace many of them. Notable former Googlers joining Motorola include Woodside, formerly Google's ad sales chief, and Gary Briggs, Google's former marketing director, who will be taking the same role at Motorola.
The changes at Motorola aren't just about hiring and firing. In an Apple-like move, Motorola announced Monday that it will exit the low-end feature phone market and focus exclusively on smartphones. It will also go to market with just a small number of devices each year.
Despite all of these major changes, Google continues to insist that it will run Motorola at an arm's length. The company said from day one that it bought Motorola largely for access to its 17,000 patents, which Google plans to use defensively to protect its Android ecosystem. Google is loathe to upset the other Android partners that make that mobile ecosystem so successful -- most notably Samsung, which is by far the world's largest smartphone manufacturer.
Android chief Andy Rubin said earlier this year that Google "literally built a firewall" between Android and Motorola. Included in that barrier are assurances that Motorola will have to continue licensing its Android software and applications from Google on the same terms as other manufacturers. It will also have to compete for the contract if it wants to build Google's annual and highly sought after "Nexus" device.
But Monday's announcements are an indication that buying Motorola wasn't just an expensive legal maneuver to grab some patents. Google now has its own personal hardware laboratory -- and it plans to take full advantage of it.