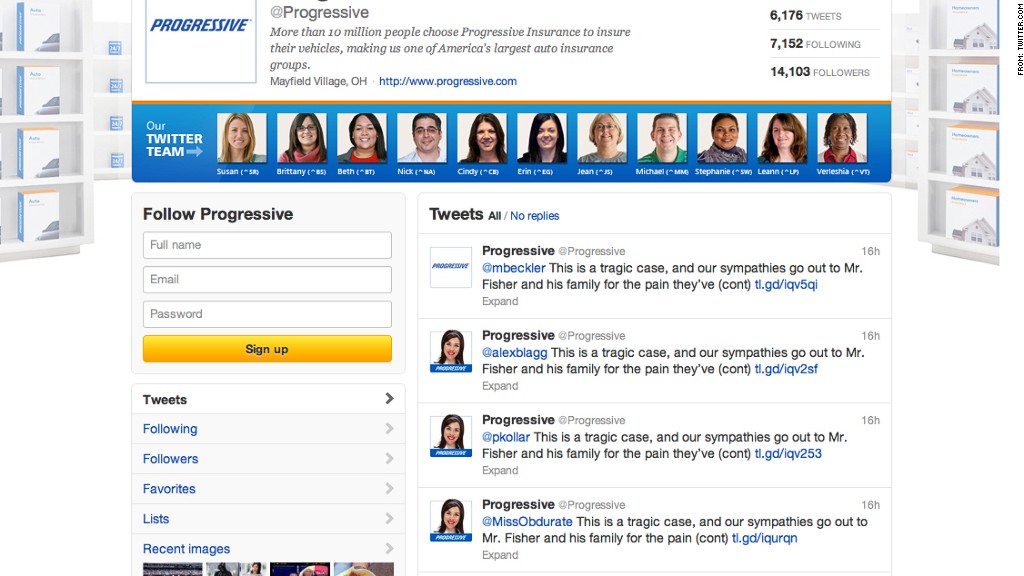 Pro tip for big brands: When talking on Twitter about how you handled a customer's tragic accident, the phrase "contractual obligations" is unlikely to play well.
Progressive Insurance is the latest company to spark a fiery online backlash to a tin-eared series of tweets and other online postings.
The company's crisis began late Monday, when a customer's sibling published a Tumblr post with the kind of headline public-relations people have nightmares about: "My Sister Paid Progressive Insurance to Defend Her Killer In Court."
"I've been sending out some impertinent tweets about Progressive Insurance lately, but I haven't explained how they pissed me off," Matt Fisher's post began.
Fisher's sister Katie died in a car crash in June 2010 after another driver ran a red light. That driver's insurance company immediately settled with Katie's estate, according to Fisher's post, but because the driver was underinsured, Fisher's family looked to Progressive to make up the difference, in keeping with the terms of Katie's policy.
Maryland doesn't allow private citizens to sue insurance companies for refusal to pay. So his family did the only thing they could, Fisher says: take the other driver to court to establish his negligence, and use that decision to force Progressive to honor its policy.
That's when the other shoe dropped. "At the trial, the guy who killed my sister was defended by Progressive's legal team," Fisher wrote. "If you are insured by Progressive, and they owe you money, they will defend your killer in court in order to not pay you your policy."
In the end, the jury found in favor of Fisher's family to the tune of $760,000 plus legal fees, according to court records. Fisher says he still isn't sure when Progressive will be making good on that sum.
Fisher's blog post went viral overnight and was re-shared on Tumblr more than 10,000 times. The Internet hive turned savagely on Progressive and its iconic spokeswoman. "Flo, you can suck it," digital strategist Anh Ta wrote on Facebook, linking to Fisher's blog post.
Scores of people bombarded Progressive (PGR) with negative comments on Twitter. As criticism intensified, Progressive dumped gasoline on the social-media sparks.
It responded to its detractors with a perfunctory statement through the app TwitLonger, which allows tweets exceeding 140 characters. Its reply began: "This is a tragic case, and our sympathies go out to Mr. Fisher and his family for the pain they've had to endure. We fully investigated this claim and relevant background, and feel we properly handled the claim within our contractual obligations."
That message was repeated verbatim in more than a dozen Twitter replies from Progressive to its critics. It didn't go over well.
Related story: 6 painful social media screwups
Former Star Trek actor and geek culture icon Wil Wheaton ran the repetitive tweets through text-to-speech software, producing a soulless robotic voice. "Dear Progressive Insurance PR Bot: This is what you sound like, you inhuman monster," he wrote. More than 21,000 people played the recording, and hundreds shared it on Tumblr and other social networks.
TwitLonger piled on by banning Progressive's account for spamming.
By late Tuesday, Progressive adjusted its public response and released a statement pushing back against Fisher's version of the story.
"To be very clear, Progressive did not serve as the attorney for the defendant in this case. He was defended by his insurance company, Nationwide," Chris Wolf, a general claims manager, wrote on Progressive's blog. "We respect the verdict and now can continue to work with the Fisher family to reach a resolution."
The case's legal complexities remain murky, but Progressive's carefully worded statement leaves it plenty of wiggle room. Court documents show that Progressive was added to the case last year as a defendant, alongside the at-fault driver, and that it actively participated in fighting against the Fishers' claims.
Progressive provided CNNMoney with the same statement posted on its blog and did not respond to further questions.
Fisher initially responded to CNNMoney's request for comment but did not follow through with an interview.
Chris Morran of The Consumerist wrote a measured post explaining how insurance battles like this one can turn Kafkaesque. The facts are still coming out, but Progressive's bungled social-media response echoes previous brand meltdowns by Kenneth Cole and Nestle.
Fashion brand Kenneth Cole came down with one of Twitter's most famous cases of foot-in-mouth disease when it linked a brand promotion to the Arab Spring: "Millions are in uproar in #Cairo. Rumor is they heard our new spring collection is now available online... -KC." The company's eponymous chairman soon apologized.
Progressive is still under siege on social networks. Its best hope for moving past this debacle might be the short attention span of the Internet hive.
After all, who's still talking about Chick-fil-A?