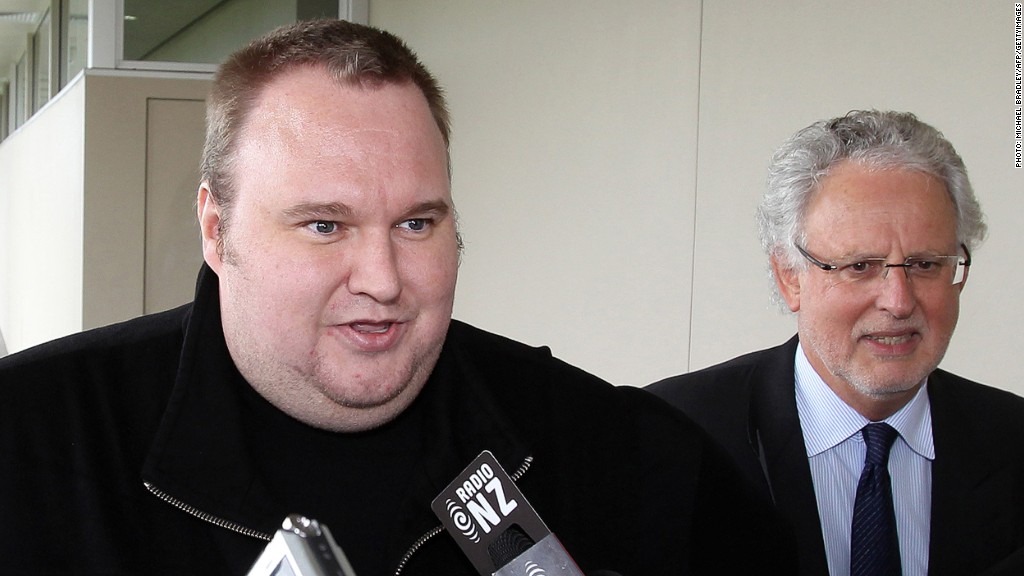 Just one week after being released on bail in New Zealand, Kim Dotcom, the bad-boy German founder of notorious cyberlocker Megaupload, announced on Twitter that he is planning to launch a music service called Megabox later this year.
Megabox has been on the drawing board for a while: Dotcom first mentioned it in a guest post for Torrent Freak the month before his arrest. The venture will "allow artists to sell their creations direct to consumers and allowing [sic] artists to keep 90% of earnings," he wrote.
Dotcom's legal problems apparently haven't dented his entrepreneurial zeal.
Dotcom made a fortune as the founder and longtime CEO of Megaupload, a file-sharing site that became one of the Internet's largest bastions of pirated content. It was shut down in January by U.S. federal agents, when Dotcom and seven other Megaupload officers were indicted for criminal copyright infringement and other crimes.
Dotcom is a permanent resident of New Zealand and faces extradition. His hearing was originally slated for August 6, but was postponed to March 2013 after the High Court judge overseeing his case ruled that the warrants used to seize Dotcom's property in an early-morning raid were illegal.
That judge later recused himself from the case after his remarks at a conference on copyright law indicated that he might be less than impartial. He called the U.S. "the enemy" for its attempt to enforce copyright internationally.
Dotcom and his associates are now free on bail. The flamboyant founder -- who prosecutors say made more than $42 million from Megaupload in 2010 alone -- lost no time in getting back to work. On his Twitter feed, he has been touting his plans to create a service catering to "artists who are eager to depart from outdated business models."
Dotcom and his U.S. lawyers did not respond to CNNMoney's requests for comment.
Related story: Megaupload and the twilight of copyright
If Megabox launches, it will be entering an increasingly crowded space for music-focused tech startups.
Streaming music service Spotify, which brought its service to the U.S. last year, is one of the industry's most closely watched ventures. Dozens of smaller startups are taking aim at other aspects of the music market.
Megabox could find itself going head-to-head with San Francisco-based Gumroad. The no-frills site allows creators to sell almost anything directly to the public -- and it's starting to catch on with musicians. Rapper Wiz Khalifa has begun using the platform, Gumroad business development head Adam Besvinick announced two weeks ago on his blog.
Another venture gaining steam is fan management service Tracks.by, started in 2011 by former Ustream staffers Matt Schlicht and Mazyar "Mazy" Kazerooni. The platform lets artists build social media features directly into the music and videos they release. A Tracks.by campaign for rapper Lil Wayne last year garnered more than 100,000 email addresses from fans in its first day.
Even as he readies his new Megabox venture, Dotcom is fighting to revive his previous business.
By U.S. court order, Megaupload's website remains offline while legal proceedings are underway, but the case isn't cut-and-dried. Dotcom's alleged crimes may not be extraditable under New Zealand's treaty with the U.S., Fortune magazine writer Roger Parloff pointed out in a recent story on the case's complexity -- and they may not even be crimes.
Megaupload claims that it was in compliance with the terms of the Digital Millennium Copyright Act, and it's throwing a ton of legal firepower at proving the point. Lead attorney Ira Rothken, who is also representing Dotcom personally, says the company has a team of 25 lawyers working on its behalf across the globe.