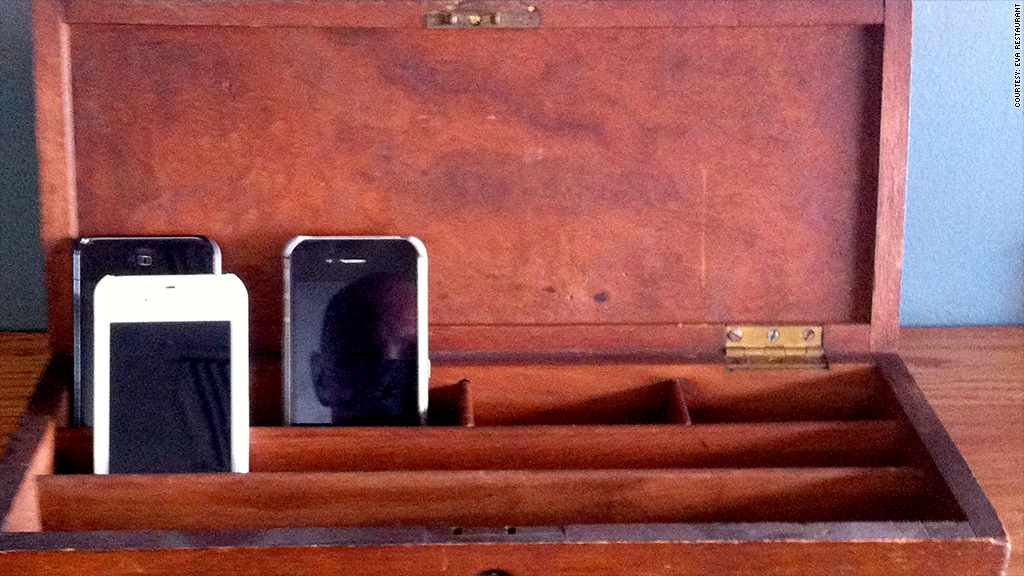 Cell phones often claim a spot on the table in restaurants, sitting right next to utensils, plates and glasses. One restaurant is trying to change that.
Eva Restaurant in Los Angeles offers diners a 5% discount for leaving their phones with the receptionist for the entirety of the meal. The new policy went into effect a bit more than a month ago, according to chef Mark Gold, who runs the restaurant with his wife, Alejandra.
Since then, the chef estimates that 40% to 50% of customers have opted in and ditched their phones.
"Eva is really about family and being at home. That's what we want to exemplify," Gold says. "We just want people to connect again."
He came up with the idea after a conversation about how annoying he found it that people were constantly communicating on their devices.
Eva notifies its customers of its cell phone policy with a statement on its menu.
Plenty of eating spots ask patrons to refrain from using their phones, but Gold believes his contemporary restaurant, located on LA's Beverly Blvd., is the first to dangle a discount.
Those who come to the 42-seat eatery often take to the idea of going phone-less for dinner.
"They actually get really enthusiastic about it," Gold says. "I think people generally like the idea of being able to turn off their cell phones. They just haven't been given the opportunity to or thought about it."
In June, Consumerist reported on a deli in Vermont that adds $3 to each customer's bill if they use a phone at the counter.
Last year, a restaurant in Washington, D.C. explicitly prohibited cell phone use in the establishment. Rogue 24's "reservation contract" asked that "all guests refrain from the use of cell phones and photography."
However, chef and owner RJ Cooper said his restaurant eventually budged on its stance. About six months ago, Rogue 24 began allowing diners to use their phones.
Why? To take pictures and share them on Instagram, of course.