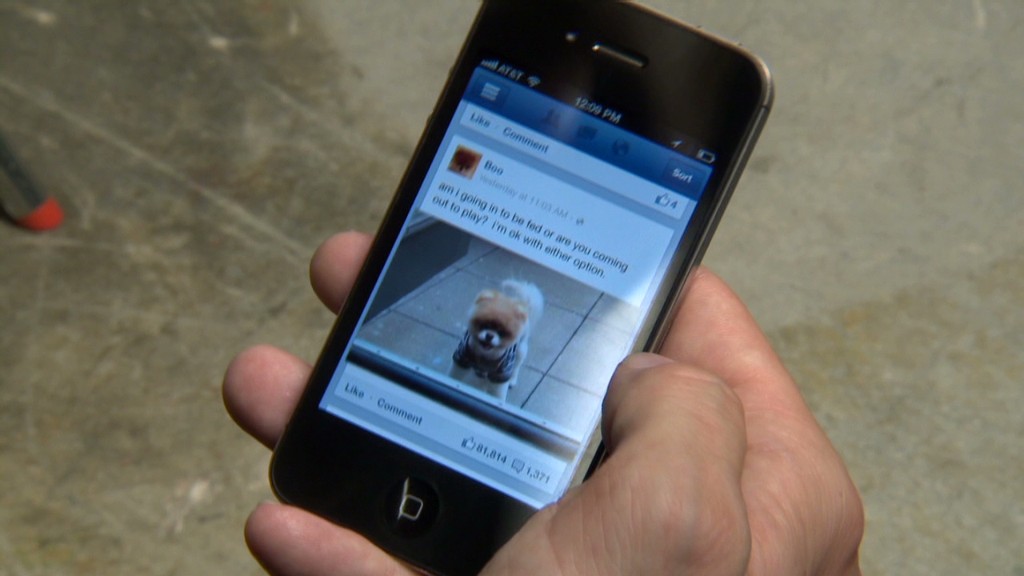 Heads down, keep focused. Hack, hack, hack. Done is better than perfect.
These are all mantras painted on the walls of Facebook's Menlo Park, Calif., headquarters.
On Tuesday, we visited the company to check out their latest creation: an overhaul of Facebook's iOS app for iPhones and iPads. It's intended to fix the complaint heard around the world: the app's glacially slow loading time.
"The app is actually a complete re-write of Facebook for iOS," product manager Mick Johnson told us as he scrolled through the new version. "It's up to twice as fast as what's out there on the marketplace."
Beginning Thursday, users can upgrade. The Apple (AAPL) app is the first to launch; Facebook wouldn't comment on when its Android and other mobile apps might get a revamp.
We tested out the new iPhone version. It looks very similar, but its loading time is noticeably faster on three fronts: when you initially open it, when you scroll through the newsfeed, and when you open a photo from the newsfeed.
There are also updated design features, including a ripple effect when you "like" a post. Comments, status updates and a map that displays check-ins appear in real time. The Facebook crew created a shortcut for swiping through pictures and comments, and integrated Facebook's standalone messenger application.
Facebook has always had a "users first" mentality -- the company hates to change its interface in ways that will clutter up or reduce the experience. That approach helped Facebook grow to nearly 1 billion users. As a newly public company, though, it's now feeling intense pressure from shareholders to grow its advertising revenue.
Facebook (FB) has 543 million monthly mobile users, and it makes almost no money from them. That has to change.
"We believe the future is mobile," Facebook product director Peter Deng told CNNMoney. "The way we think about this idea of monetization is similar to how we approached it on the website, where ever since the beginning, our goal has been to add value to the world."
Facebook's executives wouldn't get into specifics, beyond some vague nods toward the "value in letting businesses connect with their customers," as Deng put it.
Facebook's time as a public company has been rocky, but a visit to the company's new Menlo Park headquarters shows that its hacker ethos is still firmly in place.
Stop off at one of the campus's coffee shops and you'll see buckets of markers near the register for anyone who feels like drawing on the walls. Vending machines are filled with keyboards, power chargers, and any other device a tech geek might need.
In Facebook's Hacker Square, CEO Mark Zuckerberg strolled past with a colleague, chatting intently. It's the same place where three months ago he rang Nasdaq's opening bell, kicking off one of the largest -- and most problematic -- IPOs in Internet-business history.
Ask around at Facebook and insiders at Facebook will say that IPO and falling stock price are rarely talked about.
Some of that stems from a gag order: Engineers have been warned to steer clear of any comments or speculation. But it's also cultural. Tall blue chairs in the office have the word "hack" emblazoned across the back, and Zuckerberg's hacker manifesto echoes throughout the campus.
As one sign on the wall puts it: "Good things come to those who work their asses off and never give up."