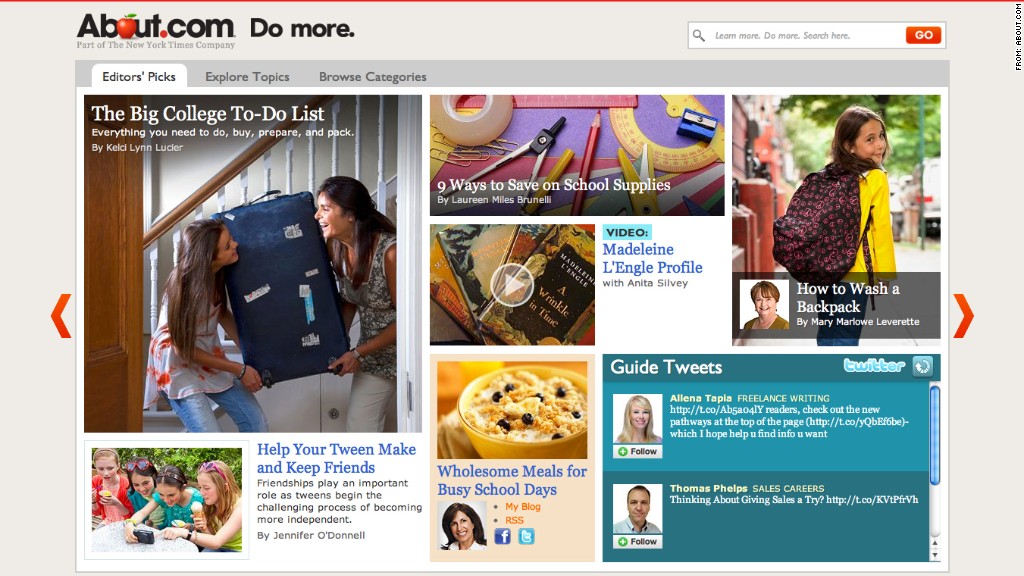 The New York Times Co. announced on Sunday that it has sold About.com to IAC/InterActive Corp. for $300 million in cash.
IAC (IACI) won a month-long bidding war for the question and answer website. Four weeks ago, Answers.com had signed a letter of intent to take About.com off the Times' hands for $270 million. The president of Answers.com, Peter Horan, had previously been the CEO of About.com.
But IAC swooped in with a higher bid last week. The interactive media and ad company plans to integrate About.com into its own search engine and question-and-answer service, Ask.com.
"The complementary nature of these two businesses will provide significant synergies going forward, and thus we expect that About.com will generate more profit as a part of Ask.com and IAC than it has been able to over the last few years," IAC CEO Greg Blatt said in a prepared statement.
The Times Co. (NYT) first purchased the About Group in 2005 for $410 million. Profits for the company slipped after Google (GOOG) changed its search algorithm in 2011. The tweak hurt the division's traffic and ad revenues.
IAC, however, expects a reversal for the website under its new ownership. The company also owns Match.com and Urbanspoon, among many others. It is also where Horan had served as the CEO of its Media and Advertising group, according to his LinkedIn (LNKD) page.
The Times Co. has undergone another change recently, as it took on the BBC's Mark Thompson as its new CEO.
In addition to the daily newspaper, the company's other properties include the International Herald Tribune and The Boston Globe. Its 2011 revenues reached $2.3 billion.