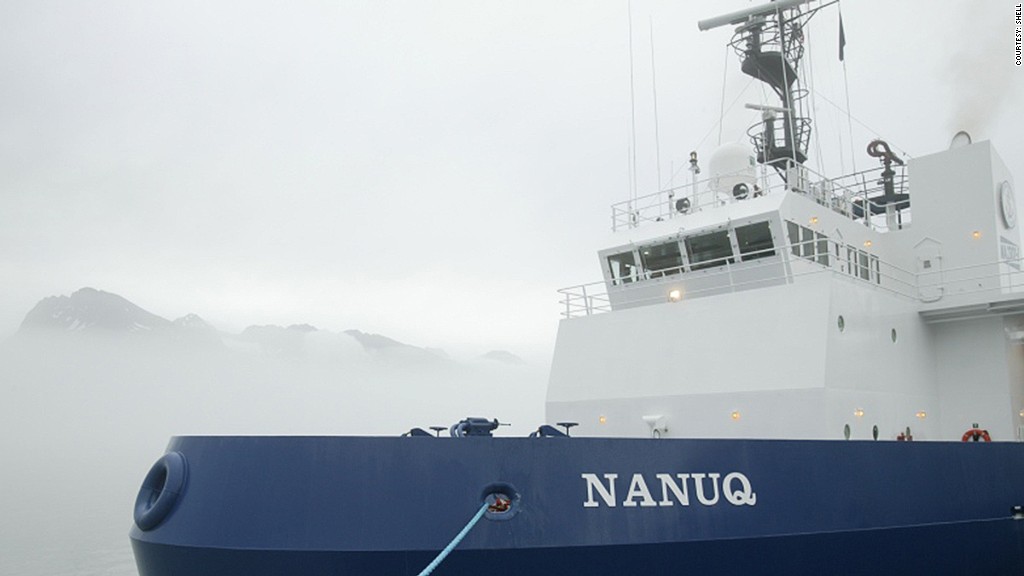 The Obama administration has granted Royal Dutch Shell permission to begin drilling preparations off the coast of Alaska, bringing the region a step closer to offshore oil production.
The news drew swift criticism from environmental groups that claim such drilling can't be done safely in the Arctic.
The government's Bureau of Safety and Environmental Enforcement said Thursday that Shell (RDSA) has been authorized to perform "certain limited preparatory activities" in the Chukchi Sea off the Alaskan coast. The activities include the installation of a safety feature below the sea floor related to blowout prevention.
The company's applications to drill into potential oil reservoirs "remain under review," the bureau said.
"Shell will not be authorized to drill into areas that may contain oil unless and until the required spill containment system is fully certified, inspected, and located in the Arctic," bureau director James Watson said in a statement.
If Shell's final permits are granted, it will be performing one of the first Arctic offshore drilling operations in recent memory. Industry competitors such as BP (BP) and ExxonMobil (XOM) are also hoping to get in on the action.
Shell did not immediately respond to a request for comment.
Why Shell is betting billions to drill for oil in Alaska
The government was set to approve new drilling in Arctic waters off Alaska before BP's disastrous 2010 oil spill in the Gulf of Mexico prompted a review of existing plans.
The oil companies say they can drill safely in the region. Shell has repeatedly pointed out its numerous preparations, and says it can respond quickly to contain any problems.
But environmental groups remain skeptical, with memories of the 1989 Exxon Valdez oil spill still lingering.
"It is clear that drilling of any kind in the Arctic is just too dangerous. It is time for Shell and the Obama administration to start looking toward a renewable energy future rather than spending billions of dollars on dirty fossil fuels," Greenpeace Deputy Campaigns Director Dan Howells said in a statement.
The Arctic is estimated to contain 90 billion barrels of undiscovered, technically recoverable oil and 1,670 trillion cubic feet of recoverable natural gas, according to the United States Geological Survey. That's 22% of the world's undiscovered, recoverable oil and gas resources.
Other countries have already begun drilling, and supporters of the industry say the United States needs to get in on the action.