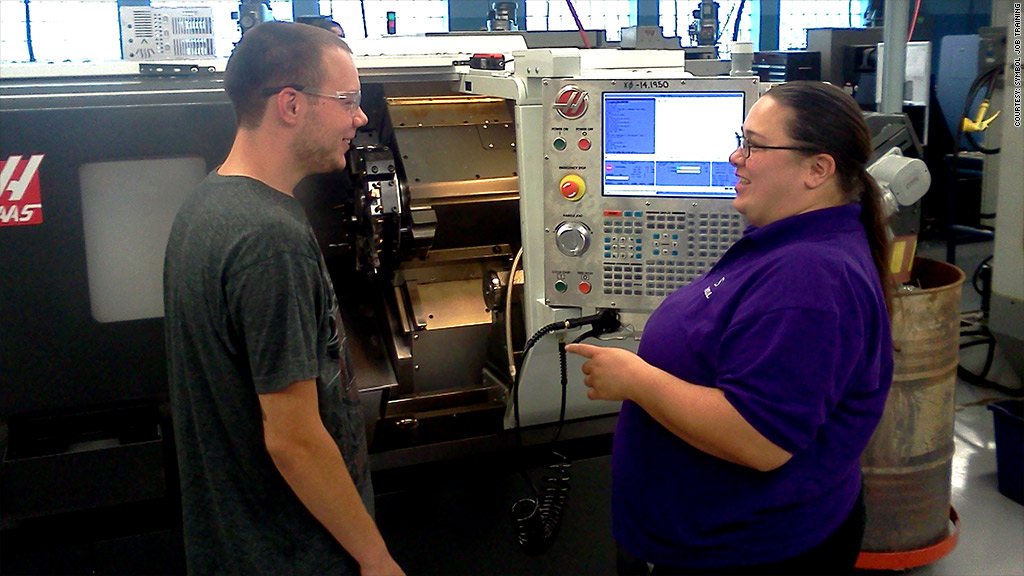 April Senase is at the front end of a potential job boom: women in manufacturing.
Senase, 35, is a trailblazer. She has worked numerous factory jobs for 13 years -- often as the first, or only, woman on the production floor. She makes nearly $40 an hour, with overtime, in her day job running high-tech machinery at a factory that makes specialized industrial parts.
And in March, she took a second job as the first female instructor in computer-aided machining at Symbol Job Training Inc., a trade school that sits in the heart of a busy manufacturing hub in Skokie, Ill.
In her new role, she hopes to inspire more women to follow her lead.
According to the National Association of Manufacturers, about a third of all manufacturing workers today are women.
But manufacturing is rapidly being transformed from a labor-intensive field to a high-tech one. The change, and a nascent pick up in domestic manufacturing, has created thousands of factory jobs nationwide that, experts say, more women are starting to seek out.
"Women are very detailed-oriented," said Senase. "You need that approach in manufacturing today because the work is so much more precise."
Related: Hundreds of factory jobs go unfilled
Tom and Diana Peters -- the husband-wife team that runs Symbol Job Training -- are on a mission of their own. They want to enroll more women students in their school.
"The stereotype is that factory jobs require a lot of heavy lifting," said Diana. "It's the complete opposite. So much of manufacturing today is high-tech and computerized. Women can do these jobs and be very successful."
The Peters' trade school was formerly a family-run tool-and-die shop before Diana, a company executive, bought it and transformed it into a manufacturing trade school in 2005.
"We saw the need to establish a vocational school because of a skilled labor shortage in the area," she said.
Enrollment at Symbol, which specializes in teaching computer-aided machining, known as CNC, has since quadrupled to 140 students a year. The school recently moved to a larger facility.
Symbol currently has about a dozen female students, a level that Tom calls a "spike" from years past when the school had none.
Related: Manufacturing is my future
"Diana is already a role model for women students because it's rare to have a manufacturing school owned and operated by a woman," said Tom, director of business operations. And by hiring Senase, the Peters hope to further demystify the industry as a "boys' club."
Senase showed a knack for the trade early on. She took several shop classes in high school and started winning competitions.
"One of my instructors told me I was good in math and that I should consider going into CNC because the money's good," Senase said.
She won a scholarship, graduated from a vocational school and worked at several different companies where she quickly moved up the ranks.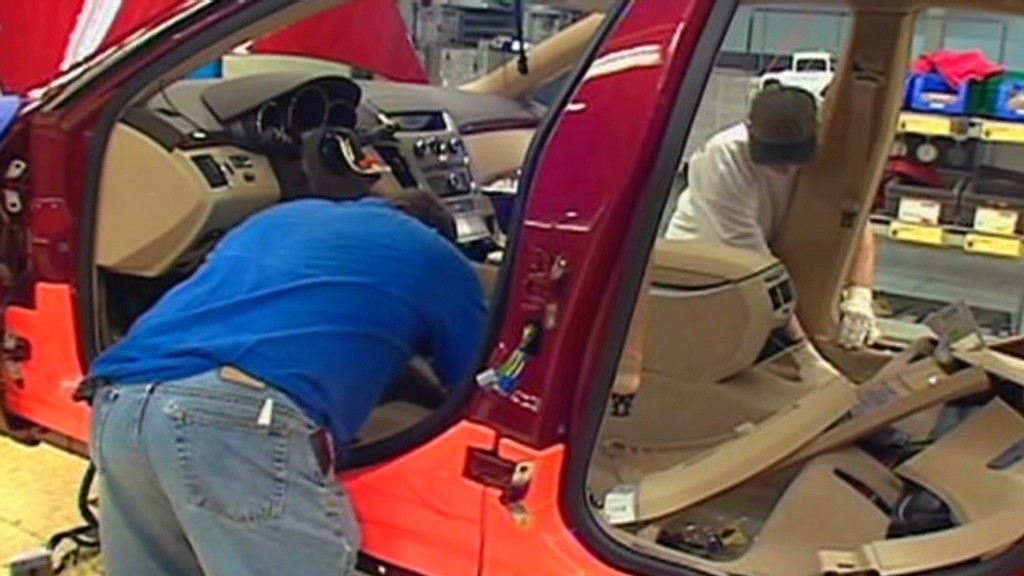 Currently, Senase is a CNC specialist with Kitagawa-NorthTech in Schaumburg, Ill., earning $25 an hour. With overtime, because of a shortage of CNC workers, she's making up to $37.50 an hour.
And she teaches night classes at Symbol. Senase wants her students to come away ready to go on job interviews and present themselves as "fully-trained machinists, and not as a man or a woman."
Still, she doesn't sugarcoat her experience as a woman in a mostly male-dominated industry.
"Some guys have a hard time being instructed by a woman," she said. "They'd say to me, 'Why do you want to do this? You're going to get dirty.' "
Her response: "Yes, but at least I can afford to buy good soap."