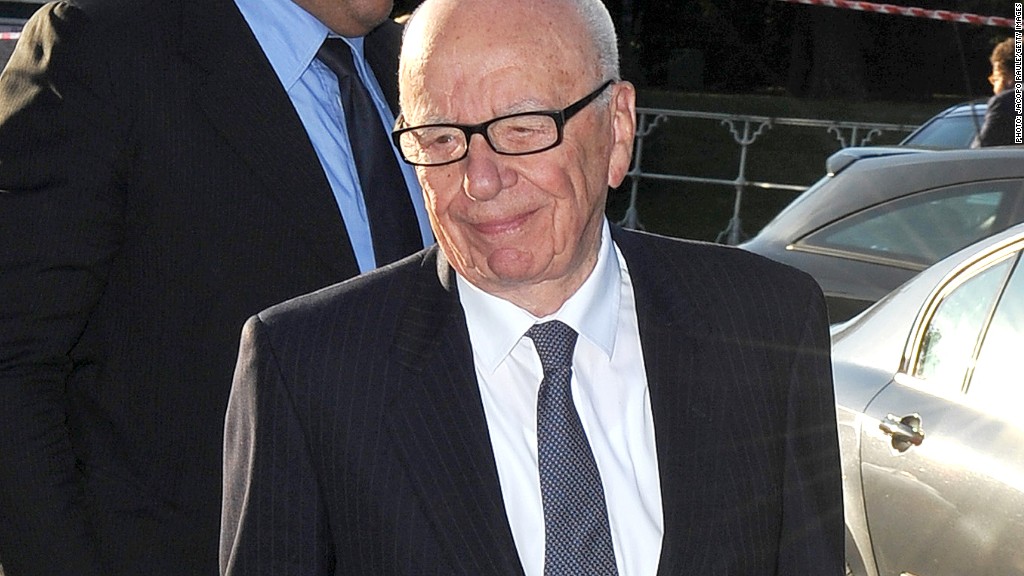 The top executives at News Corp. paid a price for alleged phone hacking of crime victims and celebrities in Britain. The scandal shaved millions of dollars off their annual bonuses.
Even though the media company did well financially in its most recent fiscal year, the compensation of top executives Rupert and James Murdoch, Chase Carey and David DeVoe got chopped in fiscal 2012 (which ended June 30.)
News Corp. made it clear in its proxy statement that this was a direct result of the leadership's responsibility for last year's hacking scandal, which drew the scrutiny of London's police investigators and the British Parliament. News Corp. ended the publication of its 168-year-old British tabloid, The News of the World, in 2011 due to the hacking allegations.
The company said in the proxy that the compensation committee "recognized the company's extensive cooperation with these investigations." But the company also said "management should share responsibility for the impact of these matters on the company, including the related costs" by reducing the bonuses for top executives.
Related: News Corp. doesn't have much to show for its boldness
Rupert Murdoch, founder, chairman and chief executive officer, was awarded a bonus $10.4 million for fiscal 2012, down from $12.5 million in the prior year. His total compensation, including salary and stock options, was about $30 million in 2012, compared to $33.3 million the year before.
Chase Carey, chief operating officer, was paid a bonus of $8.34 million in fiscal year 2012, down from $10 million in 2011 and $15 million in 2010. His total compensation was $24.8 million in 2012, down from about $30.2 million a year earlier.
James Murdoch, deputy chief operating officer and son of Rupert, was awarded a bonus of $5 million in fiscal year 2012. This was down from the $6 million bonus that he was awarded the prior year -- a bonus that he declined, according to the proxy statement. His compensation totaled $16.8 million in 2012, down from nearly $18 million.
David DeVoe, chief financial officer, was awarded a bonus of $4.2 million in fiscal year 2012, down from $5 million the prior year. His 2012 compensation was $10.8 million altogether, down from $18.2 million.
Related: News Corp. posts loss on write-down
Separately, News Corp. also nominated two new members for its board of directors: Álvaro Uribe, former president of Colombia, and Elaine Chao, the U.S. Secretary of Labor under President George W. Bush.
News Corp (NWS). published the proxy statement ahead of its stockholder meeting, scheduled for Oct. 16.
Despite the scandal, the company has performed well this year in its core Fox cable, television and movie businesses and plans to split into two publicly traded companies, one for its broadcast and entertainment divisions and one for newspaper and book publishing.
The stock is up more than 30% year-to-date. News Corp. has outperformed nearly all of its media rivals, including CNNMoney parent Time Warner (TWX), Viacom (VIAB) and CBS (CBS). Walt Disney (DIS) is the only major media stock that has done better than News Corp. in 2012.