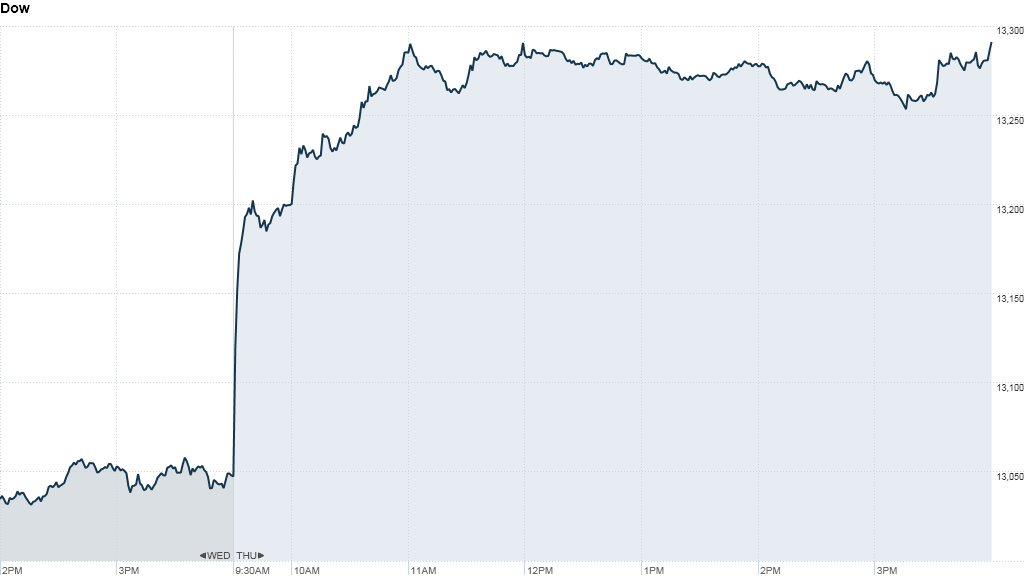 U.S. stocks surged Thursday, with all three major indexes closing at the highest levels in years, as optimistic investors went on a buying spree.
A combination of stronger-than-expected data on the job market and the European Central Bank's bond-buying program provided the momentum, but it remains to be seen whether that can last.
The Dow Jones industrial average surged 245 points, or 1.9%, and closed at the highest level since December 2007. The S&P 500 climbed 2% to its highest level since January 2008 while the Nasdaq shot up 2.2% to its highest level since November 2000.
The advance was broad, with all 30 components of the Dow finishing higher. Bank stocks led the gains on the blue-chip index, with shares of Bank of America (BAC) and JPMorgan Chase (JPM) soaring more than 4%. About 98% of the S&P 500 finished in positive territory.
Speaking after a meeting of top ECB officials in Frankfurt, the central bank's president, Mario Draghi, reiterated his pledge to do "whatever it takes" to preserve the euro and said the ECB is prepared to make "outright monetary transactions," or OMTs, in the secondary market for euro-area government bonds.
The move is aimed at Spain and Italy, which struggled with unsustainable borrowing costs earlier this year, but will be available to all euro nations.
Related: ECB outlines bond-buying program
"The news out of Europe is boosting the market," said Jack Ablin, chief investment officer at Harris Private Bank. "It seems like investors were skeptical of the ECB being able to pull off unlimited bond buying authority, so that's really helping."
The ECB also left interest rates unchanged at 0.75% and lowered its outlook for economic growth in 2012.
On the domestic front, a handful of reports on unemployment and hiring showed an improvement in the job market. The latest week of jobless claims fell by more than economists had forecast, while companies expanded their payrolls more than expected in July.
Investors hope Thursday's data is a preview of what the U.S. employment picture looks like with Friday's monthly jobs report.
"We've been seeing incremental improvement in the U.S. economy, and it would be great to get two strong jobs numbers in a row," said Ablin.
The government is expected to report Friday that employers added 120,000 jobs in August, according to economists surveyed by CNNMoney. Investors will be paying especially close attention to the figure, since it will likely influence the Federal Reserve's decision on whether to announce more quantitative easing at the conclusion of its next meeting on Sept. 12-13.
World Markets: European stocks finished sharply higher. Britain's FTSE 100 added 2.1%, the DAX in Germany rose 2.9% and France's CAC 40 gained 3.1%.
Second-quarter growth in the euro area decreased by 0.2% compared with the previous quarter, according to estimates released by Eurostat on Thursday. GDP for the eurozone was 0.5% lower than the same quarter last year.
Related: Chinese make 25% of world's luxury buys
Asian markets closed higher Thursday. The Shanghai Composite edged up 0.7% and the Hang Seng in Hong Kong added 0.3%, while Japan's Nikkei ended slightly above breakeven.
Economy: Employment in the U.S. non-farm private sector increased by 201,000 from July to August, according to ADP's National Employment Report. The estimated gain from June to July was revised up, from the initial estimate of 163,000 to 173,000.
The numbers blew past expectations, as economists surveyed by Briefing.com had forecast an increase of 143,000 jobs.
Another upbeat report showed that jobless claims decreased to 365,000 during the week ending in Sept. 1, down 12,000 from the previous week's revised figure of 377,000, according to the Labor Department. Economists surveyed by Briefing.com had expected claims to come in at 373,000.
These jobs numbers follow a report from outplacement firm Challenger, Gray & Christmas, which showed more than 32,000 planned job cuts in August -- fewer layoffs than were announced in July.
The Institute for Supply Management said its index of activity in the service sector increased to 53.7 in August from 52.6 in July. The index was expected to come in at 52.4, according to a survey of analysts by Briefing.com.
Companies: Amazon (AMZN) unveiled a new front-lit Kindle e-reader Thursday afternoon. The device, called the Paperwhite, will sell for $119 and will ship Oct. 1. The Paperwhite with 3G capabilities will sell for $179. The company also dropped the price of its low-end Kindle to $69 from $79.
Shares of Walgreen (WAG) were lower after the company reported disappointing August sales.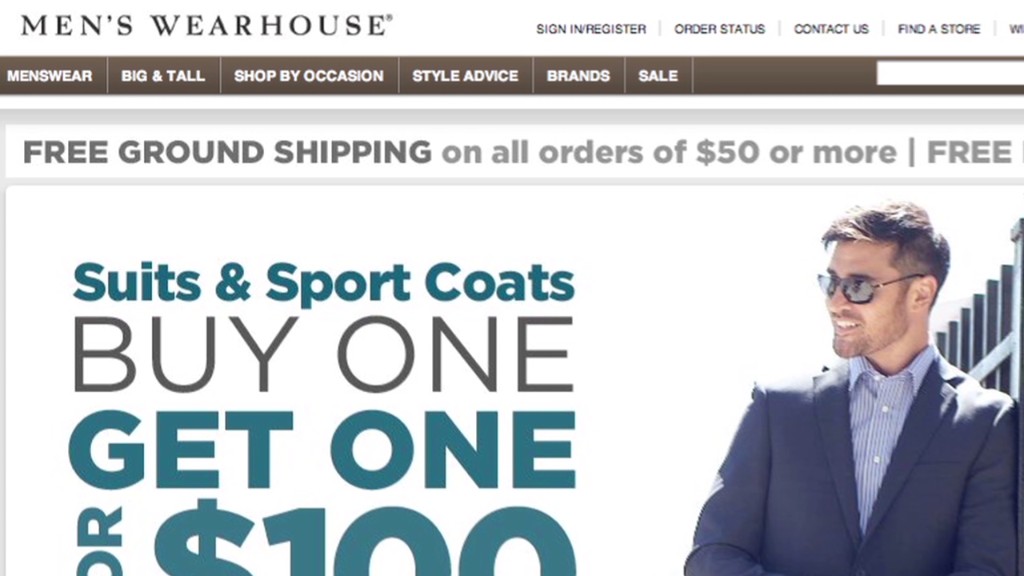 Currencies and commodities: The dollar edged lower against the euro and the British pound, but rose versus the Japanese yen.
Oil for October rose 17 cents to settle at $95.53 a barrel.
Gold futures for December delivery gained $11.60 to settle at $1,705.60 an ounce.
Bonds: The price on the benchmark 10-year U.S. Treasury fell, pushing the yield up to 1.66% from 1.59% late Wednesday.