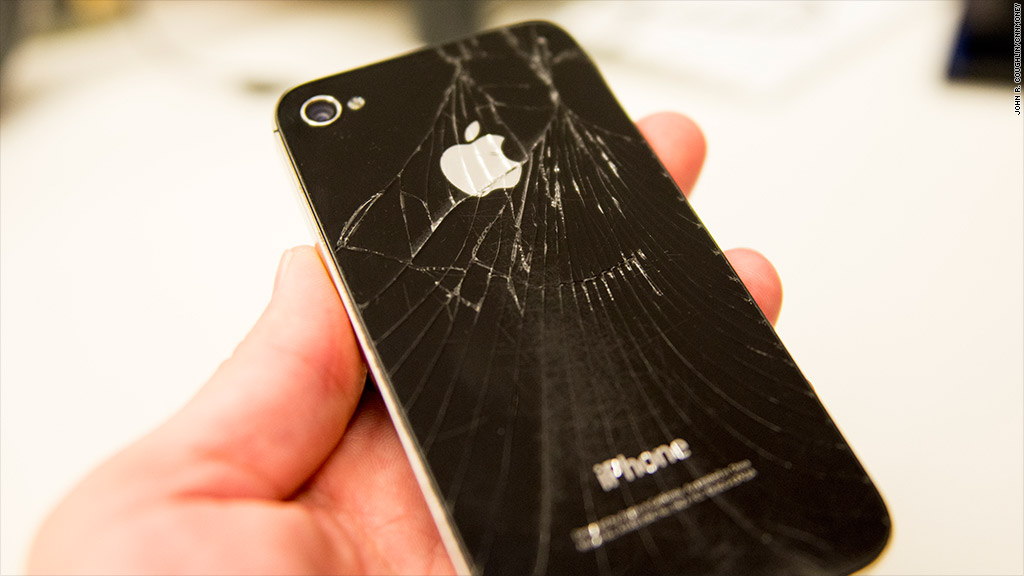 Apple's iPhone has crushed the competition, maintaining the title of the world's single best-selling smartphone for five years. But even the mighty iPhone has fallen behind in some key areas.
Some of those features may be unveiled on Wednesday, when Apple (AAPL) is expected to announce the iPhone 5. Others are areas in which Apple may never choose to play. The smartphone trends Apple has so far ignored include: apps that display information without opening them, bigger screens, and biometric security.
But there are three core, growing trends in smartphones where Apple has noticeably fallen behind its rivals.
4G: Some AT&T (T) customers were excited in March when their iPhones began to display "4G" in the network status bar. It was a lie.
"True" 4G speeds, according to the standards-setting International Telecommunication Union, are offered by a technology called Long Term Evolution that offers speeds comparable to your home broadband connection. The iPhone does not currently support that.
Though carriers continue to build and roll out their 4G-LTE networks, it has become a standard feature on Google (GOOG) Android and Microsoft (MSFT) Windows Phone devices for nearly two years. Experts widely expect the iPhone 5 will be a 4G-LTE device.
Prepaid market: The majority of U.S. cell phone users sign contract plans with wireless providers, but the prepaid market is growing at a rapid clip -- and Apple is only just starting to wade into it.
About 32 million U.S. wireless customers had pre-paid phones from the four nationwide carriers last quarter, which was a 21% increase from the second quarter of 2011. The number of contracted subscribers ticked up just 2% over the same year.
Related story: iPhone is bigger than all of Microsoft
Many smartphones are available on prepaid plans, in which customers generally buy a phone for nearly full price but pay less for an as-you-go monthly plan. Google's open-source Android platform is dominant in the U.S. prepaid world.
Apple is now beginning to strike its own deals in the United States. Regional carrier Cricket, owned by Leap Wireless (LEAP), began selling the country's first pre-paid iPhone in June, for $500. Sprint-owned (S) Virgin Mobile added the iPhone to its prepaid lineup soon after that.
Shaw Wu, an analyst at Sterne Agee, said he met with Apple reps in June and expects the company will continue to be "aggressive" in the U.S prepaid market.
"This is a segment of the market that cannot be ignored," Wu said. "Many customers are willing to pay full price for a phone in exchange for a cheaper plan, and Apple still gets the money paid for the device. We expect Apple to set more deals in this area."
NFC: "Near field communication" is a short-range wireless technology that lets your smartphone do lots of cool things, from beaming content to other devices nearby to using your phone as a mobile wallet.
NFC has been around for years, but smartphone makers have recently been making it a standard feature. Most smartphones from Samsung and Nokia (NOK) include NFC chips, for instance. Google made NFC the basis of its Google Wallet payment technology, and it is requiring the chips be embedded on the Nexus Android devices that it has a hand in designing. Even credit card companies like MasterCard (MA) have embraced NFC.
But Apple doesn't appear to see NFC as the mobile payment solution. At its developer conference in June, Apple said iOS 6 will include a app called Passbook that stores items like digital boarding passes and membership cards -- and it seems like a short leap to storing credit cards.
"NFC has been around a long time, and to Apple there are still issues from a security and infrastructure standpoint," said Pacific Crest Securities analyst Andy Hargreaves. "There are absolutely other ways to achieve what NFC does, and Passbook could be a big part of that down the road."
Yet opting out of all these features certainly hasn't hurt Apple. Being the best, not necessarily the first, is Apple's lifeblood. So sometimes, industry analysts noted, ignoring trends can be a smart decision.
"They're not Google; they don't try everything and see what works," said Wu, the Sterne Agee analyst. "They don't deploy something until it's really ready, and that can take time."