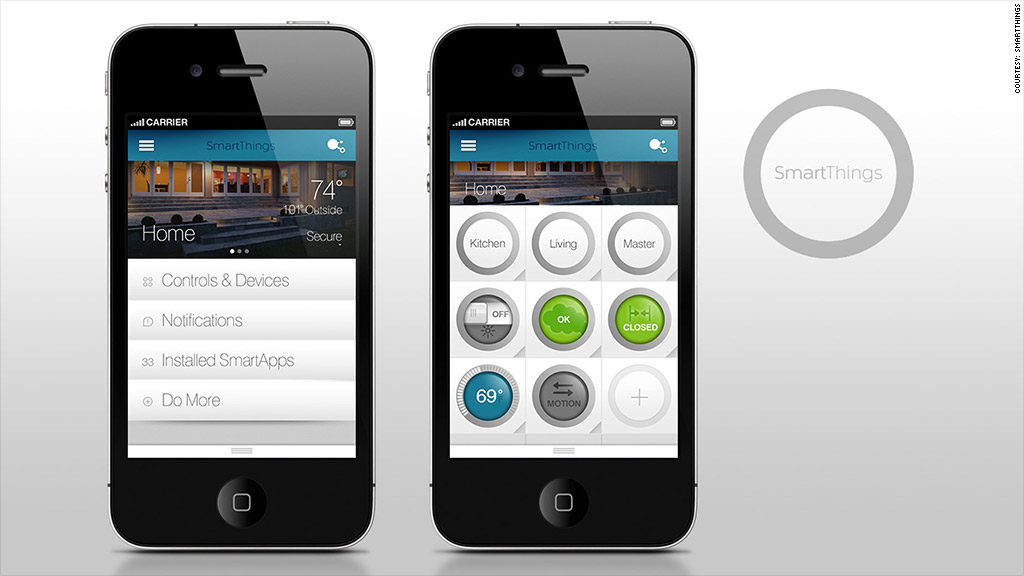 Kickstarter's latest tech darling promises to let you run your entire world from your smartphone: Control your air conditioning, lock your doors, or get an alert when your plumbing starts leaking. It's called SmartThings, and it's slated to start shipping in December.
SmartThings founder Alex Hawkinson got the idea for a system linking regular household items to the Internet after a power outage in his vacation home caused the basement pipes to explode. When Hawkinson showed up at the house a month later, he wished there had been a way for him to get a notification that something was up before chaos broke out.
"Imagine if you wanted to create a sprinkler that knows when it's going to rain," he says. "Amazing things become possible when you connect regular things to the Internet."
SmartThings' system is powered by a wireless hub that links to a collection of sensors users can place around their home. The entire system can be controlled through a smartphone. (Apple Inc (AAPL) iPhone and Google Inc (GOOG)'s Android will be ready at launch, Hawkinson says.)
The company plans to kick off with support for power outlets (for turning devices on and off), open and shut sensors (for monitoring windows and doors), motion sensors and presence detectors. It expects its "Thing" collection to grow as developers build more sensor links.
Home automation systems have been around for decades. SmartThings' breakthrough is its price tag. A basic kit -- one hub and three Thing sensors -- currently starts at $174 on Kickstarter. Add-on Things cost $25 to $35 each. Hawkinson plans to eventually charge monthly fees of $5 to $10 for SmartThings' service, but Kickstarter backers will have those fees waived.
Too good to be true? Hawkinson says the technology is ready to roll.
"We feel confident because all the pieces already exist and we're just making refinements at this point," he says. "If you check out the app demo, you'll see simple examples of how the hub, the Things, the cloud, SmartApps, and the mobile app are already working."
The Kickstarter community has flocked to the project. SmartThings has raised more than $750,000 through a campaign that will end next week. It's also attracted outside developers: Hawkinson says several hundred are already working on add-on apps for the system's open platform.
He envisions apps for literally everything, allowing people to wire up their things "like you can install apps into your phone." Want to keep track of your kitty? Slap a presence sensor on her collar and track her location with the "Oh No, My Pet Is Loose!" SmartApp.
"I think we're a good example of a coming hardware renaissance in the U.S. that is really software companies dressed up with some very specialized hardware," Hawkinson says.