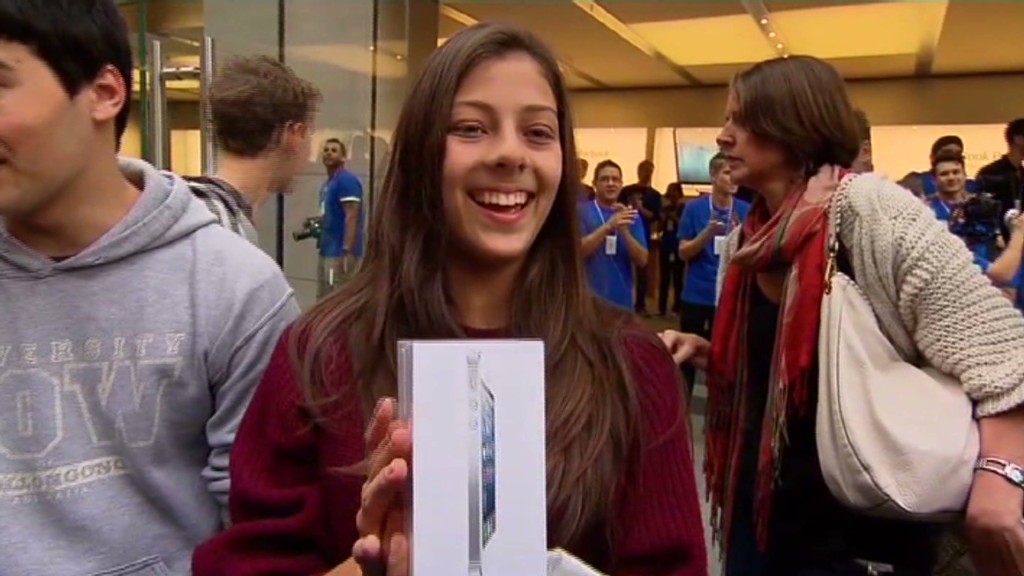 Apple sold more than 5 million iPhone 5 phones since the highly anticipated device went on sale on Friday, setting a new sales record for the device, Apple announced Monday.
Over the weekend, the company outpaced the 4 million iPhone 4S units that it sold during last year's opening weekend, though the numbers are a bit skewed. This year's iPhone was simultaneously launched in the United States, Australia, Canada, France, Germany, Hong Kong, Japan, Singapore and the United Kingdom, while last year's launch did not include Hong Kong and Singapore.
Investors viewed the iPhone 5's opening weekend as somewhat of a disappointment. Wall Street analysts had anticipated a slightly more robust opening weekend, with most projections in the 6 million range.
Shares of Apple (AAPL) fell by more than 1% by then end of trading on Monday.
Preordered iPhone 5s that have not yet shipped to customers are not counted in Apple's overall sales figures. That could signal that demand for the device is higher than the early sales numbers indicate, some analysts noted.
Apple CEO Tim Cook said he was pleased with the results, noting that demand outpaced the supply of iPhone 5s. Some people who ordered them over the weekend will have to wait until October to get their new iPhones.
"Demand for iPhone 5 has been incredible and we are working hard to get an iPhone 5 into the hands of every customer who wants one as quickly as possible," Cook said in a prepared statement. "While we have sold out of our initial supply, stores continue to receive iPhone 5 shipments regularly and customers can continue to order online and receive an estimated delivery date. We appreciate everyone's patience and are working hard to build enough iPhone 5s for everyone."
Related story: MapGate is Apple's latest iPhone oops
Apple also announced that more than 100 million customers have downloaded or purchased a device with iOS 6, the new mobile software that powers the iPhone, iPad, and iPod Touch. The latest version of the operating system became available on Sept. 19.
The sales record comes despite somewhat mixed reviews for the device. Though most reviewers were satisfied with the thinner, lighter, taller design and the faster processor, they were largely disappointed with the new Lightning connector's compatibility issues and with the Apple Maps application.