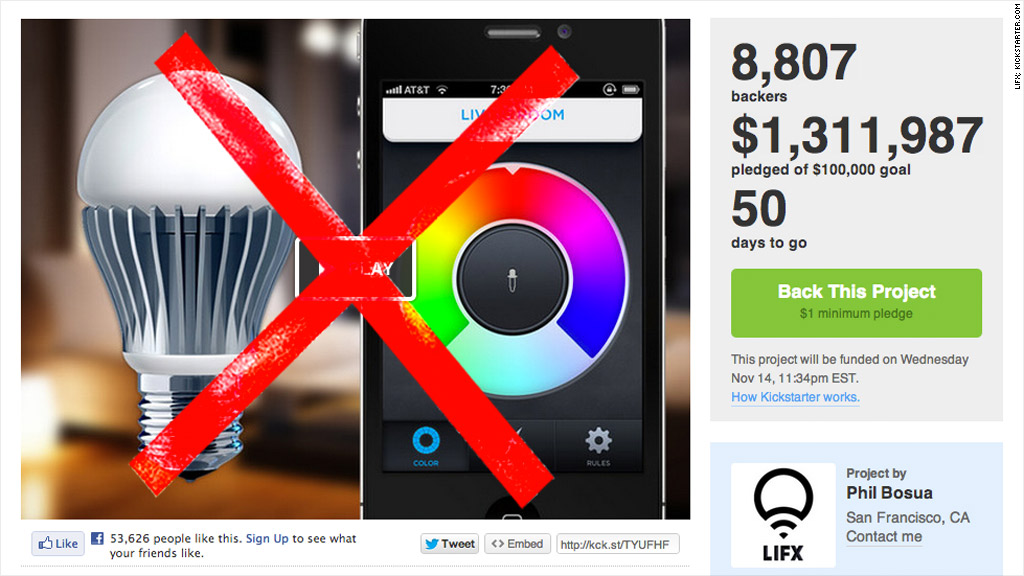 Crowdfunding site Kickstarter surprised its users late last week with a new set of policies tightening the rules on hardware makers.
In a blog post bluntly titled "Kickstarter is Not a Store," the site laid down the new law: Photorealistic design renderings and project simulations are banned, along with "rewards" promising multiple quantities of an item. That means "reseller packs," a popular option among Kickstarter's industrial-design projects, are now verboten.
The changes are a major break from Kickstarter tradition. Nine of the top-10 most-highly funded projects in Kickstarter's "product design" category offered multiple-unit packs, and most featured sleek computer renderings of their not-yet-created gadgets.
The clampdown comes as Kickstarter faces growing concerns about "vaporware": the tech industry's term for products that are promised and never delivered. Originally envisioned as a fundraising system for musicians, visual artists and other creators, Kickstarter has become increasingly popular with entrepreneurs using it as a launch pad for new gadgets and gizmos. Those projects can snowball into big-ticket ventures: Kickstarter's top fundraiser, the Pebble "e-paper watch" project, took in more than $10 million from backers.
And then it ran into delays. Originally slated to ship in September, the watches are still under construction, according to an update posted this week by the Pebble team.
Those delays frustrate backers. "I welcome these changes," one commenter wrote on Kickstarter's blog post. "For example, SuperMechanical's Twine has not shipped even after many many many months. They promised a lot, and delivered nothing. Had I known the risk involved, I would have not funded." (Originally scheduled for March delivery, Twine's wireless sensors finally shipped this week, according to the project's blog.)
Kickstarter's founders hope the new changes will make those risks clear. Product prototypes can now only be shown doing things they're actually capable of (no flashy videos of "future capabilities"), and creators will have to disclose the "risks and challenges" their project faces.
The timing of the new rules seems pointed: They came just two days after a scathing Reuters column took aim at Lifx, a still-ongoing Kickstarter project that has raised more than $1.3 million. Lifx promises to deliver WiFi-linked LED light bulbs in March 2013, but Reuters' Felix Salmon poked holes in the project's technical claims and predicted that the bulb "will simply never ship at all."
That's a sticky problem for Kickstarter, which takes a 5% cut of the cash from all funded projects but doesn't make any guarantees about their completion. A Kickstarter representative declined to comment beyond the company's blog post about the site's changes, or their timing.
Lifx added more technical information to its pages after Salmon's article came out but declined to respond to it directly. When asked about the new Kickstarter rules, Lifx CEO Phil Bosua sent CNNMoney a written statement: "We think the Kickstarter platform is fantastic for inventors and entrepreneurs. We are fully supportive of Kickstarter as they continue to massage their policies, so their platform achieves their objectives."
Some entrepreneurs -- even those who benefited from Kickstarter's more relaxed past policies -- say they think the new rules are a good move.
"I'm really excited Kickstarter has made a public statement to point to and say 'look, Kickstarter is not a store,'" says Idan Beck, who recently raised more than $350,000 for his gTar project. "A lot of people go to Kickstarter's site thinking it's like Pinterest, or an online shopping experience, and that's not the case at all."
The new rules seem likely to "weed out the people that don't know what they're doing," says John Whaley, an executive with design firm D2M and leader of the company's popular Instacube Kickstarter project.
Buying into a pre-production product will always be risky, Beck notes.
"Reasonable delays stem out of things like certification issues," Beck says. "It's hard for even multibillion-dollar corporations to keep control of those kinds of things."
"They're a bunch of ways a 'product' is different than 'hey, I want to build a documentary," says Instacube co-founder Bill Burnett, the executive director of Stanford University's design program. Supply-chain wrangling, mass shipping and customer service all require expertise.
Still, there's one new Kickstarter rule he's not a fan of: The restriction on pre-selling multiple units.
"The ability to sell multiples is fun because it provides different ways to back your project," Burnett says. Instacube is one of the last projects grandfathered into the old rules -- which means fans can still snap up a "lover's pair" cube set or a "ménage à trois" three-pack.