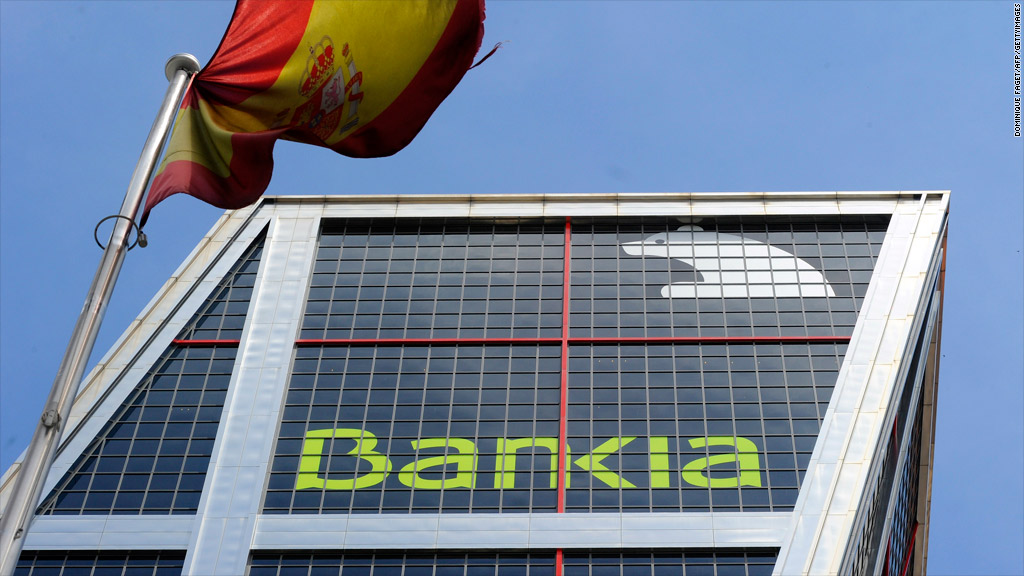 Spain's banks face a shortfall of €59.3 billion ($76.29 billion), according to the latest stress tests of Spain's banking system.
The review, released Friday by financial consultant Oliver Wyman, marks the conclusion of a two-part audit commissioned by the Spanish government back in May. Taking into account mergers and tax breaks, Wyman estimated banks would only need €53.75 billion ($69.15 billion) of additional capital.
That's at the lower end of estimates and clears the way for toxic loans to be transferred to a so-called bad bank, which has yet to be created.
Bankia, which was taken over by the government in May and is Spain's largest lender, faced the biggest shortfall. It would need nearly half of all the capital required for the entire Spanish banking system.
European markets were already closed after the results were released, but U.S. stocks pared back earlier losses on the news. The yield on the 10-year Spanish bond , which rose earlier in the week following protests in Madrid, was below 6% in late afternoon trading.
"The results confirm that the Spanish banking sector is mostly solvent and viable, even in an extremely adverse and highly unlikely macroeconomic setting," said Wyman.
Seven banking groups, which accounted for more than 62% of the tests, wouldn't need to raise capital, according to Wyman's assessment. Banco Santander (SAN) and BBVA (BBVA)were among those banks that exceeded the minimum capital requirements.
Spanish banks have been struggling for years due to the fallout from the nation's housing bust, which saddled them with billions of euros worth of bad property loans. Spain can now move forward with finalizing details for a so-called bad bank that will house those toxic real estate loans.
Completion of the stress tests allows Spain to cross one big hurdle but it's just the first step along a very long road to recovery. "It's what happens now. It's when the hard work begins for Spain," said Michael Symonds, credit analyst at Daiwa Capital Markets in London. "The devil will be in the details of Spain's bad bank."
Related: Spain's precarious future
Most analysts agree that a bailout request is inevitable. Just this week, Spain's budget spelled out a number of reforms, which many said was setting the stage for negotiating financial aid. But the European Central Bank's bond-buying plan comes with conditions and that's where things get murky.
While the stress tests signal the Spanish government won't have to spend a huge amount of money bailing out its banks, the question remains whether the tests were rigorous enough, said Capital Economics economist Ben May.
"The problem is that Spanish fiscal policy and bank restructuring are moving targets: the deeper the downturn, the less credible the forecasts," said Nicholas Spiro, managing director of Spiro Sovereign Strategy.
Back in June, Spain asked the European Union for up to €100 billion as a capital buffer for its ailing banks. Symonds said that while the stress tests show a shortfall of nearly €60 billion, Spain probably won't ask for more than €40 billion. But he did say that some sort of bailout request is still "inevitable."