Bank stocks led markets higher Thursday after European Central Bank president Mario Draghi reiterated the central bank's commitment to its new bond-buying plan.
The Dow, S&P 500, and the Nasdaq closed up between 0.5% and 0.7%.
Citigroup (C), Bank of America (BAC), JPMorgan Chase (JPM), and Morgan Stanley (MS) all surged between 2% and 4%.
Investors grew more bullish on the banking sector after Moody's said Regions Financial (RF) and Zions Bancorp (ZION), two large regional banks, were being reviewed for potential upgrades.
"Those reviews are bullish for all banks, and we've seen some good news on housing, which also makes investors more interested in bank stocks," said Paul Powers, head of U.S. equity trading at Raymond James.
Stocks were also boosted by a series of economic reports that were mostly positive.
The Labor Department reported the number of people filing for first-time unemployment claims rose by 4,000 to 367,000 for the week ended Sept. 29. While that was slightly worse than forecasts, the figure still remains below the psychological 400,000 mark. And factory orders, which came in stronger than expected, also lent support.
But Europe still remains a big focal point for investors.
Draghi, who recently said he'd do whatever it takes to preserve the euro, stood by that decision Thursday, which renewed investors' hopes that Europe could pull through its sovereign debt crisis without too much carnage.
Draghi said the ECB stands ready to buy bonds, but it's now up to political leaders to seek assistance as needed.
Meanwhile, ECB officials kept rates at 0.75%, while the Bank of England also left its key interest rate unchanged at 0.5%.
Wall Street trading desks were also abuzz with talk of Wednesday night's presidential debate. Some traders said investors appeared energized by what they saw as a win for Republican nominee Mitt Romney.
"People think Romney did really well," said Douglas DePietro, managing director at Evercore Partners." Romney seems to a lot of people to be more market-friendly."
Talk of a resurgent Romney campaign fueled a drop in hospital stocks Thursday, as Romney talked about repealing Obama's healthcare plan. Tenet Healthcare (THC), HCA Holdings (HCA) and Health Management Associates (HMA) all fell about 2%, while health insurers Cigna (CI), UnitedHealth Group (UNH) and Humana (HUM) were all up more than 1%.
Still, investors are largely playing a waiting game ahead of the government's closely watched monthly jobs report due out Friday. Beyond first-time employment claims, outplacement firm Challenger, Gray & Christmas said U.S.-based employers announced plans to cut 33,816 jobs in September, down 71% from a year earlier.
At 2 p.m. ET, the Federal Reserve released minutes from its most recent policy-making meeting, in which it announced the latest round of quantitative easing, or QE3. The minutes didn't sway investors one way or another.
European stocks closed nearly neutral. Britain's FTSE 100 and the DAX ended flat, while France's CAC 40 edged 0.1% lower.
Meanwhile, Asian markets ended higher. The Hang Seng in Hong Kong ticked up 0.1%, while Japan's Nikkei added 0.9%. Markets in Shanghai are closed this week for a holiday.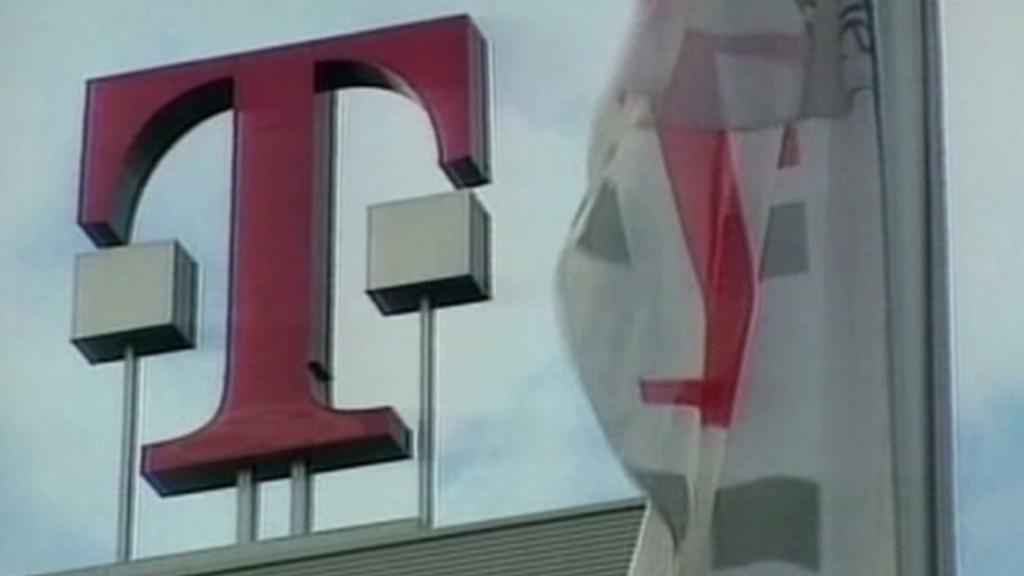 Companies: Google (GOOG) finally reached a settlement with the Association of American Publishers, which ends a seven-year litigation battle over the search engine's digitization of publishers' books. The stock moved up slightly on the news and hit an all-time high.
Shares of Sprint (S) dropped , but the stock of MetroPCS (PCS) moved higher after Bloomberg reported that Sprint could make a rival bid to block a T-Mobile/MetroPCS merger announced Wednesday.
Shares of software company Informatica (INFA) dropped more than 20% after the company revised its third-quarter outlook down. Competitors Red Hat (RHT), SAP (SAP) and CA Technologies (CA) also dipped.
Shares of Hewlett-Packard (HPQ) ended the day up slightly, after falling 13% Wednesday on a disappointing 2013 earnings outlook.
After an initial 2% gain, Facebook (FB) shares closed up 0.5%, after CEO Mark Zuckerberg announced that as of Thursday morning, there are more than one billion people using Facebook actively each month.
Target (TGT) shares rose 1% after the retailer reported net retail sales in a recent five-week period were $6 billion, about 2% higher than the same time last year.
Currencies and commodities: The dollar fell against the euro and British pound, but it gained against the Japanese yen.
Oil for November delivery added $3.57 to $91.71 a barrel.
Gold futures for December delivery rose $16.70 to $1,796.50 an ounce.
Bonds: The price on the benchmark 10-year U.S. Treasury slipped, pushing the yield up slightly to 1.67% from 1.62% late Wednesday.