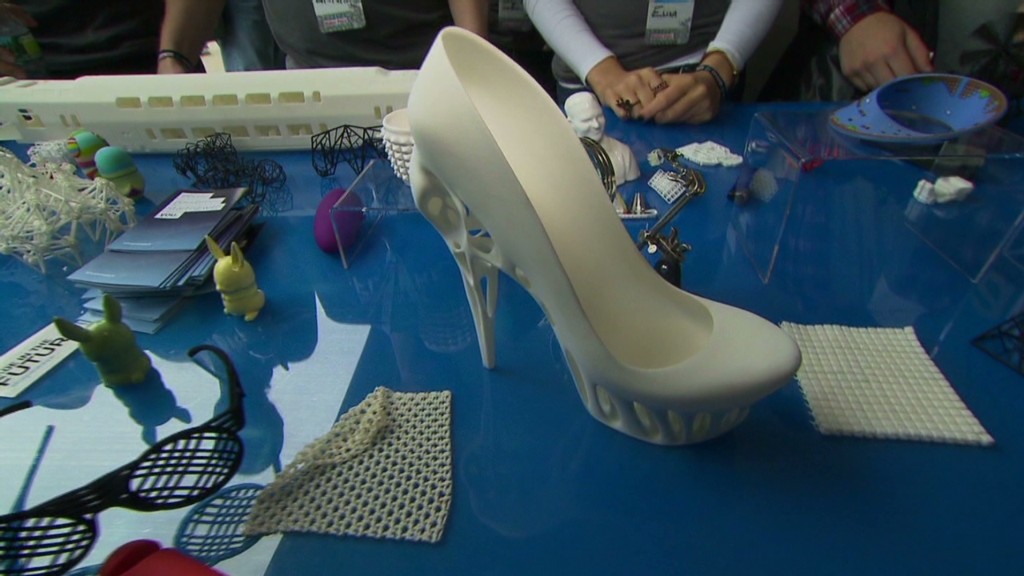 Personal 3-D printers are getting more powerful and more advanced every year. The latest models, on display last weekend at New York's annual Maker Faire, can crank out everything from model Eiffel Towers to wearable high-heeled shoes.
Swarms of hobbyists, parents and kids descended upon the event's 3-D printing village to test out the latest innovations, including the Form 1 -- a printer aimed at professionals that creates high-resolution objects using a method called stereolithography.
The process involves a built-in laser that draws on the surface of a liquid plastic resin. It's typically expensive, but a group of engineers and designers at MIT recently pioneered a cheaper way.
The crew launched a Kickstarter campaign last week to raise money for Form 1 production. Within three days, their pledges topped $1 million. Priced at $2,700 each (the earliest Kickstarter backers got a $400 discount), the printers are slated to start shipping in early 2013.
"The product is definitely not targeted towards the mass consumer," said Formlabs cofounder Maxim Lobovsky, who had a Form 1 to show off at Maker Faire.
The intended audience is engineers and industrial designers looking to test out their ideas.
"It produces parts like you can't get anywhere else with any other low-cost machine," Lobovsky said. "It's a complete package -- easy to use and well-designed -- and I think it's a first of its kind."
3-D printers have been in industrial use for more than 20 years, but their cost -- sometimes reaching hundreds of thousands of dollars -- generally put them out of reach for everyday customers.
That's changing fast. Entrepreneurs devoted to the "democratization" of these devices are building cheaper versions with rapidly falling price tags. Hobbyists are testing out at-home 3-D printers and chefs are giving them a whirl in the kitchen, using the technology to create intricately designed food. Doctors are even experimenting with using advanced printers to make artificial organs and prosthetic limbs.
One of the most-buzzed about players in the consumer 3-D printer field is Makerbot, a Brooklyn, N.Y., company determined to bring the technology to home users. Engineers can use Makerbots to prototype, but the printers have largely been adopted by hobbyists, who can download designs from Makerbot's "Thingiverse" and recreate them on the printer.
The latest version of the Makerbot, the Replicator 2, just went on sale for $2,200.
"One of the ways we're different is that this is our fourth-generation machine," Makerbot CEO Bre Pettis said at Maker Faire. "We've been doing this for a long time."
Customers can buy the Replicator 2 through Makerbot's website or from Makerbot's just-opened retail store in Manhattan -- a sign that 3-D printing is starting to go mainstream.
"This technology, a lot of people don't understand it," Pettis said. "They think it's like science fiction. Being able to go into a retail store, see it in action and see the things it can make -- it really opens people's minds to the possibilities."