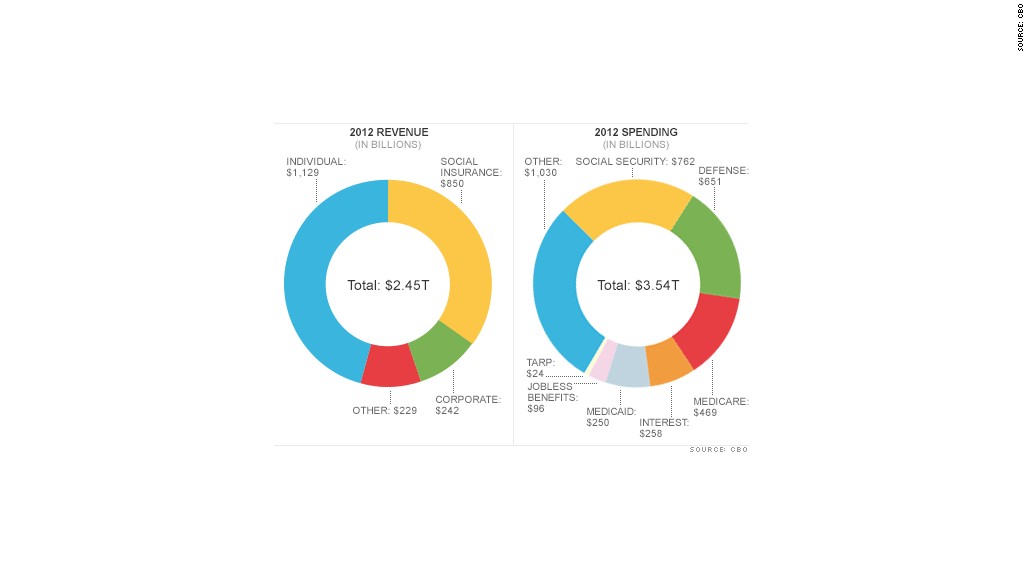 The federal government logged a $1.1 trillion deficit in fiscal year 2012 -- marking the fourth straight year of trillion-dollar shortfalls.
As a share of the economy, the deficit fell to roughly 7%, according to Congressional Budget Office estimates released Friday. That's down from 8.7% in 2011, and well below the bruising 10.1% recorded in 2009 during the depth of the economic downturn.
Deficits as a share of GDP in the past four years have been the highest since 1947.
The decline is thanks largely to an uptick in revenue. Compared to last year, the federal government collected 6% more in fiscal 2012, which ended Sept. 30. (Related: Obama's economy - a snapshot)
A big reason was the jump in corporate tax receipts, which rose a whopping 34%. CBO attributes the increase in large part to a change in tax rules, particularly those that govern how fast companies can write off equipment costs.
Individual income tax and payroll tax receipts were also higher, by 3% and 4%, respectively.
Spending, meanwhile, fell 2%. That decline, however, is due mostly to shifts in the timing of payments, CBO said.
How Obama and Romney would tackle deficits
Outlays for Medicaid, unemployment benefits, defense and education programs all fell. Meanwhile, Social Security outlays rose 6% -- more than in recent years. Money spent
on Medicare increased more slowly than in the preview two years, rising 3%.
Overall, the 2012 deficit pushed the debt held by the public to another record high. Public debt -- $11.3 trillion -- is almost 73% of GDP, up from 67.7% a year ago.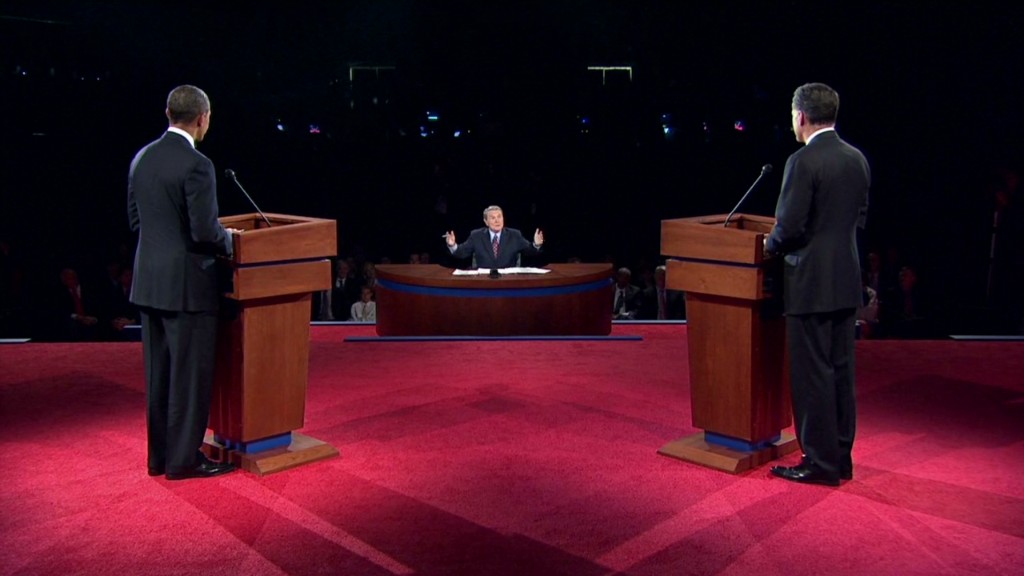 Total national debt, which includes money the Treasury Department owes to government trust funds, now tops $16 trillion.
Deficits and debt have become a heated political issue and never more so than in the race for the White House. Not surprisingly, President Obama, the Democratic nominee, and Mitt Romney, his GOP challenger, have laid out very different routes to curbing deficits over the next decade.
CBO estimates usually hew closely to the Treasury Department's official budget numbers, which will be published later this month.