U.S. stocks closed slightly lower Monday, as worries about slowing growth kept investors sidelined on a relatively slow day of trading.
The Dow, S&P 500, and Nasdaq ended the day down between 0.2% and 0.7%.
Early Monday, the World Bank lowered its outlook for economic growth in Asia, down from the 7.6% estimate it made in May to 7.2%. It also warned that worsening conditions in Europe could knock off 2% from Asia's GDP growth next year.
That news is the latest in a recent series of seemingly contradictory reports about the health of consumers and the global economy. Last week, the U.S. Labor Department indicated in its monthly jobs report that more jobs were added than expected and that the unemployment rate surprisingly fell below 8%.
Still, investors are also becoming increasingly worried about a potentially disappointing earnings season, which unofficially kicks off Tuesday when Alcoa (AA) announces its results after the closing bell.
Analysts expect overall corporate earnings to decline 1.3%, according to S&P Capital IQ. That would be the worst period for earnings since the third quarter of 2009.
Brian Lazorishak, a portfolio manager at Chase Investment Counsel, said he's most concerned about whether companies will cut their forecasts for the fourth quarter and 2013.
Trading was light Monday with the U.S. bond market closed for Columbus Day. Several market watchers said investors were unwilling to make big bets ahead of corporate announcements.
"Since the announcement of QE3, we've been looking for the next data point, and the health of corporate earnings is a key one," Lazorishak said.
Asian markets ended lower. The Shanghai Composite fell 0.6% and the Hang Seng in Hong Kong dropped 0.9%. Markets in Japan were closed for a holiday.
Related: China's epic traffic nightmares
In Europe, Germany received a surprisingly positive report Monday showing exports in August increased 5.8% over the previous year.
But those numbers weren't enough to combat the grim outlook issued by the World Bank. All three European indexes closed lower. Britain's FTSE 100 dropped 0.5%, while the DAX in Germany dropped 1.4% and France's CAC 40 fell 1.3%.
Related: The stock market rally is over
Companies: Shares of UnitedHealth Group (UNH) moved up after the health insurance company announced a nearly $5 billion buyout of Brazilian's largest health care company, Amil.
Marathon Petroleum's (MPC) stock surged after the oil company announced plans to buy $2.5 billion of BP's (BP) North American assets.
Netflix (NFLX) shares gained more than 10% after Morgan Stanley upgraded the stock to 'overweight' from 'equal weight.'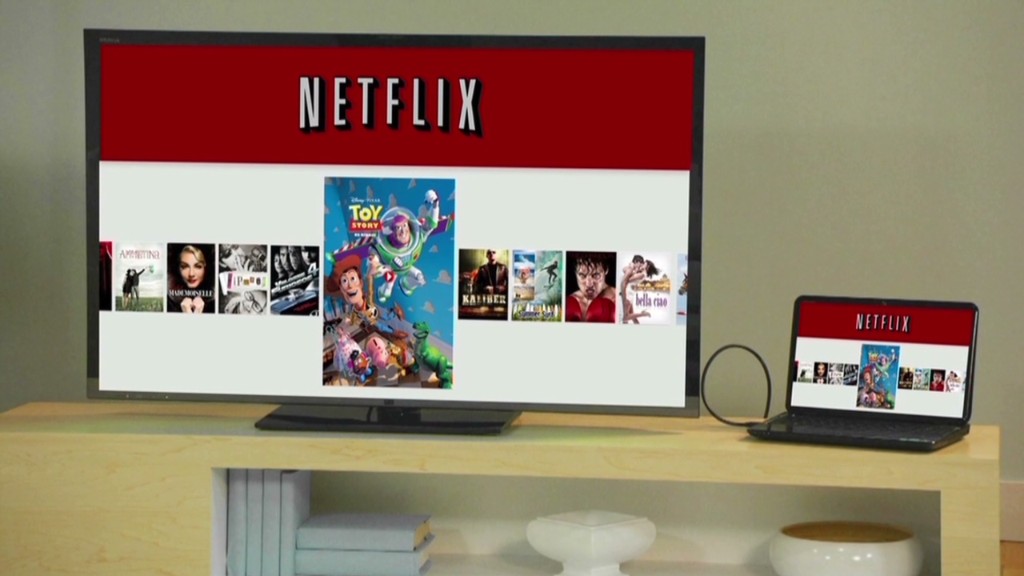 Apple (AAPL) shares ticked lower as thousands of workers at Foxconn went on strike to protest working conditions on the iPhone 5's production lines.
American Express (AXP) and Walmart (WMT) are teaming up on a new prepaid card service, dubbed Bluebird. Shares of prepaid carriers Green Dot (GDOT)and Netspend (NTSP) fell sharply on the news.
The unofficial release of a House Intelligence Committee draft report warned against doing business with Chinese telecom companies Huawei and ZTE. Both companies seek to expand operations in the west, and the report details national security concerns because of the firms' ties to China's government.
Aside from Alcoa, Costco (COST), JPMorgan (JPM) and Wells Fargo (WFC) are all reporting results this week.
Currencies and commodities: The dollar rose against the euro and British pound, but fell versus the Japanese yen.
Oil for November delivery fell 55 cents to $89.33 a barrel.
Gold futures for December delivery fell $5.10 to $1,775.70 an ounce.