U.S. stocks pared earlier gains and ended little changed Thursday afternoon, as enthusiasm over upbeat economic data faded.
The Dow Jones industrial average and Nasdaq both finished in the red, while the S&P 500 managed to hold just above the breakeven line, snapping a four-day losing streak.
Trading is expected to remain choppy for the next month, as investors refrain from making any large bets ahead of the November elections. Investors are also waiting for more clarity emerges on Europe's debt problems, particularly Spain's troubles.
Earlier Thursday, the major indexes were modestly higher as investors welcomed an unexpected drop in the number of people filing first-time unemployment claims. The number of jobless claims fell 30,000 to 339,000 last week, hitting the lowest level since February 2008. The drop, however, was caused by an anomaly as one state posted a large decline in claims, which is not typical during the last week in September.
Also on the economic front, the U.S. Census Bureau said the trade deficit fell slightly to $44.2 billion in August, and the Labor Department also reported import prices rose 1.1% in September, while export prices rose 0.8%.
Shares of Sprint (S) surged 14%, making it the top gainer in the S&P 500, on news that Japan's Softbank is nearing a deal to buy a controlling stake in the third largest U.S. carrier for about $12.8 billion. Softbank (SFTBF)'s mobile arm had over 30 million subscribers as of August. Sprint's networking partner Clearwire (CLWR) soared over 70% on reports that it may also be taken over as part of the deal.
Earlier this week, there had been speculation that Sprint might make a play for rival MetroPCS (PCS). But last week, MetroPCS merged with T-Mobile USA operator Deutsche Telekom.
Related: M&A drought not letting up
In Europe, credit rating agency S&P downgraded Spain late Wednesday, warning that the latest plan to recapitalize Spanish banks "still lacks predictability."
Joe Heider, managing principal of Rehmann Financial, said many investors were seeing the downgrade as a positive catalyst that could force Spain to finally seek a bailout.
European stocks started off lower, but rebounded to finish sharply higher. Britain's FTSE 100 added 0.9%, the DAX in Germany rose 1.1%, and France's CAC 40 climbed 1.4%.
Meanwhile in Asia, South Korea's central bank lowered interest rates for the second time this year. Markets ended the day mixed. The Shanghai Composite slid 0.8% and Japan's Nikkei shed 0.6%, while the Hang Seng in Hong Kong ticked up 0.4%.
Companies: Third-quarter earnings season is underway, but only a handful of companies reported Thursday, including hardware supply store Fastenal and Safeway. Fastenal (FAST) shares jumped as the company met earnings expectations, while Safeway (SWY) shares declined after the company posted weak same-store sales.
Realogy, the parent of real estate brokers Century 21, ERA and Coldwell Banker, began trading on the New York Stock Exchange under the ticker RLGY after the company priced its IPO at the top end of its estimated range. Shares of Realogy (RLGY) rose 27% from their offering price.
Shares of Shutterstock (SSTK) jumped more than 27% in their market debut. The online stock photography company also priced its shares above the expected range in its IPO.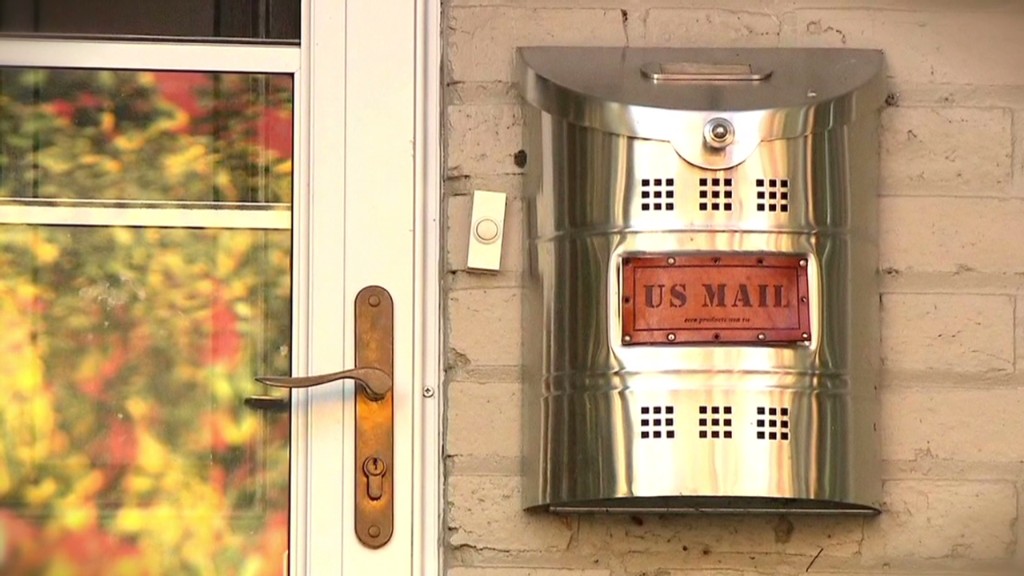 Currencies and commodities: The dollar fell versus the euro and British pound, but it gained against the Japanese yen.
Oil for November delivery added 82 cents to settle at $92.07 a barrel.
Gold futures for December delivery rose $5.50 to settle at $1,770.60 an ounce.
Bonds: The price on the benchmark 10-year U.S. Treasury note edged higher, pushing the yield down to 1.67% from 1.69% late Wednesday.