U.S. stocks fell Thursday as investors focused on the latest corporate results -- particularly weaker-than-expected Google earnings that were released prematurely -- and mixed economic data.
The Dow Jones industrial average ended little changed. The S&P 500 slid 0.2% and the Nasdaq fell 1%.
Technology shares led declines after Google's (GOOG) quarterly report was accidentally released early, and the results disappointed investors. Shares fell 7% when trading resumed after being halted. Google faulted RR Donnelley (RRD) for the mishap. Shares of the financial printer sank 2%.
"The early release by Google dampened the overall tone and had an impact on the broader indices," said Ryan Larson, a senior equity trader at RBC Global Asset Management.
After the market closed, Microsoft (MSFT) said net income fell to $4.47 billion, or 53 cents per share, in the third quarter. Shares fell 1% in after hours trading. Chipmaker AMD (AMD) reported a net loss for the third quarter and said it plans to cut 15% of its workforce in the current quarter.
Shares of Dow component Travelers Cos. (TRV) jumped after the insurer reported that its income more than doubled in the quarter, beating expectations, thanks to lower losses from natural disasters. Verizon (VZ) shares rose after the phone company posted earnings that met expectations. Shares of IBM (IBM) continued to slide after the blue chip reported a dip in sales late Tuesday.
Beyond earnings, a report on initial jobless claims showed that the number of Americans filing for first-time unemployment benefits jumped by 46,000 to 388,000 last week. That's higher than the 360,000 that economists surveyed by Briefing.com had expected.
Separately, the Philadelphia branch of the Federal Reserve said manufacturing activity improved in the district during October.
"Jobless claims are certainly a factor," said Dan Greenhaus, market strategist at brokerage BTIG in New York. "But the China data dominated the early morning conversation."
Earlier, the Chinese government said economic growth slowed last quarter to its lowest level since early 2009. China's economy rose at a 7.4% annual rate in the third quarter, the National Bureau of Statistics said Wednesday. China's economy had grown at a 7.6% rate in the prior quarter.
Asian markets still managed to close higher. The Shanghai Composite climbed 1.2%, the Hang Seng in Hong Kong added 0.5%, and Japan's Nikkei rose 2%.
Related: ETF price wars heat up
Meanwhile, investors will be on the lookout for any news out of a two-day summit of European leaders in Brussels. Leaders are expected to discuss proposed reforms of the banking sector and more integrated budget policies.
European stocks ended higher. Britain's FTSE 100 rose 0.2%, the DAX in Germany added 0.6%, while France's CAC 40 gained 0.6%.
In the United States, investors have more earnings results to sort through Thursday.
Morgan Stanley (MS) reported earnings before the opening bell that topped analysts' forecasts, posting earnings per share of 28 cents and revenue of $7.6 billion -- compared to the 24 cents a share and $6.4 billion in revenue that had been expected.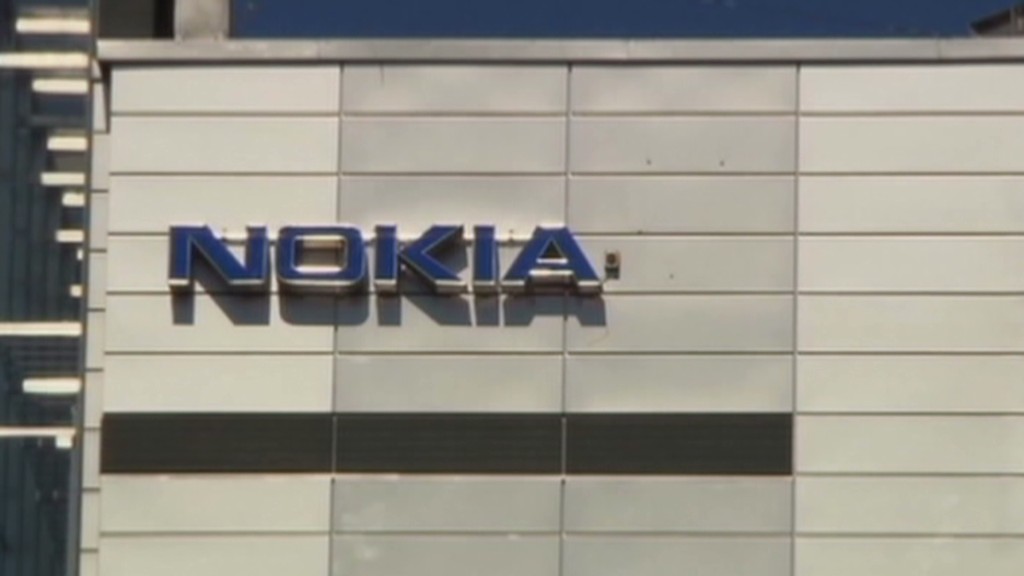 U.S.-listed shares of Nokia (NOK) fell after the Finnish cellphone maker logged its sixth straight quarterly loss.
Shares of Blackstone (BX) rose after the asset manager reported strong quarterly results.
Overall, S&P Capital IQ projects that third-quarter earnings for the S&P 500 will decline 0.7% from a year ago, the weakest showing in three years.
Shares of Juniper Networks (JNPR) surged after a trade publication reported that it could be taken over by EMC (EMC).
Related: Facts about oil and gas under Obama
Currencies and commodities: The dollar slipped against the euro and the British pound, but rose against the Japanese yen.
Oil for November delivery fell 2 cents to settle at $92.10 a barrel.
Gold futures for December delivery slid $8.30 to end at $1,744.70 an ounce.
Bonds: The price on the benchmark 10-year U.S. Treasury edged lower, pushing the yield up to 1.82% from 1.81% late Wednesday.