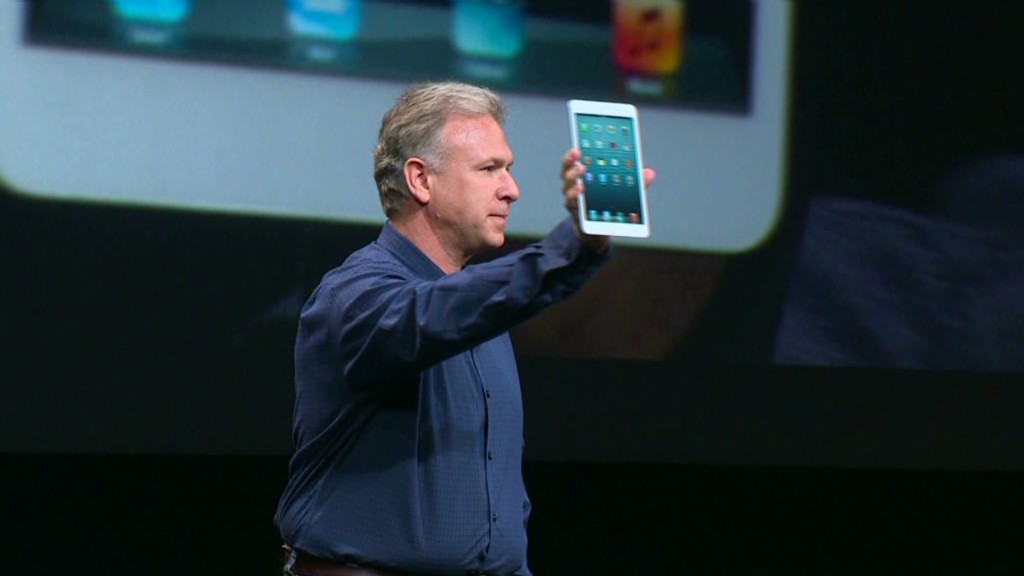 Apple finally unveiled its worst-kept secret, the iPad Mini tablet, on Tuesday. The teeny device starts at $329, which leaves some breathing room for rivals' cheaper 7-inch devices.
The iPad Mini announcement came months after the debut of $199 7-inch tablets from Amazon (AMZN), Google (GOOG) and Samsung. Amazon's cheapest offering, the Kindle Fire, starts at $159.
Those three rivals went for the jugular by undercutting Apple's original $499 iPad on price -- effectively giving customers an option between low-end and high-end tablets. Tech analysts were watching closely to see if Apple would aggressively go after the competition with a much cheaper iPad.
Apple shares were down about 2% after the announcement, while Amazon and Google were up slightly. Barnes & Noble (BKS), which recently released its $199 Nook HD, gained more than 6%.
Before the iPad Mini announcement, analysts' guesses on the tablet's price were all over the map, generally ranging from $249 to $349. And they're split on what Apple (AAPL) hopes to achieve with the Mini, which features a 7.9-inch screen. (The traditional iPad clocks in at nearly 10 inches.)
"We see this as Apple playing both defense and offense," said Shaw Wu, an analyst at Sterne Agee. "They're defending against 7-inch tablets from its competitors, plus going after even more potential PC buyers who instead opt for tablets."
Wu had expected the iPad Mini to cost between $299 and $349.
The $329 price for the iPad Mini is well above the low end of a target range from Deutsche Bank analyst Chris Whitmore, who said one day before the announcement that a $250 price tag would "be a barnburner, especially during this holiday season." Still, he thinks the $250-$350 price point is an "underserved market segment."
Projections from a group of JPMorgan analysts sorely missed; they predicted on Monday that the iPad Mini would start at $249. The group waved off concerns about margins and possible competition with the iPod Touch, saying Apple's "overarching focus" is on grabbing a bigger share of the overall tablet market.
The teeny iPad will appeal to "more price-sensitive users and the e-reader crowd," the JPMorgan analysts wrote on Monday. They specifically credited Amazon's Kindle Fire and Google's Nexus 7 with creating interest in "smaller-form-factor tablets."
Amazon and Google might have cut the price of their tablets if the iPad Mini were cheaper. But now it's not clear if they will need to do so.
Laura DiDio, principal analyst at research firm ITIC, told CNNMoney in a recent interview that an iPad Mini price of $249 or higher would allow competitors to keep their 7-inch tablets at $199. But if Apple had come closer to the $199 price point, Amazon -- the most price-conscious competitor -- could have been forced to drop its Kindle Fire price by $50 or more.