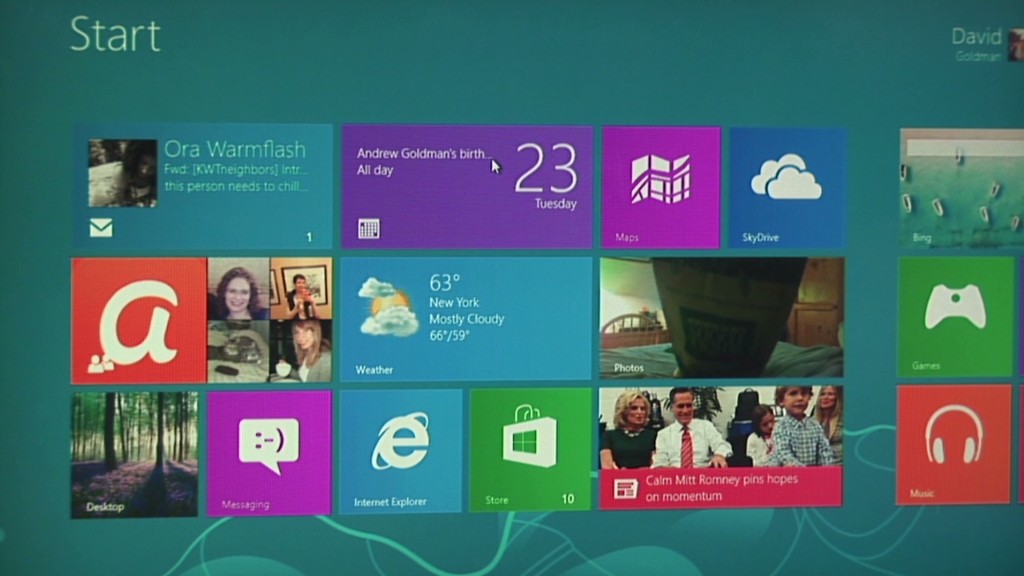 By now, you're probably aware that on Friday Microsoft is launching Windows 8: a touch-enabled, completely reimagined version of its nearly three-decade old PC operating system.
Microsoft will also be debuting a second, related operating system called Windows RT.
Though Windows 8 and Windows RT look exactly alike, there's a fundamental technical difference between the two operating systems. Buyers could be in for a big shock if they're not in the know before choosing their next PC.
What is Windows 8? Windows 8 is a "full" version of Windows. It supports all your old Windows software than runs on Windows 7, Vista and XP. Windows 8 will also run a batch of new, tablet-like apps available through the just-launched Windows Store.
The new operatring system brings in a radically new interface built around a "Start" screen. It's filled with large tiles, full-screen apps and hidden menu functions. Windows 8 also has a second, more traditional interface: "desktop mode." That features smaller app icons, taskbars and menu ribbons. Both modes work with touch or a mouse.
What is Windows RT? Windows RT, on the other hand, will not support any Windows software that ran on older versions of Windows.
With just two exceptions, Windows RT will only run Start apps, and the only place to get software is through Microsoft's Windows Store. The two outliers are new versions of Microsoft Office and Internet Explorer that Microsoft made especially for Windows RT. Those will run in the familiar desktop mode.
When you buy a Windows RT device, like the $499 Surface tablet that goes on sale Friday, you are not buying a PC that can run your old Windows applications.
So what's the point of Windows RT? Microsoft created Windows RT -- a kind of "Windows 8 lite" -- so it could put its operating systems on a batch of new mobile devices.
The vast majority of tablets -- about 95% -- run on microchips designed by a company called ARM Holdings (ARMH). ARM processors help manufacturers make gadgets that are thinner, cheaper, and have longer battery lives. However, they're incompatible with previous versions of Windows.
Rather than force developers to re-code each of the millions of apps that run on older, Intel-based Windows iterations, Microsoft created two flavors of its new operating system. Only one -- Windows 8 -- supports legacy apps, but both Windows 8 and Windows RT run the new brand of Start apps, which will likely become the standard form of Windows app going forward.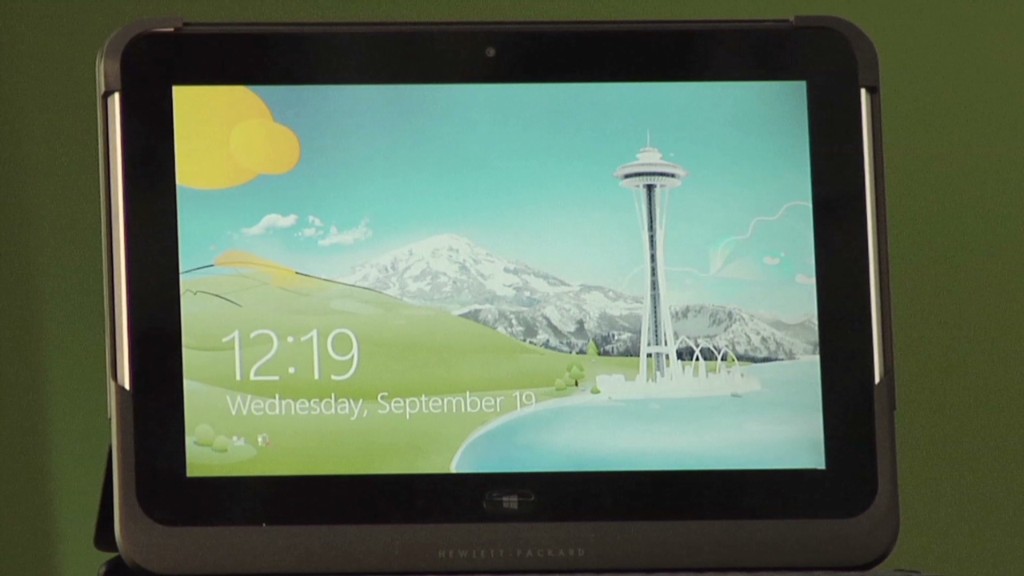 Apple (AAPL) solved this problem a different way. It created a fully separate operating system for the iPhone, iPad and iPod Touch called iOS, which looks completely different from its Mac OS operating system for Intel-based Macintosh PCs.
Microsoft (MSFT) opted instead to give Windows RT and Windows 8 much of the same code. That could confuse consumers, who won't be able to see much of a difference until they try and fail to install a browser, iTunes, Adobe (ADBE) Photoshop or some other program from the Internet.
How many apps are available on Windows RT? Microsoft has around 5,000 stocked in the Windows Store, but many favorites are missing. Netflix has an app, but there's no Facebook (FB), Twitter, Pandora (P) or Instagram.
The number of apps will increase quickly if consumers start adopting Windows 8. Until then, early Windows tablet adopters will be at a disadvantage against those with Apple and Google (GOOG) tablets, whose stores have hundreds of thousands of apps.
What if I want a Windows tablet that doesn't run RT? You'll have to shell out more money, but they're available -- and more are coming soon.
Intel (INTC) has a new suite of microchips designed for tablets, and a number of Windows 8 tablets are available from vendors including Dell (DELL), Samsung, Toshiba, Asus and Lenovo. Hewlett-Packard (HPQ) has an Envy tablet due out in early November and a higher-end enterprise tablet coming in January. They tend to cost $150 to $500 more than Windows RT tablets.
Microsoft's own Surface Pro tablet will go on sale in January. It will be slightly heavier than the Windows RT version and have a price tag around $1,000, but it will be a complete Windows 8 machine.