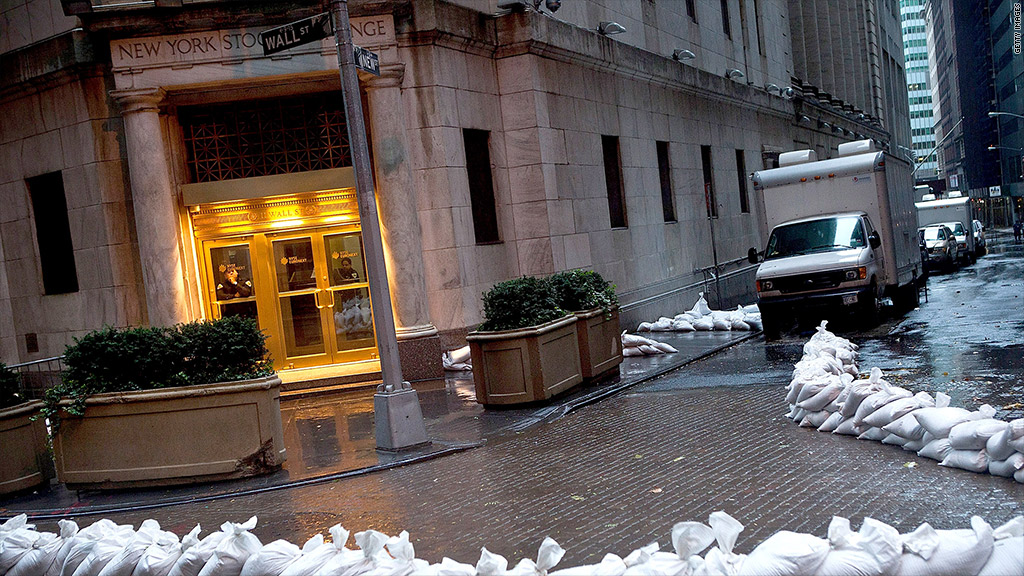 U.S. financial markets will remain closed for a second straight trading day Tuesday, as Wall Street deals with the impact of Hurricane Sandy.
Major exchange operators, including NYSE Euronext (NYX) and Nasdaq OMX (NDAQ), said they expect to re-open for a normal trading day on Wednesday, but will provide additional updates on Tuesday.
Tuesday's closure will impact stocks that trade on the NYSE and Nasdaq, as well as bonds, options and derivatives.
The CME Group (CME) opened U.S. equity index futures and options on futures markets for overnight electronic trading, but will close Tuesday morning at 9:15 a.m. ET. U.S. stock futures were little changed, down between 0.2% and 0.4%.
On Monday, the U.S. stock market was closed ahead of the hurricane, and as New York City shut down subways, buses and commuter rail lines, and evacuated lower Manhattan.
The bond market was open until noon.
Related: Wall Street banks close, waive fees
NYSE rarely shuts down for weather-related emergencies: Hurricane Gloria in 1985, and a snowstorm in 1969 were the last major weather events to bring the exchange to a halt. In fact, the last time the market was closed for two consecutive weather-related days was more than a century ago, when the New York Stock Exchange kept its doors shut as the city coped with the Blizzard of 1888.
The last unscheduled market-wide shutdown was in September 2001, when markets were closed for four full trading days following the Sept. 11 attacks on the World Trade Center. And in January 2007, the entire market shut down in accordance with the country's national day of morning in memory of President Gerald Ford, who had died a week earlier.
Market operators and regulators try to avoid prolonged market closures to limit volatility.
"News events can build up quickly, and if the market is closed for days at a time, investors react to it all at once whenever the market does open," said Oliver Pursche, president of Gary Goldberg Financial Services. "It's like opening the floodgates."
But without anything significant due out of Europe or China in the next day or so, Pursche says Wall Street's two-day closure could wind up being a non-event.
Related: Hurricane threatens refineries - expect gas price spike
Not everyone agrees.
"The timing of this storm and the closures is hairy for traders," said Ryan Detrick, equity strategist at Schaeffer's Investment Research. "We're in the middle of earnings, the election is around the corner, and now we don't know when the market is going to open. When trading does resume, we could see explosive volumes."
Tuesday's closure could complicate trading activity for some hedge funds, particularly ones that end their fiscal year on Oct. 30. However, Pursche noted that those hedge funds most likely also trade on international exchanges, so they should be able to work around the U.S. market closures.
Mutual funds that end their fiscal year on Oct. 30 could also be impacted, as some fund managers may have wanted to offset their capital gains with their losses to minimize the distributions paid out to shareholders.
But overall, experts don't think the unexpected market shutdown will have a material effect on individual investors.
Related: Why the NYSE flip-flopped on electronic trading
Meanwhile, experts are also trying to make sense of the NYSE's late-stage decision to halt electronic trading, which accounts for about 90% of all trading. Initially on Sunday, the exchange had publicly announced that while it would close the NYSE floor, electronic trading would stay up and running. But later that evening, the NYSE called off all trading.
"Both regulators and investors are sensitive to odd market moves -- individual investors have a distrust for electronic trading," said Pursche, adding that events like the May 2010 Flash Crash, Nasdaq's bungled Facebook IPO and Knight Capital's trading glitch earlier this year have soured the mood among individual investors in particular.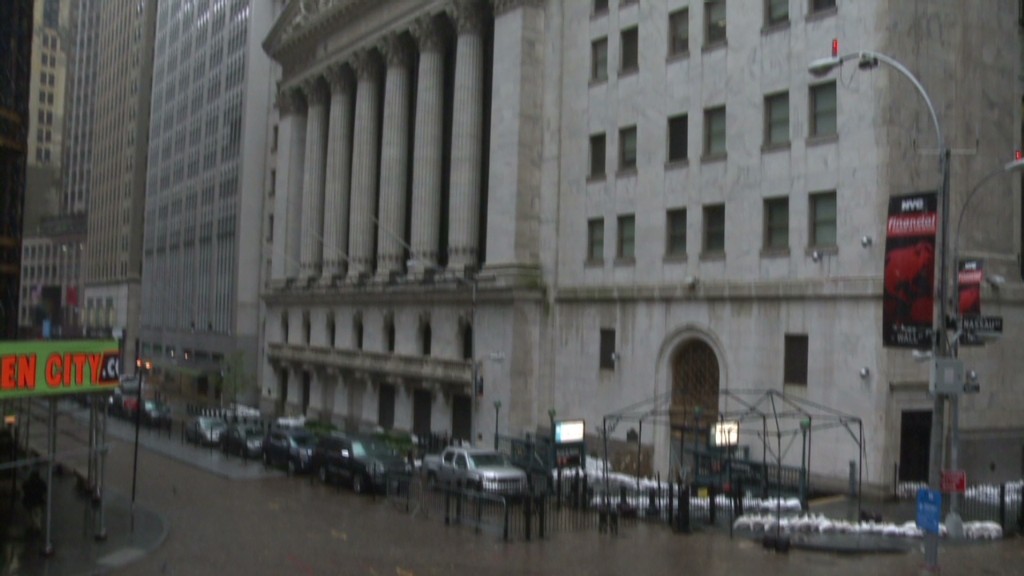 "I think the Securities and Exchange Commission decided to avoid odd-priced moves that could be blamed on electronic trading and wait until the floor brokers are back," said Pursche.
The closures also shed light on how technology may still be lacking on Wall Street, noted Detrick.
"We've got so much computerized trading, yet this is a hard reminder that maybe we still aren't that advanced," he said. While Detrick thinks the exchanges and regulators could have successfully executed a fully electronic trading day, he also notes that the market has yet to ever experience that.