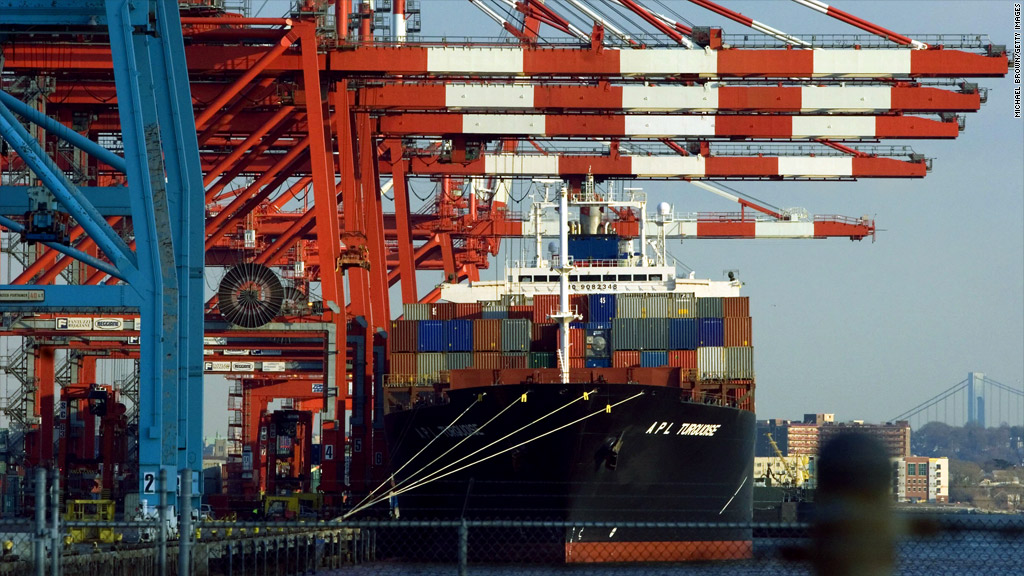 Even before Hurricane Sandy causes any significant property damage, it is costing billions of dollars as businesses shut down along the storm's expected path.
Economists say it will take a while to fully estimate the economic impact of the storm. But they believe the impact will be enough to lower the nation's gross domestic product, the broadest reading of the nation's economic activity, in the fourth quarter.
"The big story this morning is how much stuff is shut down," said Mark Vitner, senior economist with Wells Fargo Securities. "Business interruption is the biggest impact, at least until we see what happens in terms of property damage."
Eqecat, a firm that produces loss estimates for the insurance industry, said Monday it's early estimate of the cost of economic losses from Sandy was between $10 billion to $20 billion. That total includes both property losses, lost business and other incidental losses. It estimates that about half of those losses would be covered by private sector insurance. But much of the other uninsured losses may be covered by the National Flood Insurance program run by FEMA. Flood damage is rarely covered by private sector insurers.
Vitner said lost business from a storm like this typically amounts to as much as 40% to 45% of the property damage figure. But given the fact that it could shut businesses in New York City and other big East Coast cities for two days or more, the business interruption will be greater than normal.
Related: Sandy shuts down U.S. markets
Economists say some of the lost business -- such as bottled-up shipments in shuttered ports and rail yards -- will be made up as soon as the storm has passed.
"But a lot just won't occur," said Vitner. "For example, business at restaurants, that's a permanent loss. You're not going to eat two lunches tomorrow if you don't eat lunch out today."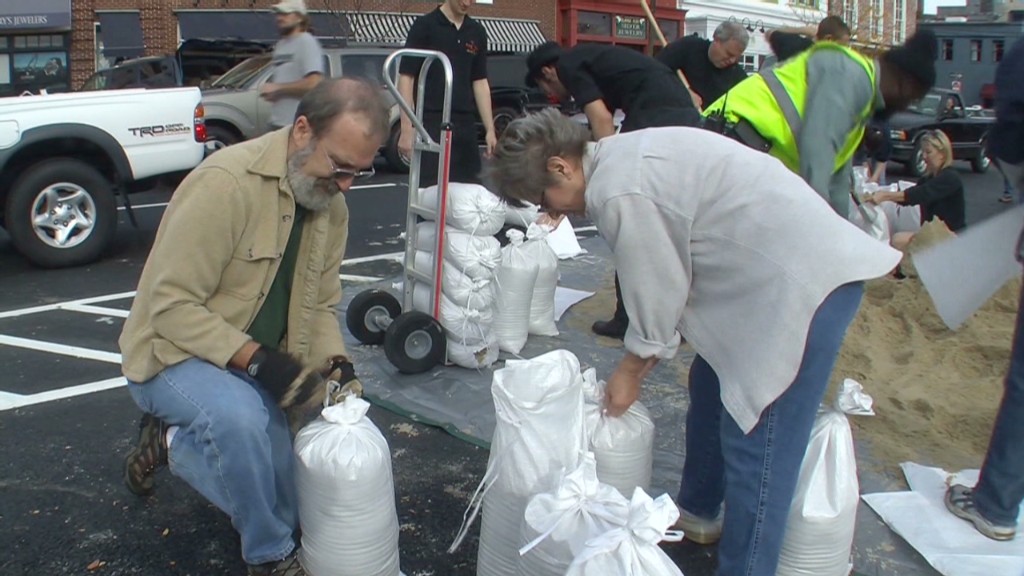 Vitner said some of the lost stock market trades likely will not be made up whenever the markets reopen. But Vitner said with the election only a week away, it was expected to be a relatively light trading week even without the storm, as investors waited to see the outcome of the close presidential race.
One New York City business that is losing work is Lightspeed Express, a messenger service, which was in the process of shutting down Monday. It will remain closed until Wednesday.
"It ends up costing us a lot of money. It's like two holidays in a row," said Robert Wyatt, the company's president.
Wyatt said there was a rush of business Sunday as customers sped up some deliveries. "But you're talking (an extra) hundreds of dollars versus a loss of revenue close to six figures. Most of that won't be made up."
Wyatt said he does have business interruption insurance, but he'll have to wait until Wednesday to find out how it applies to him.
Related: Stores sell out of supplies
Keith Hembre, chief economist at Nuveen Asset Management, said that some of the lost business will be made up by increased spending preparing for the storm -- residents of the Northeast rushing out to buy flashlights, batteries and even generators, as well as spending on rebuilding and repairs that might take place after the storm. Home improvement retailers such as The Home Depot (HD) and Lowe's (LOW) were jammed over the weekend.
"You can look back on impact of Katrina, in immediate aftermath, there was an economic downturn in a number of data points," Hembre said. "Ultimately the rebuilding activity ended up being stimulative."
Hembre said it's much too soon to estimate how much business will be lost or property damage because of the storm. But while there may be a slight reduction in GDP this quarter, he doesn't think the economic impact will be long lasting.
"The storm won't change the underlying patterns of demand," he said.