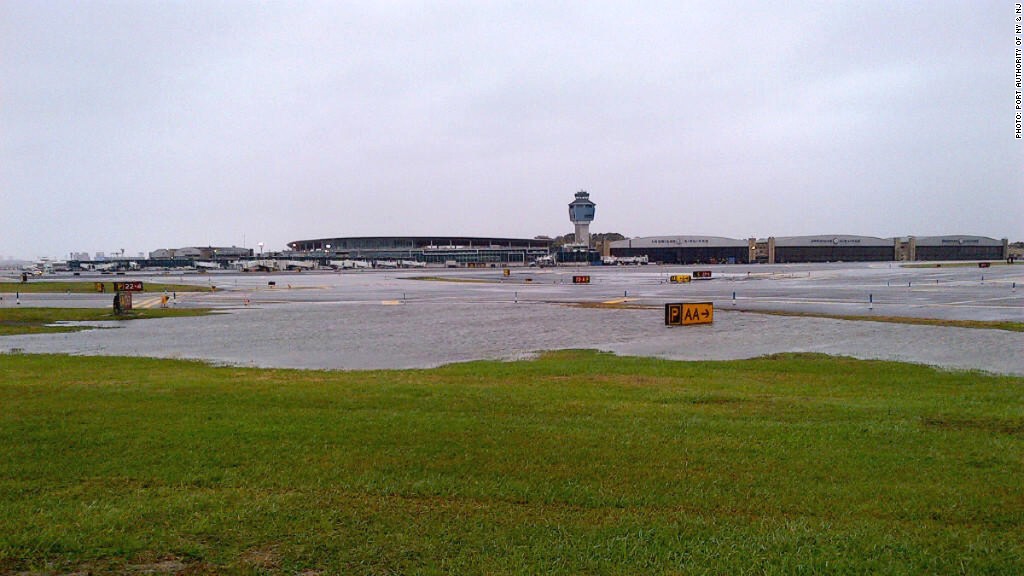 Airlines and airports in the Northeast started making tentative steps toward normalcy on Wednesday in the wake of Hurricane Sandy, though LaGuardia Airport in New York City remained stubbornly under water.
"LaGuardia is still closed and will be for the day," said Allison Steinberg, spokeswoman for JetBlue, which canceled about 1,500 flights because of the storm that hammered the Northeast on Monday.
JetBlue (JBLU) personnel have posted various photos of the deluged LaGuardia on the company's BlueTales blog. Because of these infrastructure problems, LaGuardia isn't expected to open until at least Thursday, said Steinberg.
But JetBlue has resumed service at New York City's other airport, John F. Kennedy International, as well as at airports serving Washington, D.C. and Boston.
Both JFK and Newark International Airport in New Jersey officially reopened on Wednesday. The Washington-area airports of Dulles International and Ronald Reagan National both opened Tuesday.
But this does not necessarily mean smooth sailing for the airline industry, which had canceled 19,271 flights as a result of Hurricane Sandy as of Wednesday morning, according to FlightStats. JetBlue doesn't expect to resume flights through Newark until Thursday, even though the airport is open. U.S. Airways (LCC), which has canceled about 4,000 flights, still wasn't operating any flights through New York City-area airports on Wednesday.
American Airlines, which has canceled 2,088 flights, said that said it plans to start flying through JFK and Newark again on Thursday morning, and LaGuardia again on Thursday afternoon.
United Continental, which has canceled 5,200 flights because of the storm, had "limited inbound service" at Newark on Wednesday, according to spokesman Charles Hobart. He said the airline might be operating a "very limited number of departures" from the airport in the evening, depending on conditions. He said the airline was "returning to normal operations" at Dulles.
Related: Sandy's economic hit: $20 billion
Philadelphia International Airport led the way with the most number of cancellations -- 1,068 -- as of Tuesday, according to FlightStats, followed by Newark, LaGuardia, JFK, Ronald Regan and Dulles.
Airlines began canceling flights Sunday at the approach of the hurricane. The storm made landfall on the New Jersey shore Monday night, blazing a path of destruction through New York City and the surrounding area, killing dozens of people, knocking out power for millions and flooding many neighborhoods even as it burned down more than a hundred homes.
Airports were shut down and flights were canceled as far west as Chicago, Pittsburgh and Cleveland. Even though many of the airports from Washington to New England have officially reopened, they have posted online notices urging customers to check flight status and book flights before they go to the airports.
JetBlue, US Airways, United Continental (UAL) and Delta Air Lines (DAL) are all waiving their rebooking fees for passengers affected by the storm. American Airlines (AAMRQ) is offering what appears to be the most liberal policy, since it includes full refunds and transfers to other carriers.
Related: Sandy cleanup to cost towns millions
Southwest Airlines (LUV) wasn't hit as hard as other U.S. carriers, since it has less of a presence on the East Coast than carriers such as JetBlue, which is based in New York City, and Delta, which has its main hub in Atlanta.
European airlines also felt the impact of the storm, since New York City is a major trans-Atlantic hub, though they felt it to a lesser extent.
British Airways canceled a half-dozen flights to JFK and Newark on Wednesday, but said it was flying to other East Coast airports. Lufthansa canceled four flights from Germany to the East Coast on Wednesday and its one remaining Munich-to-JFK flight was delayed by six hours.
American Airlines canceled a half-dozen flights scheduled for Wednesday from JFK or Newark to Heathrow Airport in London.