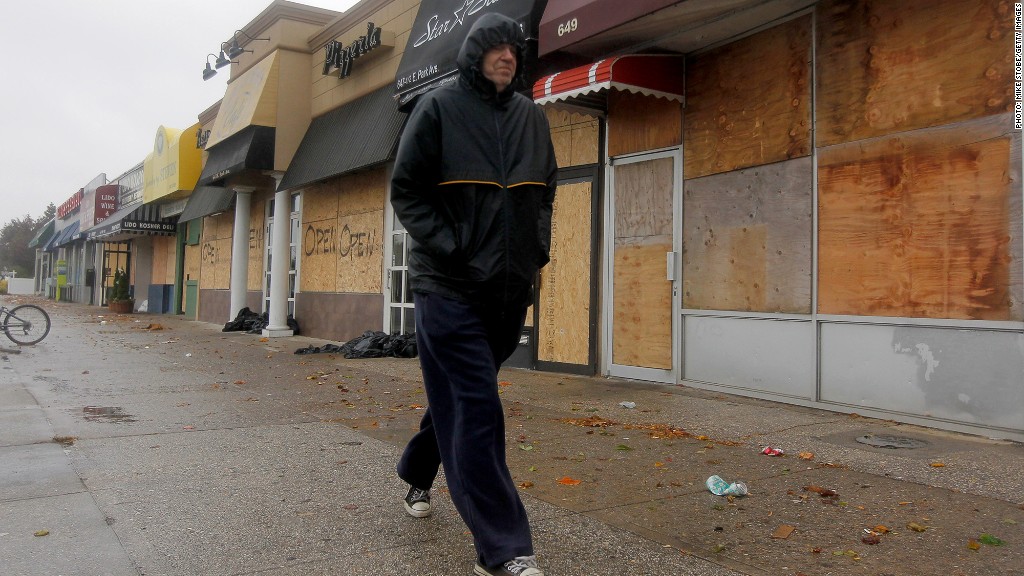 A lot of businesses that were shut down by Hurricane Sandy are about to find out that their business interruption insurance won't cover their losses.
And that will cost them a lot of money.
Business interruption insurance is a kind of coverage that is supposed to help companies that lose revenue due to any kind of unexpected shutdown. But the bad news for policyholders is that these policies only kick in if there is physical damage to the business that's insured, according to the Insurance Information Institute, an industry trade group.
"There has to be direct physical damage to the building in order for business interruption insurance to come into play," said Loretta Worters, vice president of the institute.
Businesses that didn't suffer any physical damage but were shuttered due to lack of power or evacuation orders are out of luck. There were millions of electrical customers in Sandy's path, including many small businesses, that lost power due to Sandy. Most of lower Manhattan was still without power on Wednesday, although the New York Stock Exchange reopened for business after being closed for two days.
And flood damage is also generally not covered by business insurance, only by the National Flood Insurance Program, which is run by the federal government.
Thousands of business owners in the affected area have returned to work Wednesday only to find that they won't get the help they expected.
Related: Sandy cleanup will cost towns millions
Robert Wyatt, president of Lightspeed Express, a Manhattan messenger service, is one such owner. Wyatt, whose office has been shut down since Monday, had hoped he would at least get compensated for two days of lost revenue that he said would have normally approached six figures. But Wednesday his insurance broker told him he probably won't be paid.
"I'm not happy. Very not happy. Incredibly not happy," he said. "I figured there's probably an out for the insurance company, but I was hoping we'd be paid since the city had ordered everything to shut down, including the subways."
Peter Schlactus, who is managing director of Brightstone Insurance Services and Wyatt's broker, said some clients have terms in their policies that will pay them if civil authorities order an evacuation, while others do not. And even within those policies there are issues yet to be resolved, such as whether closures in midtown Manhattan requested by the city constitute an evacuation.
"A lot of people like to think of insurance as simple. That's not the reality, especially for businesses," he said. "There's a lot of what most people will call fine print. We certainty have been getting a lot of calls. The news has ranged the gamut from we think you may be covered, to you're probably not covered, but let's put in the claim and find out."
Related: Sandy knocks out 25% cell service
Wyatt said even if his policy had paid for the two days that he was out of commission, he's still losing lots of money even now that he's open. He said was only doing about 10% of his normal business on Wednesday, since many customers in Manhattan remain closed. And while he's hoping business gets a little better Thursday, he doesn't expect anything close to normal until subways start running in the city again. Transit officials says they expect to begin limited subway service north of 34th street on Thursday.