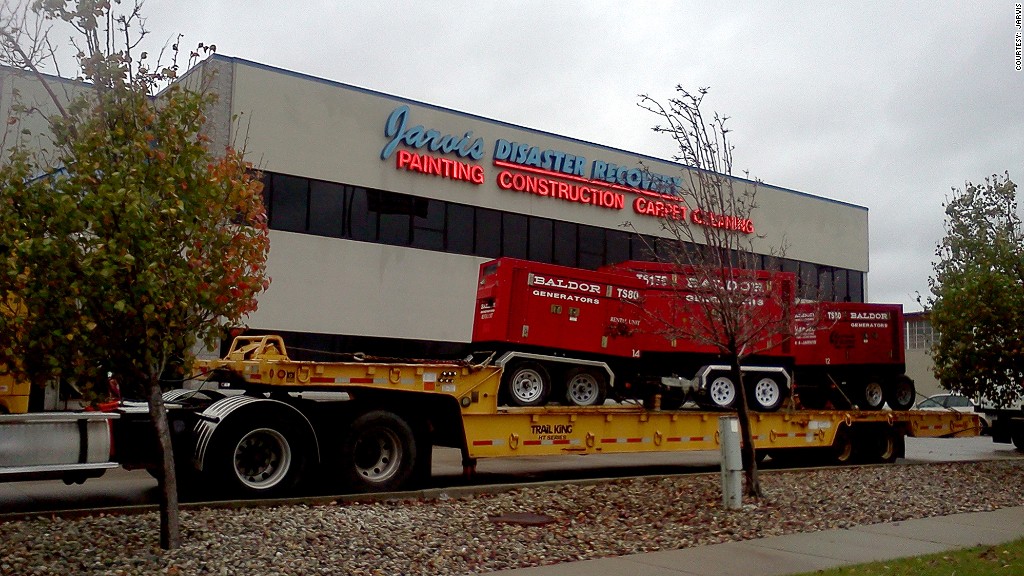 Superstorm Sandy was barreling toward the Northeast, and businesses specializing in disaster response and cleanup were being flooded with calls from homeowners and businesses in distress.
One of those first-responder companies was Jarvis Property Restoration, which is based in Detroit and also has offices in Illinois, Iowa and Florida.
"People started reaching out to us by 11 [Monday night]," said Don Wilgus, director of marketing and sales at Jarvis.
Sandy has passed, but the calls continue.
"It's just starting for us," Wilgus said. "We can't yet grasp how big this is going to be."
The largest disaster response the company was ever involved in was in 2008, when it sent 1,600 workers to Iowa to clean up damaged buildings after the Cedar River flooded Cedar Rapids. The company did $28 million worth of recovery and reconstruction work there, Wilgus said.
The full toll of Sandy's destruction is still unclear. But Wilgus estimates that Jarvis has already secured $1 million to $3 million worth of cleanup and recovery work.
Jarvis is already handling flood-related cleanup at a 28,000-square-foot police facility in in Brooklyn and a Manhattan office building nearly twice that size. Many customers are finding Jarvis through Web searches.
Jarvis is dispatching 30 big power generators and 150 workers trained in emergency response. "We also have four trucks with drying equipment, high-power water pumps, dehumidifiers, blowers and roof tarp heading there," he said.
Another disaster recovery firm, Birmingham, Mich.-based Belfor Property Restoration, has already dispatched 900 of its workers to the northeast.
Related Story: Sandy cleanup will cost towns millions
The company, which caters primarily to commercial businesses, office buildings and warehouses, has a "Red Alert" program that allows customers to sign up for help ahead of a catastrophe.
"Hundreds of companies had signed up before Hurricane Sandy hit," said Sheldon Yellen, CEO of Belfor. "We are sending our people from as far as St. Louis, Chicago, Detroit and Atlanta to these areas."
The largest disaster event for Belfor, so far, was Hurricane Katrina in 2006. "We had upward of 5,000 people on the ground in New Orleans. Some were there for more than a year," he said.
Belfor did "hundreds of millions" of dollars worth of cleanup and restoration work in New Orleans, he said.
New Orleans, of course, suffered enormous damage. Yellen said the current challenges in the Northeast are substantial.
Related Story: Sandy's economic impact
"Sandy has impacted a very large land mass that involves densely-populated areas and dense real estate environments," he said. "These features could make the scope of our work even bigger than with Katrina."
Within 24 hours, his company had set up command centers in New Jersey, New York's Long Island and Philadelphia. Belfor had sent a flotilla of 49 18-wheel trucks with equipment.
The widespread power outages will make recovery even more difficult. "When you have flooded-out facilities, the immediate issue is to remove the water, prevent mildew, demolish and reconstruct," said Yellen.
"This isn't a one-week process -- its months."