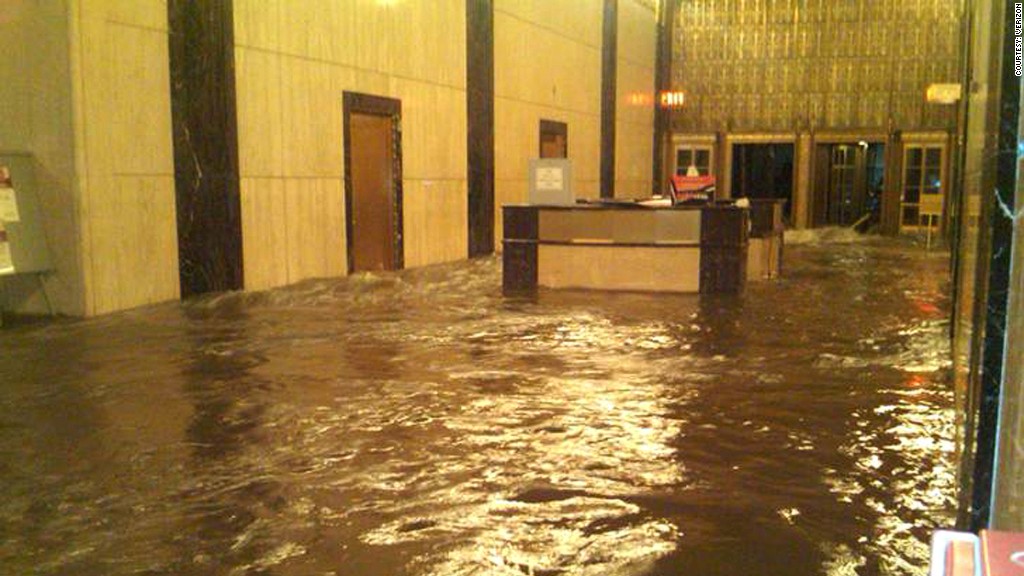 Verizon on Friday said it is making progress in getting its cellular service back online for customers impacted by Superstorm Sandy, but the repair work may take a chunk out of its fourth-quarter earnings.
In a regulatory filing, the company said it is directing its resources towards powering up cell towers and rebuilding its network, "which may take some time." Verizon said it is not yet able to estimate how much impact the storm will have on operating profit, "but we expect that it could be significant."
The nation's largest wireless carrier said 96% of its towers in Sandy-impacted areas are operational, up from 94% on Wednesday. But getting the remaining towers online will take a tremendous effort.
"Unfortunately, the extent of the storm damage -- including lingering power outages and inaccessible roadways -- in harder-hit areas like New Jersey and the New York City metro area makes full restoration a marathon and not a sprint," Bob Mudge, president of Verizon's consumer division, said in a prepared statement. "We ask for customers' patience and understanding."
Verizon (VZ) isn't the only carrier that got nailed. The Federal Communications Commission said Thursday that 19% of cell sites in the core area affected by the storm -- 158 counties across 10 states, from Virginia all the way up to Massachusetts -- remained non-operational. That's an improvement from 25% earlier in the week, but wireless companies still have "much work to be done," FCC Chairman Julius Genachowski said.
Sprint (S) appears to be the most damaged of the three major national carriers. In Massachusetts, New Hampshire, Pennsylvania and Rhode Island, the Sprint Network is more than 90% operational, the company said. But in the harder-hit areas, including New York, New Jersey and Connecticut, Sprint's network is only around 80% functional, and just 75% of its New York City towers are online.
AT&T (T) said the "vast majority" of its towers are back online, but it continues working to restore service in areas with significant damage and power outages.
In a rare show of cooperation in the wireless industry, AT&T and T-Mobile are allowing customers in storm-affected areas to roam on one another's networks free of charge. The two carriers' networks are technically compatible, which made such a move possible.
All carriers noted that they are making efforts to reopen their retail stores, where customers can charge phones. For those without service, many stores are allowing customers to make free landline calls.
Sandy's impact on the wireless infrastructure is likely second only to Hurricane Katrina, said Ken Rehbehn, wireless infrastructure analyst with Yankee Group.
" A big difference between New York City and Katrina is that the flooding is not lasting as long in as large an area," he said. "But the failure of key power stations and power distribution in a complex, dense area such as lower Manhattan means that secondary power being brought in is essential."
Many irate customers took to social networks, saying that regulators should require carriers to have more robust backups. That kind of fallback system exists in hurricane-prone areas like Florida, with backup generators at practically every cell site. But Rehben said the costs of doing that in the Northeast would likely outweigh the benefits.
The good news for consumers is that new 4G network equipment that carriers are deploying is significantly more energy-efficient than 3G or 2G technology. Once carriers' 4G networks are fully deployed, cell towers' battery backups should last longer, giving carriers more time to make repairs.
Verizon was among the first major companies to say that Sandy would have a significant financial impact, but the storm will likely hurt airlines, insurance companies and hotels as well.