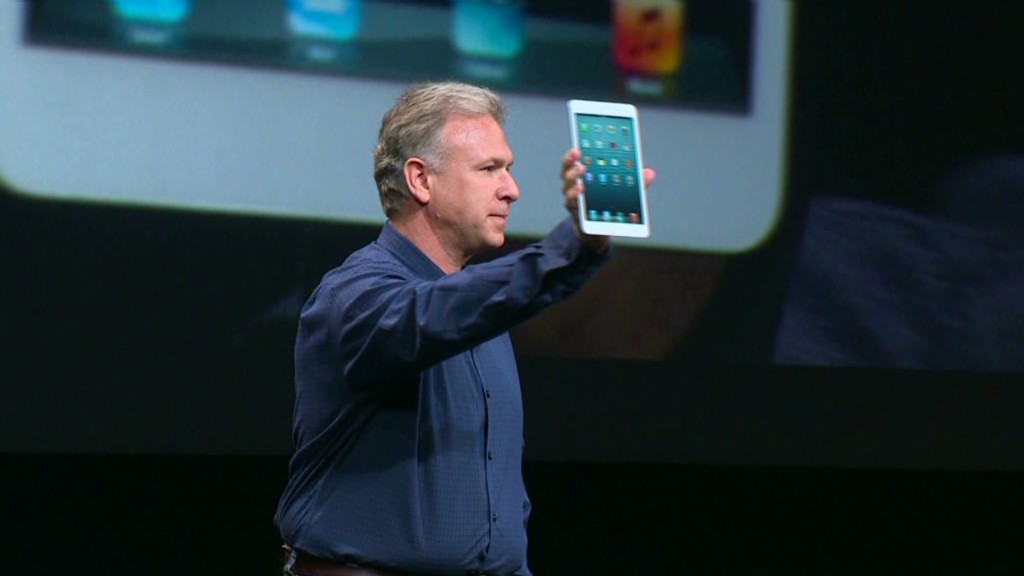 Apple said Monday that it sold 3 million iPads since Friday's debut of the new iPad mini and updated full-sized iPad tablet.
The weekend haul doubled Apple's previous three-day sales record of 1.5 million iPads, which was set in March, after the debut of the third-generation iPad.
Shares of Apple (AAPL) jumped 1%.
Apple did not break out sales figures for the different variations of its tablet, but CEO Tim Cook noted that iPad minis were "practically sold out." At Apple's flagship store on Fifth Avenue in Manhattan, the white iPad mini sold out in just an hour, and the black versions sold out in two hours.
"We're working hard to build more quickly to meet the incredible demand," said Cook.
Apple has been plagued with supply constraints for its new devices lately, so it wasn't surprising that demand easily outstripped supply.
Brian White, analyst at Topeka Capital Markets, said checks with Asian suppliers revealed that it would be a while before Apple could deliver all the iPad mini tablets that customers want, thanks to the complexity of certain components that go into the eight-inch tablet.
The Wi-Fi only versions of the tablet are the only ones on sale yet. Apple said the 4G versions of both the iPad mini and the new fourth-generation iPad will ship "in a few weeks" in the United States.
The iPad mini, which starts at $329, is one-third smaller overall than than its 10-inch cousin and weighs less than a pound. It's also 23% thinner than the full-sized iPad.
Apple also began selling a slightly updated fourth-generation traditional iPad on Friday, which features a new, twice-as-fast processor and U.S. 4G-LTE coverage.
The iPad commanded roughly half the tablet market in the third quarter, according to IDC. That's more than double the market share of Samsung, its next-closest competitor, but Samsung, Amazon and Asus have come on strong over the past several months. Over the past year, they've eaten away about 10 percentage points of Apple's tablet share.