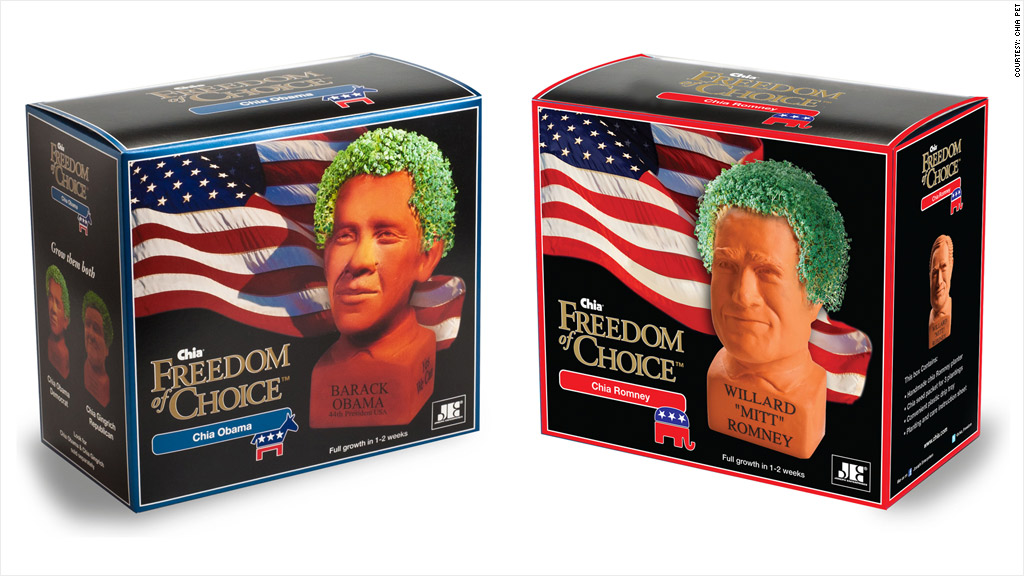 When it comes to election-season tchotckes, even the inventor of the Chia Pet has gotten in on the action.
Joe Pedott, the company's founder, is peddling a Chia Romney and a Chia Obama for $17.99 each. "At first people told me I was crazy," Pedott said. "But now everyone's having fun with it." He won't reveal sales figures, but he does say that in the plant-based race Chia Obama is leading with about 63% of sales, while Chia Romney has garnered about 36%.
Also among this year's crop of presidential novelties are Obama Martini Glasses, "Romney Sucks" straws, a "draw your own conclusion" limited-edition Etch A Sketch and even doggy chew toys in the shapes of both candidates.
Anni Sandback used to work for Goldman Sachs, but left the world of finance to start her own business. She began by selling political dog toys using the tagline: 'Throw them to the dogs.' The Obama chewtoy sports a friendly smile, while Romney's has a grumpy frown. So far, she's sold 200 at $18 a piece.
"I realized they weren't going to make me a lot of money, but I wanted to do something for a good cause," Sandback said. So she's donating her profits of $6 a toy to a charity that rescues Border Collies. Obama and Romney are dead even in terms of sales, much like the national polls.
Related: Halloween mask sales predict Obama win 60-40
The Atlanta-based chain of Flip Flop Shops is capitalizing on its natural affinity with flip-flopping politicians by selling thong sandals featuring the likeness of either Romney or Obama for $10 a pop. And SoapHeads.com is selling presidential soap caricatures for $11.99. A spokesman says Romney has garnered about 74% of the soap's sales.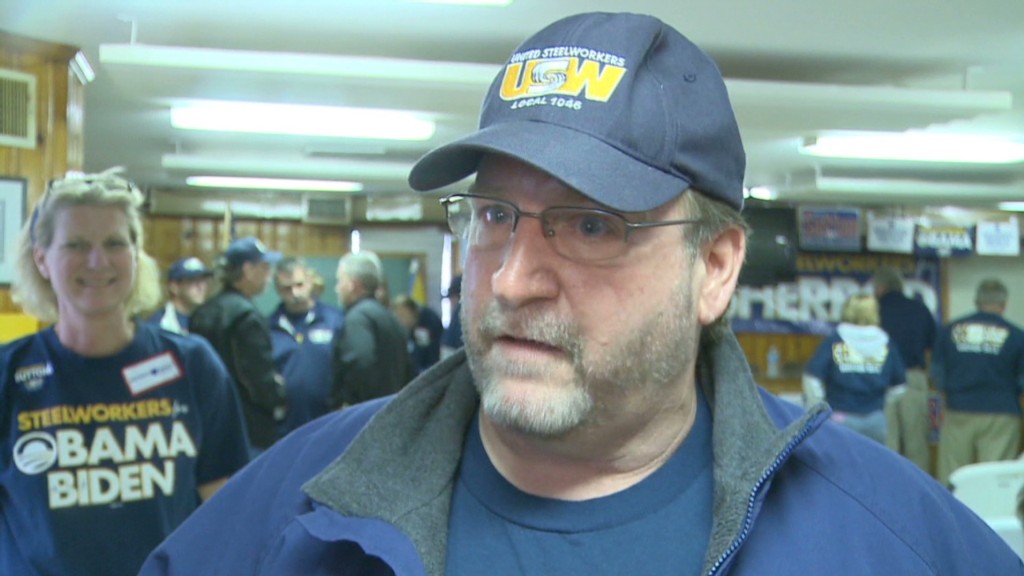 The Flying Saucer Draught Emporium, which has 15 locations nationwide, is selling special beer glasses this election season. There's the "vote for four more beers" Obama glass or the "start a new tab" Romney glass.
They go for $7 each, while a case of 24 is priced at $75. Javier Espinoza, who manages the San Antonio, Texas location, estimates his restaurant will sell about 2,000 glasses this year. And he contends that sales of the chain's glasses have correctly predicted the winner in each of the last two presidential elections.
As of Monday morning Romney was ahead of Obama, but only by 38 glasses.