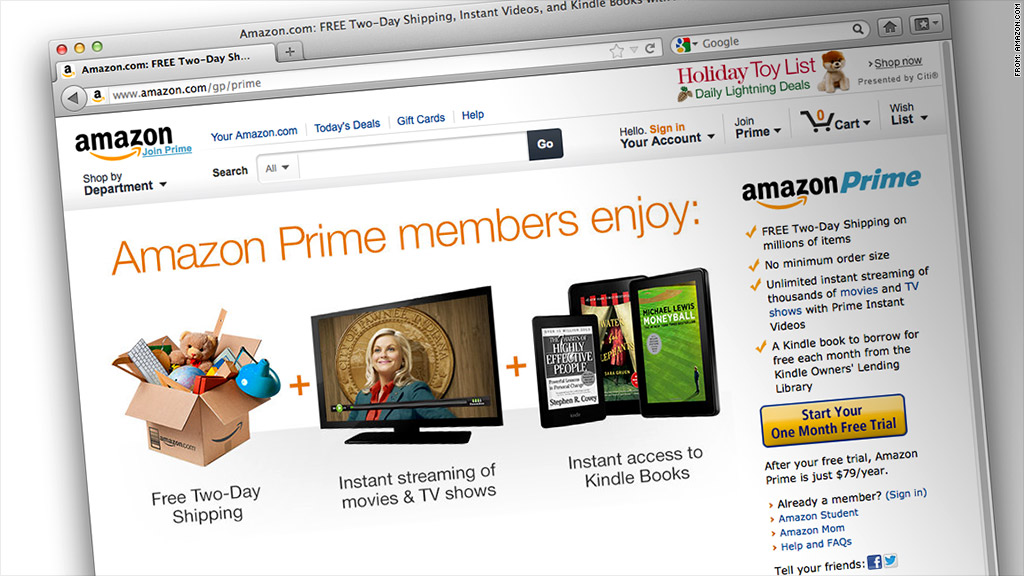 It's no secret that Amazon's main streaming video competitors are Netflix and Hulu Plus. A new pricing setup pits the retailer even more squarely against its rivals.
Amazon is testing a $7.99 per month pricing scheme for its Prime program, the same exact cost as the monthly streaming services from Netflix (NFLX) and Hulu.
That's a pricier option than Amazon Prime's traditional $79 annual fee. The blog Hacking Netflix first reported on the pricing trial after a reader spotted the offer.
Amazon appears to be offering the monthly option only to some customers. CNNMoney didn't receive the message when accessing Amazon's Prime signup page from multiple browsers on several different computers. Amazon representatives didn't reply to a request for comment on the program.
The Prime program is unique in that it covers both the Amazon's retail and video content businesses. Prime customers receive free two-day shipping on certain tangible goods from Amazon.com, as well as streaming video access. Prime subscribers who have Kindle devices can also borrow some e-books for free.
As of September, Amazon said Prime Instant Video offered members streaming access to about 25,000 movies and TV episodes. Netflix doesn't specify how many titles it offers, simply saying that its streaming catalog has "thousands" of selections. Hulu is similarly vague, advertising that its library features "a large selection of videos from more than 410 content companies."