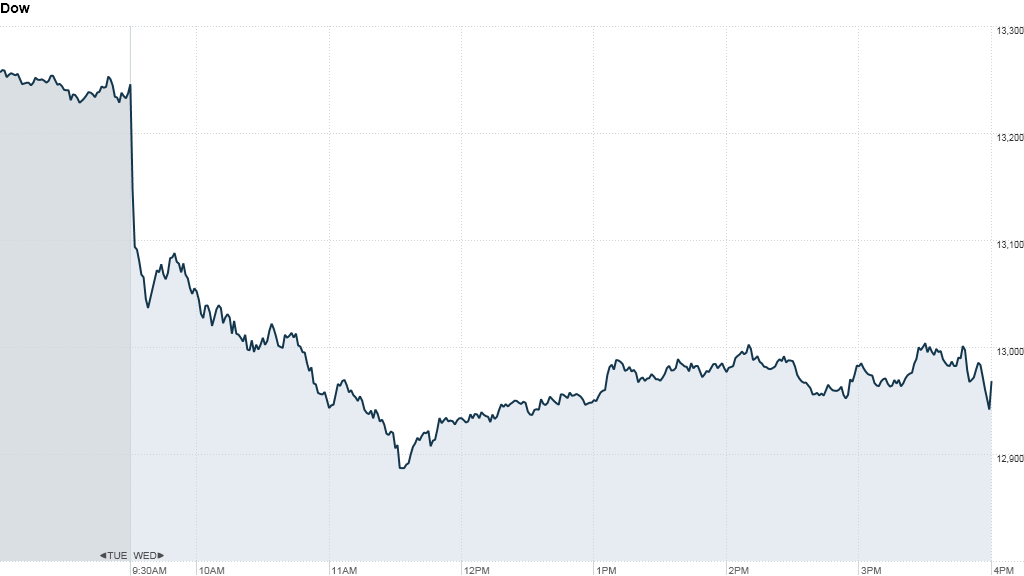 A sell-off on Wall Street gained momentum Wednesday, with the Dow closing below 13,000 for the first time in three months, as investors focused on how President Obama plans to avoid the fiscal cliff after he won re-election Tuesday night.
A weak outlook for economic growth in Europe and European Central Bank president Mario Draghi's warning of a slowdown in Germany also weighed on the market.
The Dow Jones industrial average dropped 313 points, or 2.4%, logging its worst daily decline since November 2011.
JPMorgan Chase (JPM) and Bank of America (BAC) were the biggest drags on the blue chip index. And other banks followed suit, with shares of Morgan Stanley (MS), Goldman Sachs (GS) and Wells Fargo (WFC) all significantly lower.
The Nasdaq and S&P 500 also both sank more than 2%, clocking their worst drop since early June. Coal and for-profit education stocks led the declines on both indexes.
"This is purely a reaction to the political landscape and an investor response to the policies on the table -- all the new regulation that will add to the costs of doing business for certain industries and sectors" said Jack Ablin, chief investment officer at BMO Private Bank. "Financials are getting hit the hardest, and energy isn't far behind."
Coal producer Alpha Natural Resources (ANR) sank more than 12%, making it the biggest loser on the S&P 500 while Peabody Energy (BTU) and James River Coal Co (JRCC) also fell sharply. Exxon Mobil (XOM), Halliburton (HAL) and Chesapeake Energy (CHK) were among the other energy companies taking a hit Wednesday.
Oil prices tumbled 4.8% to $84.44 a barrel.
For-profit education stocks, which have faced tougher regulation under the Obama administration, also sank. Apollo Group (APOL) was the second biggest decliner on the Nasdaq 100. Devry (DV) and Corinthian College (COCO) also plunged.
Telecom companies, such as AT&T (T) and Verizon (VZ), which have a long history of paying out healthy dividends, were also under pressure. Obama has proposed raising the tax rate on qualified dividends and long-term capital gains.
Though the sell-off was broad and deep, Ablin said it's likely a one-day reaction, and not harbinger of a bear market.
In fact, during the two days after Obama was elected in 2008, the Dow plunged more than 900 points, or 10%. But during the past four years, the index has climbed almost 40%. And year to date, all three indexes are up between 6% and 13%.
Related: Obamacare stocks rally
Hospital stocks HCA (HCA), Community Health Systems (CYH) and Tenet Healthcare (THC) were big gainers Wednesday, as Obama's win means the president's health care reform legislation is here to stay.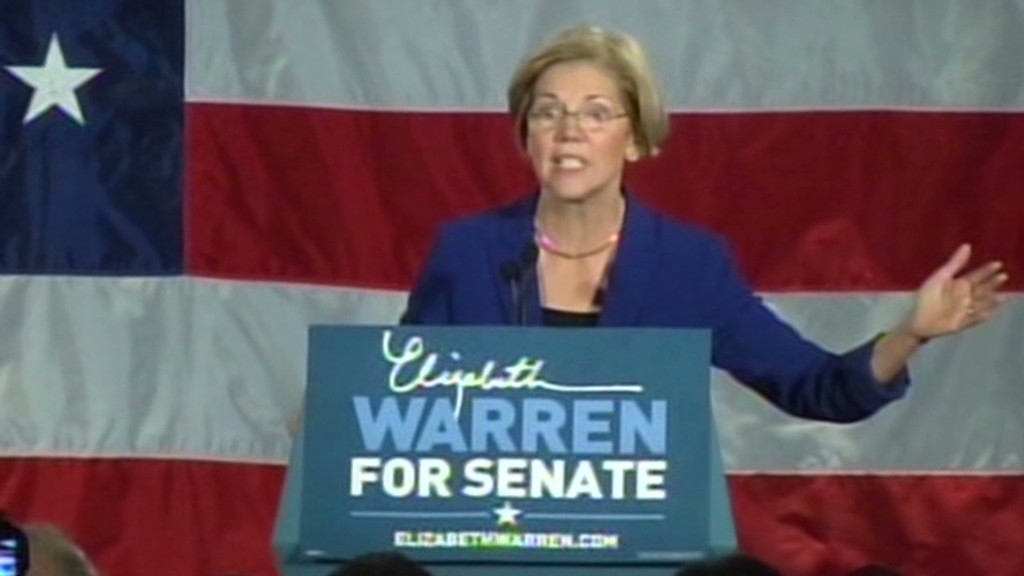 Wall Street had been overwhelmingly in favor of Mitt Romney, and considered him to the more business-friendly candidate, especially when it came to the regulatory environment.
But with the election behind them, investors are quickly moving on to what Tuesday's results mean for the looming fiscal cliff, the market's biggest headwind, according to market strategists and money managers recently surveyed by CNNMoney.
Related: Up next for Obama - the fiscal cliff
"We have only have 10 legislative days to make something happen," said Ablin. "Obama has said he will reject any proposal that doesn't include tax hikes on the wealthy, so we see the same kind of contention that we saw during the debt ceiling battle that eventually led to a downgrade by Standard and Poor's."
If lawmakers fail to address the simultaneous onset of tax hikes and spending cuts that will be triggered on Jan. 1, they risk throwing the U.S. economy back into a recession and driving unemployment up even higher.
Fitch Rating said Wednesday that Obama needs to "quickly secure agreement on avoiding the fiscal cliff and raising the debt ceiling," and cautioned that failure to do so "would likely result in a rating downgrade in 2013." Fitch has so far maintained its AAA rating for the United States.
Late Wednesday afternoon, House speaker John Boehner said the Republican majority in the House is ready to work with the president to do what's best for the country. Boehner said his party would be "willing to accept new revenue" in a budget deal as long as they support economic growth and are joined by a more comprehensive tax reform.
As investors bailed out of stocks, they shifted into safer havens, like U.S. Treasuries, pushing the yield on the 10-year note down to 1.64% from 1.74% late Tuesday. Gold, which is also considered a safe haven, fell $1 to settle at $1,714 an ounce.
Related: European leaders: Let's get world economy moving
Meanwhile, Europe's debt crisis reared its ugly head once again, with Draghi warning that the region's debt problems are starting to take their toll on the economy in Germany, which has so far been relatively insulated.
Separately, the European Commission forecast a 0.3% decline in economic activity in the European Union this year, and subdued growth in 2013. The eurozone economy is expected to contract 0.4% this year, and be stagnate in 2013.
Following a morning rally, European stocks sold off sharply. Britain's FTSE 100 dropped 1.6% while the DAX in Germany and France's CAC 40 declined 2%.
Related: Obama win may ease China tension
Asian markets also shaved morning losses. The Shanghai Composite and Japan's Nikkei finished little changed, while the Hang Seng in Hong Kong rose 0.7%.
The dollar initially eased against the major world currencies but reversed course. The dollar rose 0.4% against the euro and 0.1% versus the British pound. The dollar declined against the Japanese yen.
Related: Fear & Greed Index slips into fear
Investors also continued to eye corporate news. CNNMoney parent Time Warner (TWX) shares rose 4% after the media company posted a higher-than-expected profit for the third quarter thanks to strength in its cable networks.
On Wednesday afternoon, the Federal Reserve data showed that consumer credit expanded to $11.4 billion in September.