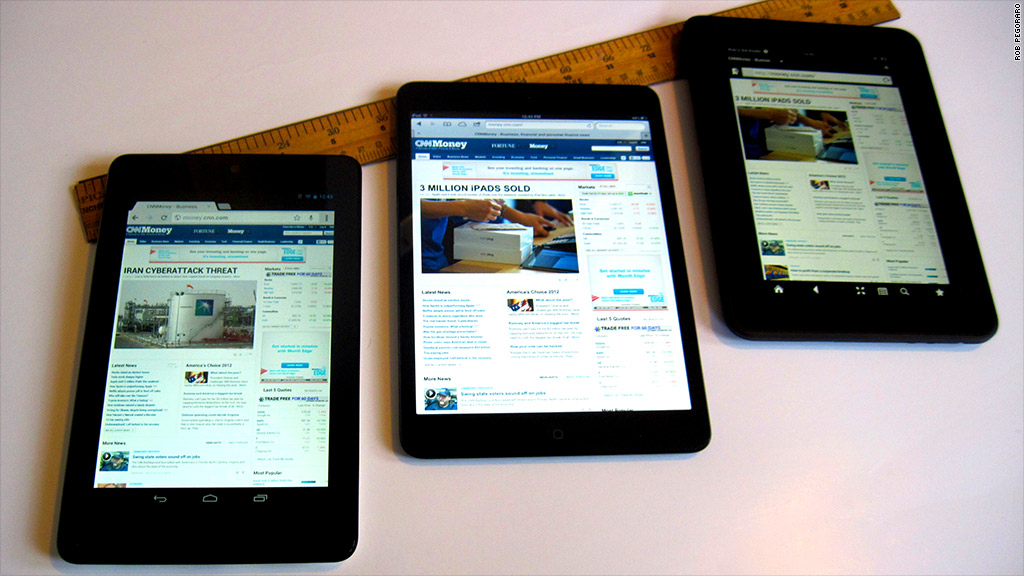 The compact-sized tablet space -- once a black hole for flawed efforts like the BlackBerry PlayBook -- suddenly looks like the hub of that market. After Barnes & Noble, Amazon and Google showed that you could craft a quality, affordable tablet around a seven-inch screen, Apple responded this month with its new iPad mini.
How do the three highest-profile competitors -- the mini, Google's Asus-built Nexus 7 and Amazon's Kindle Fire HD -- compare? It's not as obvious as you might think.
Screen: Apple (AAPL) finds itself in an unfamiliar position here: behind.
The iPad mini's 7.9-inch screen, with a 1024-by-768 pixel resolution, is visibly less sharp than the 7-inch, 1200-by-800 displays on the Nexus 7 and the Kindle Fire HD. With the same Web page open on all three devices, text on the iPad looked just fuzzy enough for me to want to enlarge it slightly, while on the two Android-based devices I could keep it as-is.
Size and weight: The mini is the lightest option, at .68 lbs., but the Nexus 7 is only about an ounce heavier. Either one should work for standing-up use on a train. The added three ounces of the Fire HD feel distinctly heftier.
In the all-important "does it feel good in the hand?" category, the mini is implausibly but pleasingly thin--almost as if you could snap it in half. Its two rivals seem chunky in comparison, even though they don't need to make room for a back camera like the 5-megapixel hardware sported by the iPad mini.
On the Fire HD, I discovered an extra issue: I kept holding it upside down. The placement of its front camera along its long side (where your thumb easily hides it in portrait mode) deprives you of the usual "this end up" hint of a lens atop the display.
Battery life: Apple has done exceedingly well -- in my usual test of nonstop Web-radio playback with the screen kept on, the iPad mini ran for 11 hours and 53 minutes -- but Google (GOOG) and Amazon (AMZN) are no slouch. In that same routine, the Nexus 7 lasted 9:40 and the Fire HD made it to 9:23 in one test and 10:27 in another. With typical waking hours, you'll probably need to recharge before your tablet does.
Both iPad alternatives are easier to replenish. The loaner units I've tested each charged, slowly, off generic micro-USB cables and chargers. With the iPad mini, you need Apple's proprietary Lightning cable.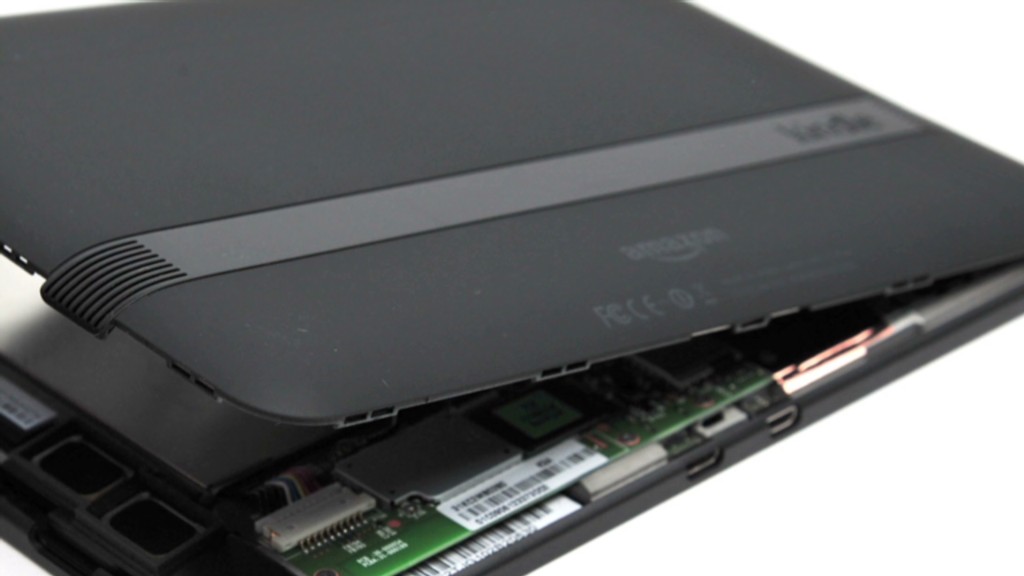 Apps: Apple loves to tout the overwhelming numerical superiority of tablet-optimized apps for the iPad: 275,000 and counting. But a quantity-first approach doesn't tell you everything -- as Apple sometimes pointed out in the late 1990s when the Mac struggled for attention from name-brand developers.
Both Apple and Google have done well at tweaking their own apps to fill out a tablet's bigger screen. (Google's wisely refrain from trying to mimic real-world calendars or address books). Some name-brand developers -- Evernote, Facebook (FB) and Pandora (P) are among them -- have made the same effort on both platforms.
Many others, however, apparently can't be bothered to revise their Android apps.
Apple's advantage is strongest in apps to create content. If there's an Android photo-editing app with the style and substance of Apple's iPhoto, I haven't found it yet. As an Android user, you can still find yourself waiting for iOS-only apps to make their way to Google's operating system.
The Fire HD compounds that weakness by using Amazon's separate Appstore instead of Google's Play Store. That leaves Fire users with a diminished inventory, although there are exceptions: Amazon has an app for its Instant Video service on the Appstore (and on the iPad's App Store) but not on Android's Play Store.
Interface: If you're a busy person, Android will likely be a better operating system. Multitasking is faster and more obvious. Instead of tapping the home button twice to see a row of app icons, tapping the recent-apps button reveals thumbnail views of open apps.
Android also does notifications better, keeping an active count of which apps have new data for you at the top of the screen. And I like being able to check things like my schedule or e-mail through Android's onscreen widgets.
Apple's iOS is simpler overall, although some traits -- like the need to open the Settings app to change preferences in most third-party apps -- take some getting used to. For automatic syncing of music, photos and videos from a computer to a tablet, iOS requires far less tinkering than Android.
On the Fire HD, Amazon's rewrite of Google's operating system erases its multitasking and widget advantages. And even more so than last year's Kindle Fire, the Fire HD's interface can feel like one big funnel into an Amazon checkout screen, from the ads that appear on its lock screen to the "Customers Also Bought" links on its home screen. Opting out of those will cost you $15.
Price: Yes, the iPad mini starts at $329 while the Nexus 7 and the Kindle Fire HD each offer $199 price tags. Apple can make a good case that the higher cost of the mini buys you that lighter, thinner design, two cameras instead of one and a superior selection of tablet apps. (It can't readily justify charging twice as much for a storage upgrade.)
But set those prices aside and think of how you'd actually use a tablet. If your answers revolve around reading, whether on the Web or in e-books, the Nexus 7 should be your first choice. If apps outrank text, go with the iPad mini.