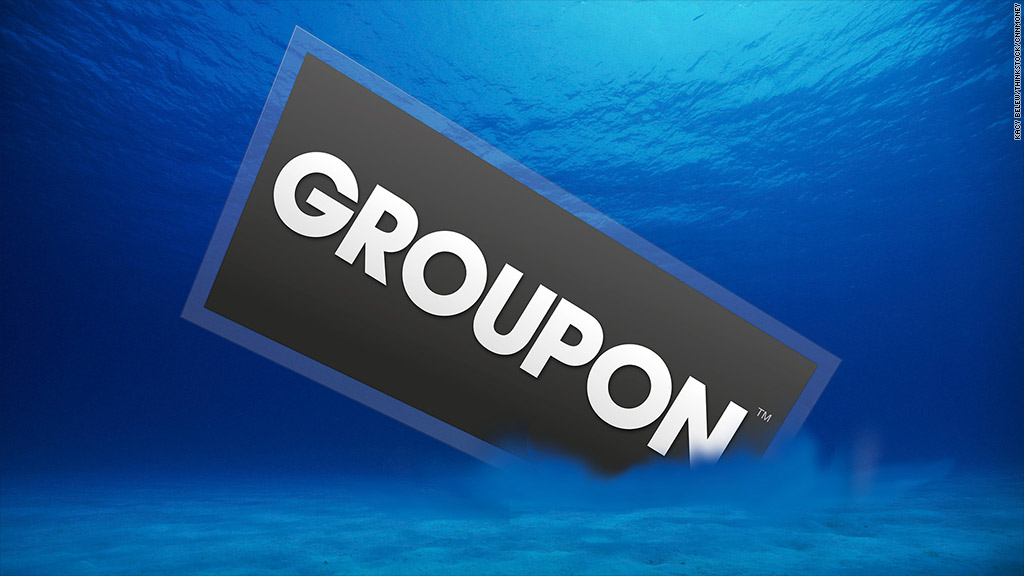 When critics wax poetic about the Great Tech Bubble of 2012, they often hold up daily deals site Groupon as the embodiment of all things overhyped and overfunded. The company didn't do much to silence those naysayers Thursday night, when its earnings report showed that sales are slowing significantly.
Shares of Groupon (GRPN) lost nearly a third of their value Friday morning, bringing the stock well below $3. That brings Groupon's stock decline to an eye-popping 89% since its public debut one year ago.
Groupon has been fending off the critics since even before its initial public offering. Cynics decried Groupon for choosing a field that's easy for new rivals to jump into, and questioned whether any daily deals site can come up with a viable long-term business model.
Meanwhile, customers have hit their saturation point with endless deals popping up in their inboxes -- and Groupon's core business is suffering. It's trying to compensate by diversifying into new sectors, launching things like a product sales business called "Goods" and a new credit card payments processing service.
"Groupon faces real challenges in trying to figure out what the real value of their business proposition is," said Ascendiant Capital Markets analyst Edward Woo. "They're trying to be an online retailer, an e-commerce company. It's a wide vision, and people have to have a lot of faith. But recent execution isn't giving people a reason to have faith."
Neither did Groupon's third-quarter earnings report, which put those concerns into sharper focus on Thursday. Sales missed both analysts' estimates and the company's own guidance. Revenue growth slowed sharply compared with the second quarter.
Perhaps most concerning, though, was Groupon's rapid slowdown in the international sector, which grew by just 3.1% in the third quarter. By comparison, international sales grew by 10 times that amount -- 31% -- over the year in the second quarter.
Groupon CEO Andrew Mason acknowledged the "continued challenges in Europe" in his prepared remarks. So did analysts, who also brought up a litany of other concerns in their coverage notes.
Jeffferies & Company analyst Brian Pitz retained his "hold" rating on Groupon but lowered his price target on the stock to $4. His Friday report listed several risks, including the international sector, "intense competition," and, quite simply, the fact that the daily deals sector is a "young industry with unproven business models."
That uncertainty was in focus just two weeks ago, when Amazon (AMZN) swung to a loss -- partly because the company took a writedown on $169 million of its $175 million investment in Groupon rival LivingSocial.
Several analysts cited Groupon's push into Goods sales as a dubious move, given the fierce competition and potential of lower profit margins. Hudson Square Research analyst Daniel Ernst downgraded his rating on Groupon to "hold" from "buy" as a result of those concerns -- not even because of the third-quarter miss.
"The bottom line is that Groupon has a lot of question marks around it," said Woo, the Ascendiant analyst. "Is Groupon on the verge of going bankrupt? No. But it's clear that in daily deals, the good old days are long behind them."