U.S. stock futures pointed to a higher opening Wednesday, as strong earnings were offset by two weak economic reports.
Cisco (CSCO) was among the biggest premarket gainers, with shares rising 8%. The tech giant reported profits and sales that beat expectations after the closing bell Tuesday.
About an hour ahead of the opening bell, the government reported retail sales fell 0.3% in October, citing a negative impact from Superstorm Sandy. It was slightly worse than the 0.2% decline forecast by economists surveyed by Briefing.com.
Meanwhile, the whole prices decreased 0.2%, according to the Producer Price Index report. They had been expected to increase by 0.1% -- led by higher energy and food prices.
While futures remained higher following the reports, they were slightly off their highs of the morning.
"Today is probably a mixed bag," said Scott Brown, chief economist at Raymond James.
Following the opening bell, the Census Bureau will report data on business inventories for September, which are projected to have increased by 0.6%.
Then at 2 p.m. ET, the Federal Reserve will post the minutes of its policy meeting from late October.
In a speech Tuesday, Federal Reserve Governor Janet Yellen said she would support tying Fed policy to numerical targets for the unemployment rate and inflation. Fed watchers will be looking closely at the minutes Wednesday to see if support for that idea is growing within the Fed.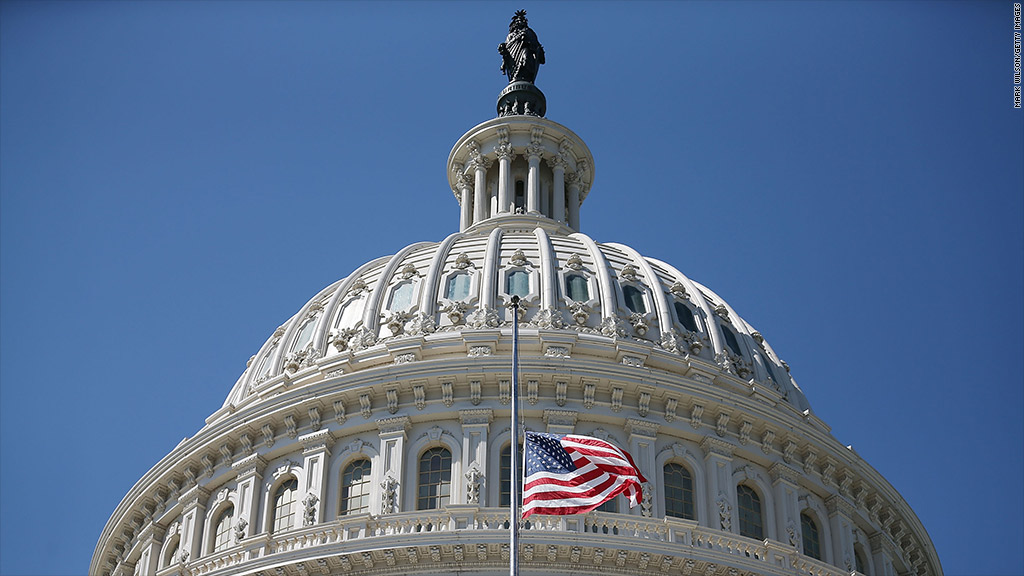 Overall, investors remain unwilling to place any big bets, while lawmakers try to strike a deal that would prevent the onset of sharp spending cuts and tax increases in January. President Obama plans to meet with a number of business leaders on Wednesday and congressional leaders on Friday to discuss the issue.
U.S. stocks slid to three month lows Tuesday.
Fiscal pressure continues to weigh on Europe, where anti-austerity strikes are planned as part of a "Day of Action and Solidarity." European markets fell Wednesday morning, as Britain's FTSE 100 lost 0.6%, the DAX in Germany slid 0.3% and France's CAC 40 declined 0.4%
Meanwhile, Asian markets ended higher after paring earlier losses as investors wait for China's Communist Party to confirm its new leaders. The Shanghai Composite edged up 0.4%, the Hang Seng in Hong Kong jumped 1.2%, and Japan's Nikkei ended just above breakeven.
Companies: Facebook (FB) shares fell 1% in premarket trading as the company faces another day when millions of its shares could hit the market. Like many initial public offerings, Facebook's May 18 debut included a "lockup" agreement that requires some shareholders from selling for a certain period. On Wednesday, early employees and investors get their first chance to sell about 773 million shares, as well as another 31 million restricted stock units.
Shares of retailer Abercrombie & Fitch (ANF) shot up 28% in premarket trading after the company reported sales and earnings that blew past expectations, and raised its full-year earnings guidance above even the most bullish forecasts.
Staples (SPLS) shares rose 5.8% after the company beat the Street on third-quarter earnings but fell short on revenue.
Toyota Motor (TM) shares fell after the Japanese automaker announced Wednesday that it is recalling 2.77 million cars worldwide. The recall mainly covers certain Prius models and was prompted by a problem with the steering intermediate extension shafts, which can suffer damage if sharp turns are made at slow speeds. About 670,000 of the recalled cars were sold in the United States.
Related: Opinion: Gold bugs love fiscal cliff fears
Currencies and commodities: The dollar fell against the euro, but rose versus the British pound and the Japanese yen.
Oil for December delivery added 11 cents to $85.49 a barrel.
Gold futures for December delivery fell $3.50 to $1,721.30 an ounce.
Bonds: The price on the benchmark 10-year U.S. Treasury fell, pushing the yield higher to 1.62% from 1.59% late Tuesday.