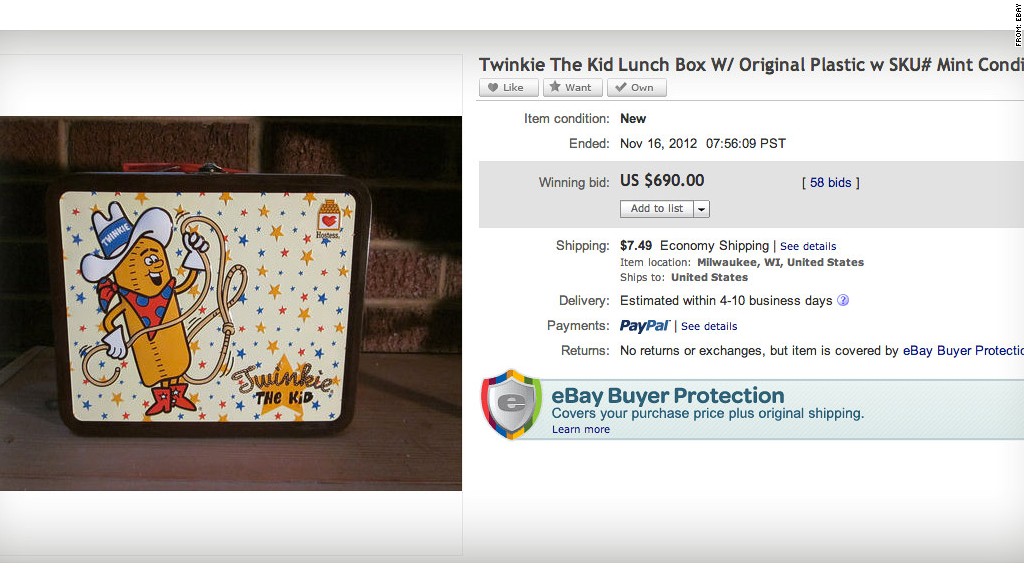 Twinkies merchandise is hot on Ebay, with prices soaring now that Hostess Brands is moving closer to closing down.
A lunch box featuring "Twinkie the Kid," a cartoon cowboy character that bears a striking resemblance to the iconic yellow cake, fetched a winning bid of $690 on Friday, after Hostess said it was seeking permission from a federal bankruptcy court to close down all its bakeries.
The Hostess announcement had an obvious impact on bidding. The lunch box, advertised as "mint condition, never used," was listed on Nov. 9 with a starting price of $14.99. There were no bids for a week. But then, on Friday morning, 58 bids pushed the price to $690. Most of those bids occurred in less than two hours.
Bidders who missed out on that lunch box haven't struck out completely. Other sellers have placed additional Twinkie the Kid lunch boxes on Ebay (EBAY) , with starting prices reaching into the hundreds of dollars. There are no bids are these products yet, but the products will remain on the site for days, and Ebay bidding typically heats up as the deadline approaches.
Related: Hostess Brands closing for good
There are other Hostess-branded items for sale featuring Twinkie the Kid, including a "container" of uncertain purpose, and also a plush Beanie doll. These items had languished on Ebay for days with no bidding whatsoever until Friday, when the bids came in and prices pushed up dramatically.
These products include a Twinkies Bake Set, currently going for $64 after 34 bids. That might seem insignificant compared to the $690 lunch box, but the bidding deadline is still four days away, so there is plenty of time for frantic online auctioneering.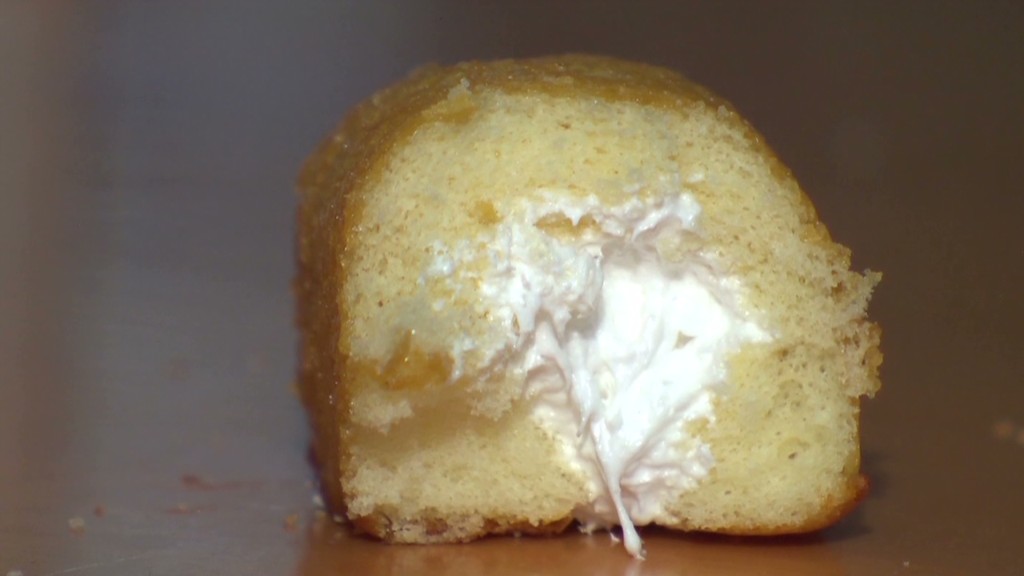 Consider this: The bake set allows consumers to make their own Twinkies. This could be a valuable commodity in the future, after the Hostess bakeries shut down. Another company might buy the Twinkies brand for production somewhere down the line, but the future of the bankrupt brand is far from certain.
Related: Don't worry, Twinkies will survive
For the moment, the world's supply of Twinkies is finite. Some sellers are trying to capitalize on that by putting the baked goods up for online auction. One Ebay seller wrote, "This could be the last box of Hostess Twinkies EVER! Buy it NOW!"
A few sellers are demanding hundreds of dollars for boxes of Twinkies. But so far, no bids.
At least, for now ...