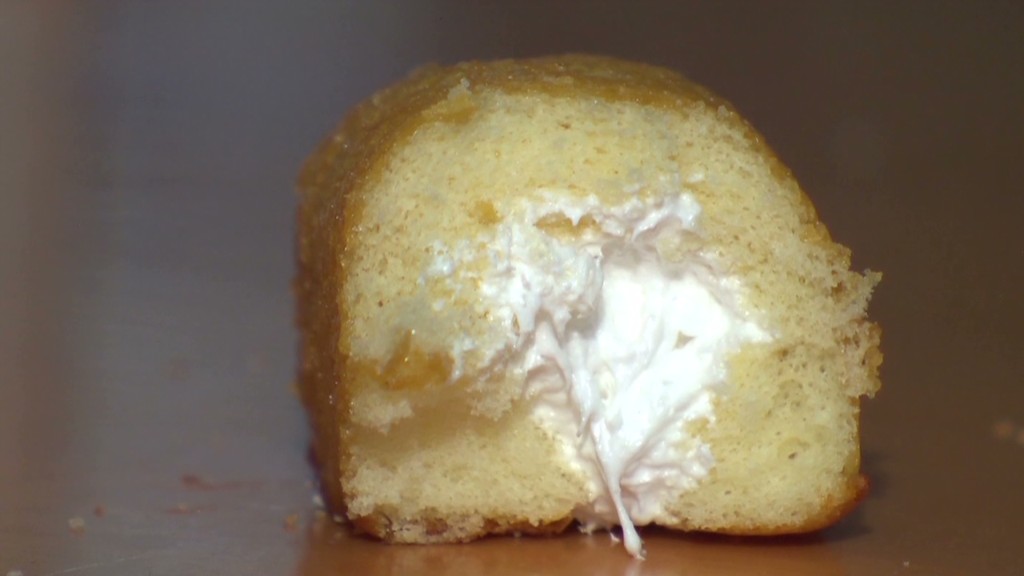 Hostess Brands is cutting more than 18,000 jobs as it closes its doors for good. Those workers may find it tough to find new work.
All Hostess Brands employees will lose their jobs in the coming weeks, some sooner than others, the company announced Friday. The layoffs span nationwide, and represent a deep cut in mid-wage jobs that often came with benefits. The company had operated 33 bakeries, 565 distribution centers and 570 outlet stores across the country.
Many production workers earned up to $20 an hour, plus had access to medical benefits, according to Michael O'Brien, a former Hostess employee who had worked at the company for 45 years, in various sales functions, before he was offered a buyout last year.
"People inside the plants really made a good living," O'Brien said. "I feel sorry for them."
The company has struggled to keep up with competition and keep peace with its union workers. A recent bakers strike was the final nail in the coffin, the company said.
"We deeply regret taking this action," the company said. "Widespread strikes by the Bakers Union forced us to cease operations because we can longer produce or delivery product."
Related: Hostess Brands closing for good
According to a letter sent to employees, workers will not receive severance pay or pay for unused vacation time. Hostess is directing employees to COBRA for continuing medical insurance coverage.
Striking workers are not entitled to unemployment benefits in most states, but those workers who were not striking will likely have some access to weekly benefit checks.
Meanwhile job opportunities at Hostess competitors are hardly plentiful.
"The industry has overcapacity. We're overcapacity. Our rivals are overcapacity," Hostess CEO Gregory Rayburn said in an interview on CNBC.
At least 5,000 of the laid-off workers worked in food production and were represented by the Bakers Union.
Nationwide, the entire food manufacturing industry has yet to gain back all the jobs lost in the recession, but the industry has been adding about 1,400 jobs a month over the last year.
Another 6,700 Hostess workers were represented by the Teamsters, a union that was sharply critical of the Bakers' decision to strike. Those jobs largely include truckers, many who both transported and sold Hostess products.
Trucking is a higher paying field, offering a national average of $22 an hour. Including base pay and commission, Hostess Teamsters workers could have earned between $50,000 to $100,000 a year, said O'Brien.
Trucking is also a growing field, adding about 3,900 jobs each month over the past year.
Still, the 18,500 Hostess job cuts are likely to show up in the national jobs report only gradually. Striking workers are likely to be counted as job cuts in the November jobs report, while many of the remaining layoffs are unlikely to show up in the data until the December jobs report is released in January.
-- CNNMoney senior writer Chris Isidore contributed to this report.