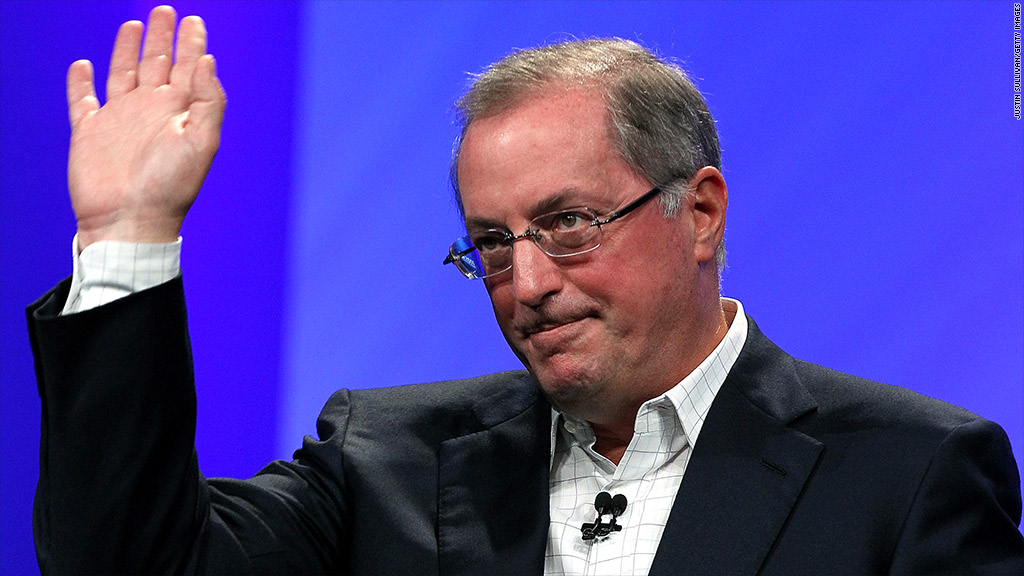 Intel CEO Paul Otellini will leave the company in May, the world's largest chipmaker announced on Monday.
Otellini has been at Intel (INTC) for 38 years, spending the last eight as the company's chief executive. He previously held roles overseeing the PC microchip business and Intel's sales team.
No successor to Otellini was named. The company said its board of directors will consider both internal and external candidates for the position.
"I've been privileged to lead one of the world's greatest companies," Otellini said in a written statement. "After almost four decades with the company and eight years as CEO, it's time to move on and transfer Intel's helm to a new generation of leadership."
Intel's CEO oversaw the company during a transition in computing -- a shift that Intel didn't always find itself on the right side of. When Otellini took the company's helm in 2005, the desktop still ruled the personal computing landscape, but Intel dominated laptops as well -- which was about the extent of the mobile world at the time. Otellini even won over Apple (AAPL), which had long favored IBM's (IBM) PowerPC chips over Intel's. Macintosh computers began shipping with Intel processors in 2006.
But in 2007, Apple introduced the iPhone, and netbooks became the fastest-growing segment of the PC market. Intel was left out of both markets. It later caught up and became a mainstay in the netbook world with its Atom processor, but by then, netbooks had been effectively replaced by the iPad and other tablets.
Though Otellini's Intel has since made great strides at getting its chips inside smartphones and tablets -- including a high-profile partnership with Google's (GOOG) Motorola -- it is still threatened by British chip designer ARM (ARMH), whose licensed designs appear in 95% of all mobile devices. Even the three-decade old Wintel partnership that brought both Microsoft and Intel to prominence is no longer an exclusive marriage. Microsoft made a new version of Windows available on ARM processors.
In an attempt to tighten its grasp on the mobile computer market, Otellini's Intel began to push its Ultrabook vision on PC makers. Otellini promised that the lightweight computers, whose design specification Intel licenses to manufacturers, would make up 40% of PC sales by the end of 2012.
That didn't happen. Ultrabook prices remain high, and sales have been lackluster, along with the rest of the PC market.
Still, Intel has had its share of successes and breakthroughs under Otellini. When its traditional chip design ran into the boundaries of physics, the company began building 3-D microchips to boost power and performance in computers. Intel continued to set sales and profit records through the end of 2011, and the company has made a successful push into the data center arena, where most of the non-wireless computing growth is coming from today.
"Paul Otellini has been a very strong leader ... one who has managed the company through challenging times and market transitions," said Andy Bryant, chairman of Intel's board.