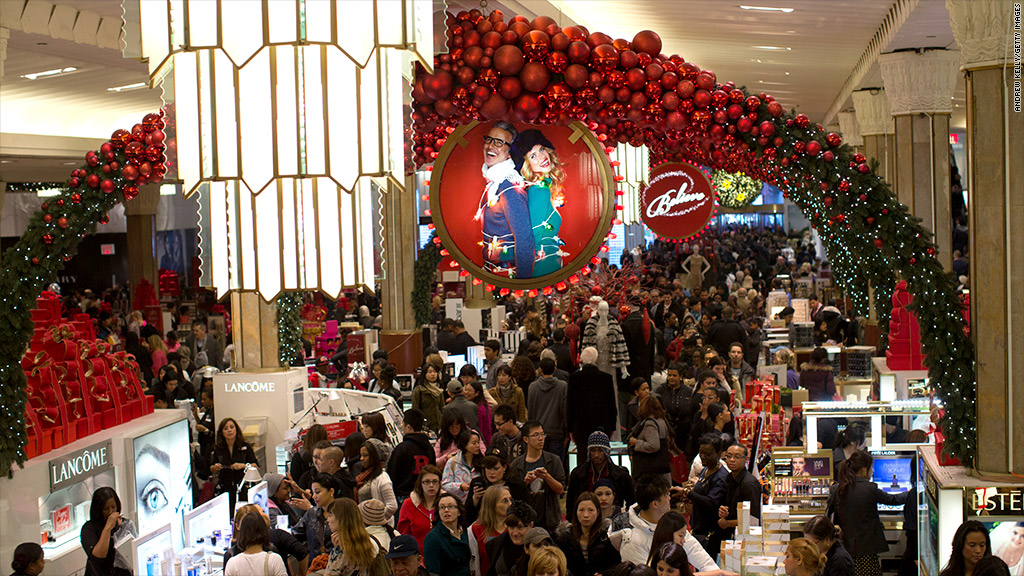 Holiday spending got off to a strong start this weekend, but could looming tax hikes cause consumers to cut back on shopping?
The White House certainly thinks so.
President Obama's top economic advisers released a report early Monday, warning that if Congress doesn't prevent tax hikes on middle class families, consumer confidence could decline, retailers could be hurt and jobs may be cut.
"And as we approach the holiday season, which accounts for close to one-fifth of industry sales, retailers can't afford the threat of tax increases on middle-class families," the report said.
The report comes as the president and Congress remain at an impasse over the fiscal cliff, a set of tax increases and spending cuts set to begin in January.
President Obama is pushing to raise income taxes on the wealthiest 2% of Americans, while keeping the Bush tax cuts in place for those earning under $200,000 a year. The White House also wants to pass a patch to the Alternative Minimum Tax by the end of the year.
Without those two measures, the White House predicts consumers will cut their spending by nearly $200 billion in 2013 -- a worrisome sign given consumer spending accounts for more than two-thirds of the U.S. economy.
Related: What's in the fiscal cliff?
But if fears about these tax hikes are holding shoppers back, they certainly haven't shown it yet. Spending over the Thanksgiving weekend hit a new high of $59.1 billion, a 13% increase over last year, according to the National Retail Federation.
The NRF, along with CEOs of major retailers like Wal-Mart (WMT), Costco (COST), and Macy's (M), are among the influential groups urging lawmakers to act now to avoid the fiscal cliff.
"Our customers are working hard to adapt to the 'new normal,' but their confidence is still very fragile," Wal-Mart CEO Mike Duke said in a statement after meeting with Obama two weeks ago. "They are shopping for Christmas now and they don't need uncertainty over a tax increase."
Even with uncertainty hanging over consumers, the NRF still predicts holiday sales will increase 4.1% this year.
So far, consumer sentiment, while strong, still seems shaky.
Consumer confidence, as measured by the Conference Board, rose to a four-year high in October, as job growth and rising home prices lifted spirits. Economists expect new data, released Tuesday morning, will show the index rose even further in November.
But other recent reports by the University of Michigan and Rasmussen Reports, both show consumer confidence fell slightly after the presidential election renewed some fiscal cliff fears.
"While consumers had anticipated a last minute settlement, some consumers are beginning to doubt whether that will happen before higher tax rates take effect at the start of the next year," said Richard Curtin, director of the University of Michigan survey. "While a successful resolution before year-end could reverse any declines, it would nonetheless diminish holiday spending."
Related: Black Friday shopping hits a new record
Other experts say most consumers are still largely unaware of how the fiscal cliff will hit their wallets, but it may become more of a reality if high-income households start cashing in on their investments in anticipation of higher capital gains taxes.
Consumer confidence is heavily influenced by the stock market, and a December sell-off could weigh on spending.
"Business and market confidence have already taken a blow and had an effect on the economy," said Diane Swonk, chief economist for Mesirow Financial. "The extent to which the cliff becomes a self-fulfilling prophecy is largely dependent on how much those two areas react and have spillover effects for the consumer."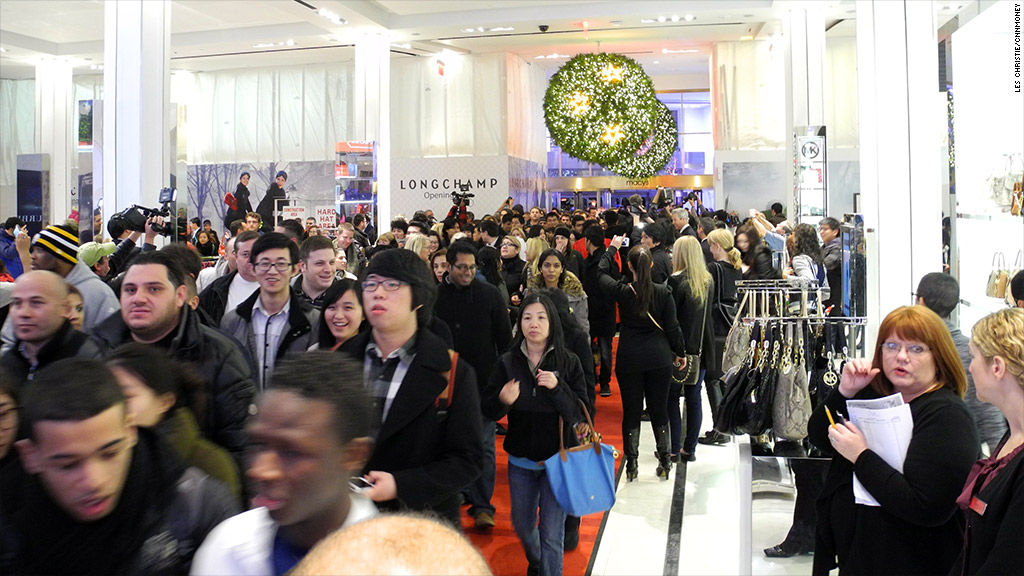 Economists agree, even if President Obama gets what he wants on the Bush tax cuts and the AMT patch, consumer spending will still take a hit from the end of the payroll tax holiday in January.
Although it will raise taxes on most workers, neither party is talking about extending it right now. Effectively, someone making about $50,000 a year will pay another $1,000 in payroll taxes next year.
If consumers don't realize that now, they certainly will when they receive their first paychecks in 2013, said Ellen Zentner, senior U.S. economist for Nomura.
"The expiration of the payroll tax holiday will immediately affect personal income and spending in January, regardless of how it affects consumer confidence," she said. "All workers will see their take-home pay decline on Jan 1 and it's simple math -- that means that's less aggregate income and therefore less aggregate spending to start off the year."