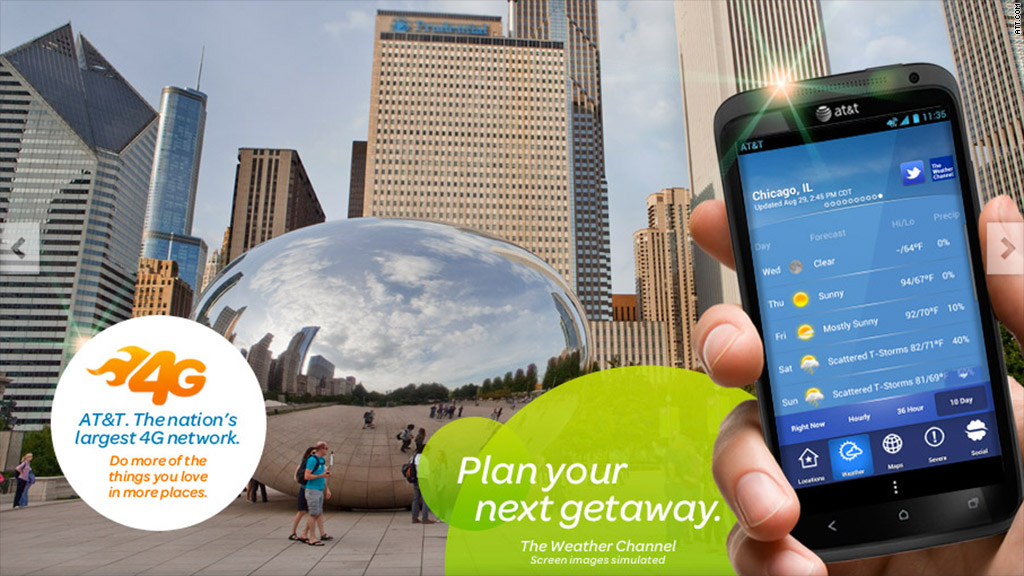 AT&T scored a surprising coup in the annual Consumer Reports survey of the top cell phone service providers.
AT&T, ranked dead last in the customer satisfaction survey for the third straight year, topped all wireless carriers in the magazine's 4G network ratings.
Verizon (VZ) has by far the largest 4G-LTE network, serving more than 400 markets, compared to just over 100 for AT&T (T) and more than 40 for Sprint (S). But AT&T customers reported the fewest 4G-related problems of any carrier, including service interruptions, slow speeds or lack of service.
Still, Verizon once again topped the charts in the overall rankings of national carriers -- and it's pulling away from the rest of the pack. Verizon outscored Sprint by 6 points in Consumer Reports' customer satisfaction ratings, a gap that widened since last year. T-Mobile came in third, trailed slightly by AT&T, which got worst-in-class rankings for value, voice quality and customer support.
A year ago, Sprint trailed Verizon by just a point in the rankings, but the carrier's satisfaction rating fell by a dramatic six points over the course of the year.
What happened? In its survey, Consumer Reports noted that 4G customers are generally more satisfied than those with 3G service. Sprint's significantly smaller 4G could play a role in its customers' lower ratings.
Though 4G customers are generally happier, faster data connections can lead to higher cell phone bills, Consumer Reports pointed out. Verizon and AT&T both recently introduced shared data plans that encourage higher data usage. The nation's two largest carriers have reported that they are making more money on the new plans as customers ramp up their gigabytes.
For many customers, there are other options. Smaller, regional carriers like Consumer Cellular, U.S. Cellular (USM), and Credo all ranked ahead of their larger national rivals in Consumer Reports' survey.
Prepaid carriers Tracfone and Straight Talk also performed better than the national players, winning high marks for both quality and value. Two-thirds of Consumer Reports' survey respondents who switched to prepaid plans said they saved at least $20 a month.